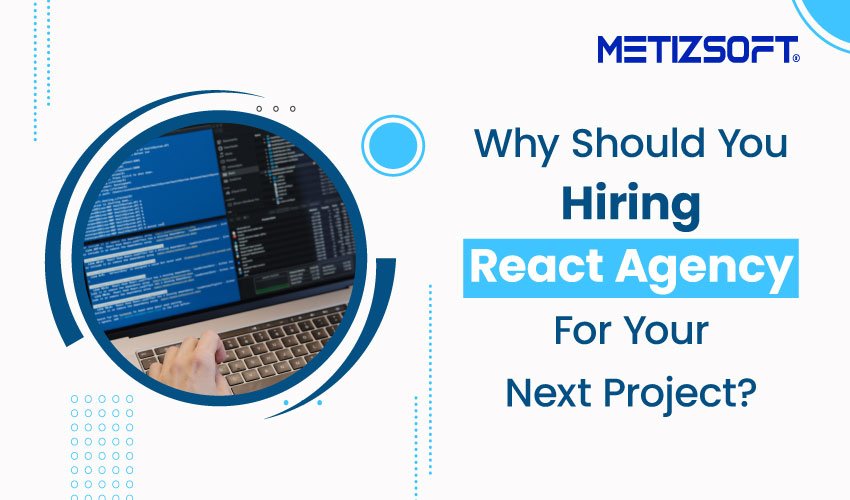 Why Should You Gaze Upon Hiring The Best React Agency in 2022 For Your Upcoming Projects?
Whether it is technology or any other aspect, the human tendency toward finding the "Best" stays inevitable. Even in the digital marketplace, where many mobile app development companies exist, the craze behind finding the best tagged mobile app development company seems to be the ultimate goal. And why not?
The increasing demand for smart devices and their usage in every prospect of our lives has led mobile apps the primary choices nowadays. In contrast, the demand for native apps has increased significantly in the last couple of years.
As a result, React Native has emerged as the frontline solution to build native applications irrelevant to the business category.
So, let's look closely at React native and its components to determine what makes this front-end framework so evident and why it has become the first choice worldwide.
To begin with
What is React Native?
React Native is a JavaScript-based, cross-platform open-source framework used to build fully functional apps on Android and iOS platforms. Facebook launched it in 2015.
The best thing about React Native is that you can use the same codebase for the two operating systems and deploy it to get the desired result. It significantly saves your coding time, development cost, and effort.
Brands that use React Native are:
Skype
UberEats
Facebook
Instagram
Tesla
React Native has recently become one of the best and most widely used app development frameworks. It will only grow in the coming times as it is gaining popularity and community support.
Now that you have found out What React Native is? Let's jump straight into
Benefits of Using React Native
Cross-Platform Compatibility
React Native comes with the same codebase, allowing developers to integrate it with Android and iOS operating systems without additional changes.
Anyone with a profound knowledge of native UI libraries, APIs, and hybrid app development can quickly adopt React Native functionality and start the mobile app development process at the front.
Also, the same code, it saves an enormous time and effort for developers, which they would have spent on writing different codes for the two operating systems.
Cost-Effective
When starting your business, money is the most crucial factor the business owners are concerned about. Every start-up wants to achieve fast returns to make an online brand presence and gain new customers.
With React Native, both of these are achievable.
First, you will get one codebase for both platforms. Second, it's open-source, and third, the massive React Native developers community will help you get the appropriate solution to all your queries in no time from different sources.
React Native Apps Run Like Native Apps
React Native functions efficiently and reacts faster to all the conjunctions. Compared to other cross-platform development and Android frameworks, React Native allows us to create an app faster and increase the agility of the App.
The fundamental units of React Native are open for mobile gadgets; therefore, it is profitable for the mobile environment.
Futuristic And Flexible
The popularity of this framework is evident because of its reliability and responsiveness. Developing both iOS and Android applications with the same code is like a cherry on top.
React Native is easy to understand and works as an all-in-one solution for developers. Many tutorials and videos are available on its official site and YouTube, making the learning process super easy.
More Extensive Community Support
React Native has the backing of Facebook. So, undoubtedly the massive support will be one of its core benefits. Both Facebook and the enormous community of React Native are continuously working on improving the framework.
Apart from that, the integration of JavaScript has taken its popularity to the next level. Because most developers are well-versed in Javascript, they found React Native smooth and easy to understand on the first attempt.
Key Factors You Must Consider Choosing The Best React Native Development Company!
While picking the best React Native firm, one must be patient and consider multiple factors. You can't risk the failure of your App by taking any decision in a hurry.
Quality Work Ethics
The overall Work ethics of employees, project managers, and the boss define whether an organization belongs to the good, average, or best category.
When considering a company for your project, you must check its previous works and reputation.
How do they anticipate the last project, and what are the necessary procedures followed to fulfill the commitment?
Pricing And Timeline
Pricing and timelines are two crucial factors to look after. Where different companies have different structures Priceline, one has to discuss it during the consultation or project finalization briefly.
Regarding timeline, the company that determines its deadline has the highest rating and appreciation from its beloved clients. So you won't find it difficult to point out!
Portfolio And Feedback
A company's portfolio reflects its experience and capabilities. If they have worked successfully in the past and have delivered top-notch services, you can trust them with your project.
You can go through their postings and reviews on various platforms like LinkedIn, Monster, Glassdoor, etc.
If needed, get in touch with previous clients to know about the quality of their services and the work they have done for them.
Check Whether They Have an Experienced Team
It is essential to ensure that you hire experienced and skilled developers to carry on your project effortlessly. Check the projects they have worked on and ask them the questions you need to ask about your project.
You must consider these crucial factors before starting your search for the best React Native Agency in 2022.
Bottom Line!
The popularity of React Native is at its peak, and thus we can say it will only grow in the future. If you are looking for a reliable and trustworthy React Native development company that stands out at the above criteria and fulfills all your project requirements, in that case, Metizsoft Solutions is the right choice.
We offer quality React Native solutions and have been rewarded with words of appreciation from our clients (domestic and international) for our previous successful deliverables.
You can Hire React Native developers monthly or hourly bases and give us a chance to serve you with the best. To learn more about us and our services, reach out to us.