Is this post written with the purpose of getting traffic? No. We are Shopify Experts (you may know more about us here- https://experts.shopify.com/metizsoft) with over 500 Shopify stores designed, developed, and deployed and we are growing positively.
Whatever may come next is nothing but the outcome of our observations, our opinion, and our experience. Neither do we wish to aid anyone, nor do we wish to prove anything to anyone.
Comments welcomed! Edits Welcomed!
While roaming here and there reading stuff, especially related to e-commerce and Shopify, I found some people pondering over 'which platform to choose between Shopify-WooCommerce-Magento, etc.'
So I decided to pour my thoughts into this blog that are for sure unbiased. We do WooCommerce and Magento sites too so I know a good bit about these eCommerce platforms.
Since I am done with all the clarifications, here I go pouring my thoughts:
So you wish to know which platform to choose between Shopify, WooCommerce, and Volusion?
Seems you are a newbie with limited resources. Shopify or Magento?
You are comparing a Sword with a Pen. I would suggest you research well about what Magento does and the demographic transition of people opting for Magento.
You will in the end come to know that Magento best suits mid-sized and giant companies/enterprises/businesses.
Oh! Did I just help you skip your research on Magento?
And when it comes to choosing between Shopify and related alternatives, here are my two cents elaborated:
Here's why I think it is wise to spend a few extra bucks and go for Shopify!
Extensive and Supportive Community
Since you are a newbie, you always will be needing quick solutions to small problems and obstacles coming in between. The Shopify community has got your back. It's really huge, helpful, and lovable.
Here's a quick glimpse of how active the Shopify community is: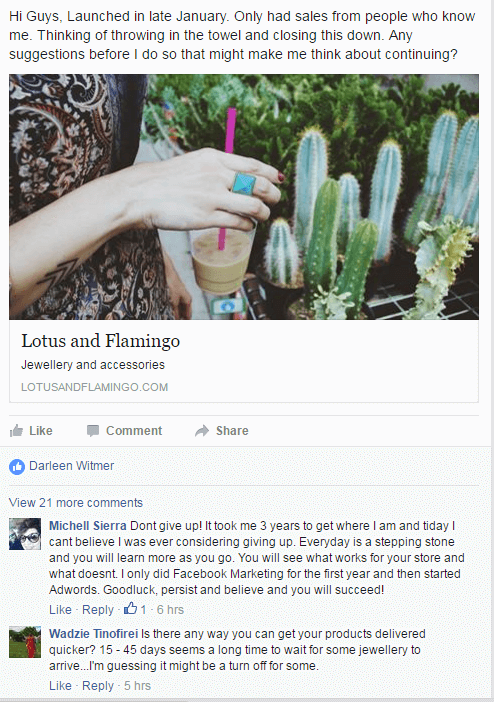 Apps Making it Easy for You to Market and Sell Kinds of Stuff
The Shopify app store has got an app you need. Yes. There are tons of pre-built apps in the Shopify store that will make it hassle-free for you to sell your product.
So now, you can focus on selling more rather than customizing stuff all the time. And one more thing- not all the apps are free. Most of them are paid, but worth it.
Extensive Customer Support
So you are badly stuck. Your store has stopped working or the server is down or there's a bug you are unable to solve? Error 503? You need to rush in and find the solution, but you do not know what to do.
Here's when you go and seek help from your eCommerce partner. You expect a prompt reply, and you are sensible enough to understand that it may take a day for them to reply.
You are good to go with that and you are patient enough for a day. Story continues…!
it has been almost a week, and your problem has not been solved. Solved is a far more optimistic word, let's replace it with Answered. Your query has not been answered for the last 7 days.
Agony! Isn't it?
I recommend Shopify in this case too. I have faced manifold issues, bugs, errors, and problems while developing Shopify stores for clients, and believe me, I always got my problem SOLVED (not ANSWERED) at least 7 days.
I did not even wait 7 days to get my query answered and solved. They always did it quickly.
I would love to spend 5 extra bucks but not wait 7 days to get my query answered. And 14 days to get it Solved.
Consistently Growing
Shopify is growing immensely and has been adopted widely too; even by some giants too. Here's an example- https://shop.tesla.com/
Other than this, Shopify has introduced Shopify Plus, an enterprise solution. When trading shares, the most conservative approach I go for is, buying shares of a company that is on the verge of excelling. These shares have been my best buy.
I would opt for Shopify because they are excelling really very well. And excelling is directly related to More Solutions, More Ease, More Growth, More Options, More Opportunities, and the list goes on.
Though there may be some downsides too, those are very few as compared to the advantages one may enjoy.
Epilogue:
Feeling good after pouring all my thoughts. Hope you found it worth reading. I would like to get the errors and omissions expected.
"Have a great day ahead"- Team Metizsoft.
About

Manthan Bhavsar

Manthan Bhavsar is one of the most brilliant go-to people when someone thinks to Hire Shopify Certified Experts! A techie by profession and a technologically driven person by passion, Manthan Bhavsar isn't shy to blog and share the knowledge he has with the world. If you want to follow Manthan, you can do so on Facebook, Twitter, and LinkedIn