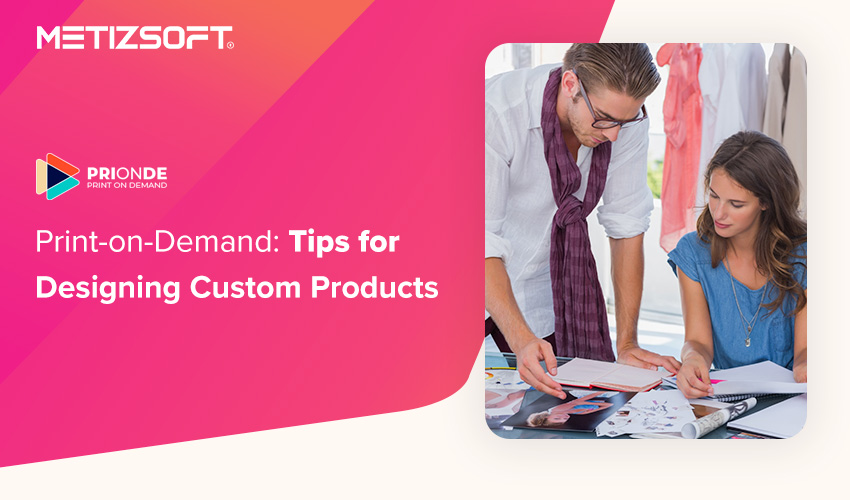 In an exclusively advancing digital world, print-on-demand (POD) has emerged as the next-gen tech stack for online store owners. With it, they now have the upper hand in designing custom products that captivate your audience, which is the key to success.
Whether you're an artist, an entrepreneur, or someone with a creative spark, creating unique and eye-catching designs can make all the difference. That's where PRINODE – The best Print on Demand platform comes in as a guardian angel that can bring significant difference to your creativity.
In this article, we will explore some viable success tips that every Print-on-Demand user must adopt to master the art of designing custom products that sell and leave a lasting impression.
Understand Your Audience
Before you even put pen to paper or mouse to screen, it's crucial to understand your target audience.
Run a background check and identify who they are.
What are their interests and preferences?
Knowing your audience's demographics and psychographics can guide your design choices.
For example, vibrant and energetic designs work best when creating custom products for a fitness-focused audience.
Simplicity is Key
One of the most common design mistakes is overcomplicating things. Keep it simple yet unique! A cluttered design can overwhelm and confuse potential customers.
Clean and straightforward designs often have a broader appeal. Think about iconic logos like Apple's or Nike's – they're memorable because of their simplicity.
Colors Matter
The psychology of color and their shades plays a significant role in design. Different colors evoke various emotions and associations.
For instance, red can represent passion or urgency, while blue might convey calmness or trust. Consider your brand and audience when selecting colors for your custom products.
Typography Matters Too
Typography involves more than choosing a fancy font. It includes readability and alignment with your design's aesthetics. You can get creative while ensuring legibility.
Layout and Composition
The arrangement of elements within your design is critical. Experiment with different layouts and compositions to find what works best for your product.
Pay attention to balance, spacing, and visual hierarchy. A well-thought-out composition can guide the viewer's eye and make your design more engaging.
POD Success Stories
Here are some inspirational real-life success stories in the world of custom product design using Print-on-Demand.
Sarah's Artful Apparel: An aspiring artist, Sarah started with a simple yet elegant watercolor butterfly painting. She turned this artwork into a line of custom products, from t-shirts to tote bags. The simplicity and beauty of her design resonated with her audience, and her products flew off the shelves.
Dave's Niche Nook: Dave, a vintage typewriter enthusiast, has designed many custom products featuring intricate illustrations. His attention to detail and passion for his niche market paid off as typewriter enthusiasts sought out his unique offerings worldwide.
Maya's Literary Treasures: Maya, an author, designed custom merchandise related to her books. Her elegant book cover designs and literary quotes adorned various products, creating a loyal fan base among book lovers.
Start Brainstorming Your Ideas
Now that you have some design tips and real-life examples in mind, it's time to start brainstorming your creative ideas. Consider what makes your brand or vision unique.
What story do you want to tell through your custom products? Sketch your ideas, experiment with colors and typography be bold, and seek feedback from peers or potential customers.
Final Thoughts
Creating successful personalized products requires a combination of artistic skills, psychological insights, and a thorough knowledge of your target market. Keeping your design simple and focusing on color, typography, and layout is essential.
You can also get inspiration from successful creators in your field. Your journey into the world of custom product design is just starting, and your creativity has endless potential.
So, are you ready to turn your imaginative designs into tangible, sellable products? Dive into the exciting realm of print-on-demand. If you need professional assistance, enrich Metizsoft Solutions the most trusted Print-on-Demand Solutions Provider.
About

Manthan Bhavsar

Manthan Bhavsar is one of the most brilliant go-to people when someone thinks to Hire Shopify Certified Experts! A techie by profession and a technologically driven person by passion, Manthan Bhavsar isn't shy to blog and share the knowledge he has with the world. If you want to follow Manthan, you can do so on Facebook, Twitter, and LinkedIn