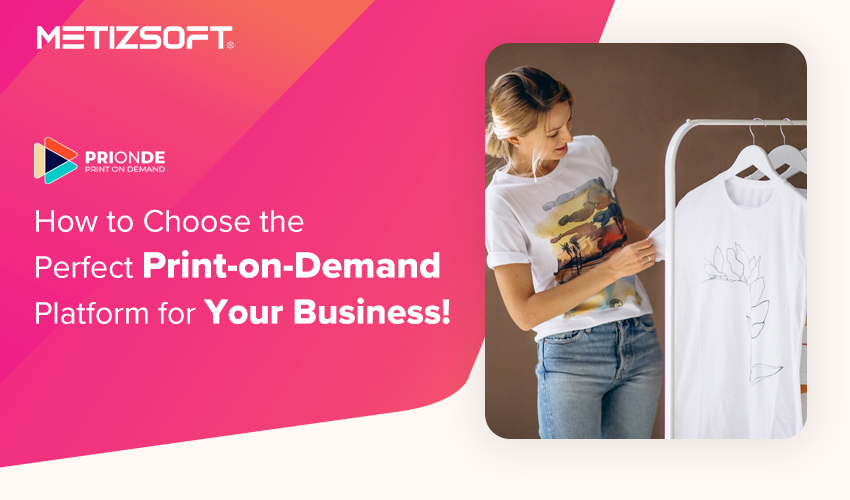 In the era of digital entrepreneurship and creative expression, Print-on-Demand (POD) has emerged as a dynamic and accessible way to turn your creativity into a profitable venture. Whether you're an artist, an aspiring entrepreneur, or an established business owner looking to expand your product line, you must select the POD platform that will significantly impact your success.
This guide will provide insights into the different POD platforms available, the key factors to consider when choosing, and tips on aligning your decision with your business goals.
Understanding the Landscape: A Variety of Print-on-Demand Platforms
The first step in choosing the perfect POD platform is to familiarize yourself with the various options available. The market is brimming with platforms, each offering unique features and capabilities. Here are some popular POD platforms to consider:
Prionde: Prionde is a leading print-on-demand platform connecting businesses with a vast network of print providers. Offering a diverse array of customizable products and printing choices, Prionde empowers creators and entrepreneurs to bring their designs to life.
Printful: Known for its diverse product range and seamless integration with various e-commerce platforms, Printful is a top choice for many entrepreneurs. They offer custom printing on apparel, accessories, and home decor items.

Printify: Printify is a global platform connecting businesses with a print provider network. They provide a wide range of customizable products and printing options.

Teespring: Teespring focuses primarily on custom apparel and merchandise. They offer an easy-to-use design tool and built-in e-commerce capabilities.

Society6: If you're an artist looking to sell art prints and other art-centric products, Society6 specializes in this niche. They offer a variety of high-quality art prints and merchandise.

Redbubble: Similar to Society6, Redbubble is known for its diverse marketplace of artists and designers. They offer customizable products ranging from clothing to home decor.

Zazzle: Zazzle allows you to create custom products, including invitations, stationery, and promotional items. They offer an extensive and unique range of products and design templates.

Your Custom Platform: Building your custom POD platform is an option for those seeking complete control and a branded experience. This approach offers more control over branding and product offerings but requires substantial technical expertise and investment.
Key Factors to Consider
Now that you're acquainted with some of the popular POD platforms let's delve into the essential factors to consider when making your selection:
Product Range: Assess the variety of products each platform offers. Consider whether they align with your business niche and creative vision. Some platforms excel in apparel, while others focus on home decor or art prints.
Printing Options: Evaluate each platform's printing techniques and quality. Look for direct-to-garment (DTG), sublimation, screen printing, and digital printing. The printing method choices can impact the final product's quality.
Integration: Check if the platform integrates seamlessly with your chosen e-commerce platform (e.g., Shopify, WooCommerce, Etsy). Smooth integration ensures a hassle-free selling experience.
Pricing Structure: Examine the pricing structure, including product base prices and shipping costs. Consider how these prices will impact your profit margins and pricing strategy.
Quality Control: Investigate the platform's quality control measures. Read reviews and testimonials from other sellers to ensure the products consistently meet high standards.
Branding Opportunities: Determine the level of branding customization each platform allows. If brand consistency is crucial to your business, opt for a platform that offers white-labeling and branding options.
Shipping and Fulfillment: Assess the platform's shipping options, including international shipping capabilities and fulfillment times. Fast and reliable shipping can enhance customer satisfaction.
Making an Informed Decision
With these factors in mind, you're better equipped to make an informed decision that aligns with your business goals. Here are some additional tips to guide you:
Start with Research
Take the time to research each platform thoroughly.
Read reviews, compare pricing, and explore the product catalog to ensure they offer what you need.
Test the Waters
Many platforms offer a free trial or sample order option.
Use this opportunity to test the quality of their products firsthand.
Consider Your Audience
Analyze your target audience and their preferences.
Choose a platform that caters to the tastes and needs of your potential customers.
Scalability
Think long-term.
Choose a platform that can expand alongside your business.
You can expand your product range or reach new markets.
Customer Support
Evaluate the customer support level and quality provided by each platform.
Customer support that is both responsive and helpful is invaluable if you frequently encounter issues or have questions.
Your Path Forward
While there's no one-size-fits-all answer when choosing the perfect POD platform, carefully considering your business needs, creative vision, and budget will guide you toward the right choice.
Each platform has strengths and weaknesses, so take the time to explore your options and make an informed decision. Before concluding, we'd like to mention two key players in the print-on-demand ecosystem.
First Prionde a dynamic print-on-demand platform by Metizsoft, offers a wide range of customizable products and a robust network of print providers. Their commitment to quality and innovation aligns perfectly with your creative vision.
Second, Metizsoft stands out as a reliable print-on-demand solutions provider, dedicated to helping you navigate this exciting journey. With a track record of excellence, Metizsoft can be your trusted partner in bringing your unique products to life.
As you consider your options, remember that whether you choose an established platform like Prionde or work with a solutions provider like Metizsoft, the world of print-on-demand development eagerly awaits your creative endeavors and entrepreneurial spirit. It's time to turn your vision into reality – start your print-on-demand journey with us by contacting us today.
About

Manthan Bhavsar

Manthan Bhavsar is one of the most brilliant go-to people when someone thinks to Hire Shopify Certified Experts! A techie by profession and a technologically driven person by passion, Manthan Bhavsar isn't shy to blog and share the knowledge he has with the world. If you want to follow Manthan, you can do so on Facebook, Twitter, and LinkedIn