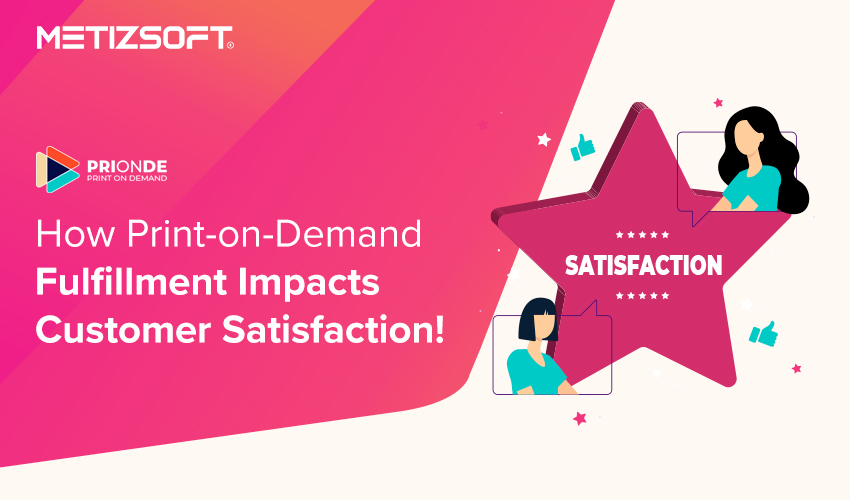 In online shopping, pleasing customers is daunting and of utmost importance. Happy customers tend to become devoted supporters and advocates of a brand, sharing their positive experiences with others. Within the Print-on-Demand (PoD) sector, ensuring orders are fulfilled consistently and reliably is crucial for achieving customer satisfaction and encouraging repeat purchases.
This blog post will discuss dependable fulfillment in print-on-demand while exploring:
Quality control measures
Tips for selecting fulfillment partners or systems
Our commitment to quality services.
The Importance of Reliable Fulfillment in Print-on-Demand!
Print-on-demand (POD) is a business model that produces custom-designed or personalized items such as t-shirts, mugs, and posters. These products are only created when an order is placed. However, the success of a POD business is heavily dependent on reliable fulfillment processes. That's why dependable fulfillment is crucial in the print-on-demand industry.
Timely Delivery
Timely delivery is a fundamental aspect of customer satisfaction. Customers expect their products to arrive within the promised timeframe when ordering. Reliable fulfillment ensures that orders are processed promptly and shipped without unnecessary delays.
Product Quality
Quality should never be compromised, even in a PoD business. Reliable fulfillment partners or systems maintain stringent quality control measures to ensure every product meets or exceeds customer expectations.
Customer Experience
A seamless and hassle-free ordering experience improves overall customer satisfaction. Customers leave a positive impression of your brand whenever they receive their orders on time and in perfect condition.
Quality Control Measures for Happy Customers and Repeat Business!
Consistent and reliable product and service quality significantly affects your brand's reputation and customer loyalty.
Here are some quality control measures to consider:
Print Quality Inspection: Implement thorough print quality checks to ensure that designs are crisp, colors are accurate, and no defects. Defective prints should be identified and corrected before shipping.
Packaging Excellence: Proper packaging protects the product during transit and enhances the unboxing experience. Consider eco-friendly packaging options that align with customer values.
Order Accuracy: Ensure that the correct items are included in each order. Avoid mix-ups or missing items, as these can lead to customer frustration.
Returns and Refunds: Establish a transparent and customer-friendly returns and refunds policy. Promptly address customer issues or concerns and provide solutions exceeding their expectations.
Tips for Choosing the Right Fulfillment Partners or Systems!
Making the right choice when it comes to fulfillment partners or systems is imperative for the success of your business, whether you're running an e-commerce store, a subscription box service, or any other business involving product fulfillment.
Follow these tips to make the right decision:
Research and Due Diligence: Take the time to research and evaluate potential fulfillment partners or systems. Find businesses that have established a history of dependability and excellence.
Scalability: Choose a partner or system that can scale with your business. As your PoD business grows your fulfillment needs will also increase, so it's essential to have a solution to accommodate growth.
Location Matters: Consider the location of your fulfillment partner's warehouses. Proximity to your target customer base can lead to faster shipping times and reduced shipping costs.
Technology Integration: Ensure the fulfillment partner or system integrates seamlessly with your e-commerce platform and order management systems. By integrating this system, the process of fulfilling orders becomes more efficient, reducing the occurrence of errors.
Our Commitment to Quality in Print-on-demand Services!
At Metizsoft Solutions, we understand the pivotal role of quality and reliable fulfillment in customer satisfaction. We are committed to delivering PoD services that exceed your expectations in the following ways:
Rigorous Quality Control: Every product that passes through our hands undergoes a rigorous quality control process. We need more room for subpar prints or packaging.
Fast and Reliable Fulfillment: Our streamlined fulfillment process ensures that your orders are processed promptly and shipped immediately.
Customer-Centric Approach: We prioritize your satisfaction and stand by our products. If you encounter any issues, our dedicated customer support team will assist you with timely solutions.
Continuous Improvement: We constantly strive to adopt new tech stacks and enhance our services. Your feedback is invaluable; we use it to identify areas for improvement and innovation.
Conclusion
At Metizsoft Solutions we believe that customer satisfaction is at the heart of our Print-on-Demand (PoD) philosophy. We strive to maintain quality by implementing reliable fulfillment strategies and rigorous quality control measures, vital components of a prosperous PoD business.
When you select us as your partner, you can rest assured that we are dedicated to providing top-notch products and outstanding experiences. Our primary goal is to ensure that you are delighted with every order, and we are excited to serve you excellently.
About

Manthan Bhavsar

Manthan Bhavsar is one of the most brilliant go-to people when someone thinks to Hire Shopify Certified Experts! A techie by profession and a technologically driven person by passion, Manthan Bhavsar isn't shy to blog and share the knowledge he has with the world. If you want to follow Manthan, you can do so on Facebook, Twitter, and LinkedIn