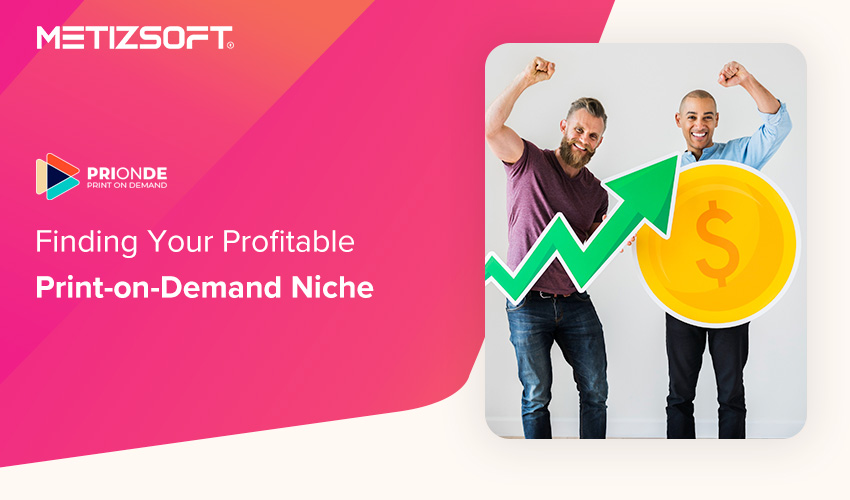 In recent years, Print-on-demand (PoD) has emerged as a lucrative business model. Its staggering offerings have allowed entrepreneurs to create top-quality custom products without worrying about inventory management and upfront costs. However, with the increasing competition in the PoD space, finding success can be challenging. This is where the power of niche marketing comes into play.
This blog post contains the expert trick of leveraging niche markets and how it can be the key to PoD success. It comprises niche research insights, success stories, and tips for identifying your niche. To begin with:
What is a Niche Market?
In business and marketing, a niche market refers to a highly specialized and specific market segment that caters to unique customer needs and preferences. Niche markets are typically smaller than broader markets but hold immense potential for businesses that understand and cater to their unique demands.
Successful niche marketing involves identifying a niche that aligns with your business's strengths and expertise, allowing you to offer products or services tailored precisely to that niche audience's needs.
Optimizing your business strategy for a niche market can provide several advantages, which we will discuss in the following section.
Benefits of Targeting Specific Niche Markets!
Brand owners seeking to thrive in a competitive landscape can benefit from targeting specific niche markets. Here are some key advantages:
Reduced Competition
One of the primary advantages of targeting niche markets is the reduced competition. Once you focus on a specific niche, you cater to a smaller, more specialized audience. This means fewer competitors vying for the same customers, giving you a better chance to stand out.
Higher Conversion Rates
Niche marketing allows you to create highly targeted marketing campaigns. By understanding the needs and interests of your niche audience, you increase the likelihood of converting visitors into customers. Your products are more likely to resonate with them, leading to higher conversion rates.
Brand Authority
Specializing in a niche can help you establish yourself as an authority. Customers who perceive you as an expert are more likely to trust your products and recommendations. This trust can lead to long-term customer loyalty.
Niche Research and Market Analysis Insights!
Before entering a niche market, it is crucial to conduct comprehensive research and analysis. Here's how you can begin:
Identify Your Passions
Begin by identifying your interests and passions. The best niche for your PoD business is one that aligns with your interests, as this will keep you motivated and engaged in the long run.
Keyword Research
Agile Tools like Google Keyword Planner and SM analytics will help you identify trending keywords and phrases within your niche. This will help you understand the language and interests of your target audience.
Competitor Analysis
Study and analyze your competitors within the chosen niche. Analyze their products, marketing strategies, and customer reviews to identify gaps and opportunities.
Audience Persona
Create detailed buyer personas to understand your target audience's demographics, interests, pain points, and buying behavior. It will help you with product development and marketing efforts.
Print-on-Demand Success Stories in Niche Markets!
Let's look at a couple of real-life success stories to illustrate the power of niche marketing in the PoD industry:
Case Study – Eco-Friendly Yoga Apparel: A small PoD business creating eco-friendly yoga apparel. By targeting environmentally conscious yogis, they were able to develop a loyal customer base. Their unique selling proposition (USP) of sustainable products resonated with their niche audience, leading to steady growth and profitability.
Case Study – Pet Lovers' Merchandise: Another PoD entrepreneur identified a niche within the pet owner community. They offered custom pet-themed merchandise, such as personalized pet portraits and pet-related apparel. Pet owners' emotional connection with their furry friends proved a powerful selling point, resulting in high sales and customer retention.
How Can You Identify Your Niches?
Now that we've explored the benefits of niche marketing, niche research, and success stories, it's time for you to take action:
Self-Reflection: Reflect on your interests, hobbies, and expertise. What niche resonates with you the most? Remember, your passion will drive your commitment and creativity.
Research: Utilize the earlier research methods to delve deeper into potential niches. Pay attention to trends, customer behavior, and market gaps.
Validation: Test your niche idea by creating a few PoD products and running targeted marketing campaigns. Monitor the results and gather feedback to refine your approach.
Conclusion
Achieving success in the Print-on-Demand industry can be made easier through niche marketing. Targeting specific niche markets can reduce competition, conversion rates can be increased, and a brand that resonates with the audience can be built.
Conducting thorough research, learning from success stories, and taking action to identify a profitable PoD niche is vital.
Start your journey towards PoD success by finding the right niche for you! Metizsoft Solutions a reliable Print-on-demand service provider can help if you require professional assistance.
About

Manthan Bhavsar

Manthan Bhavsar is one of the most brilliant go-to people when someone thinks to Hire Shopify Certified Experts! A techie by profession and a technologically driven person by passion, Manthan Bhavsar isn't shy to blog and share the knowledge he has with the world. If you want to follow Manthan, you can do so on Facebook, Twitter, and LinkedIn