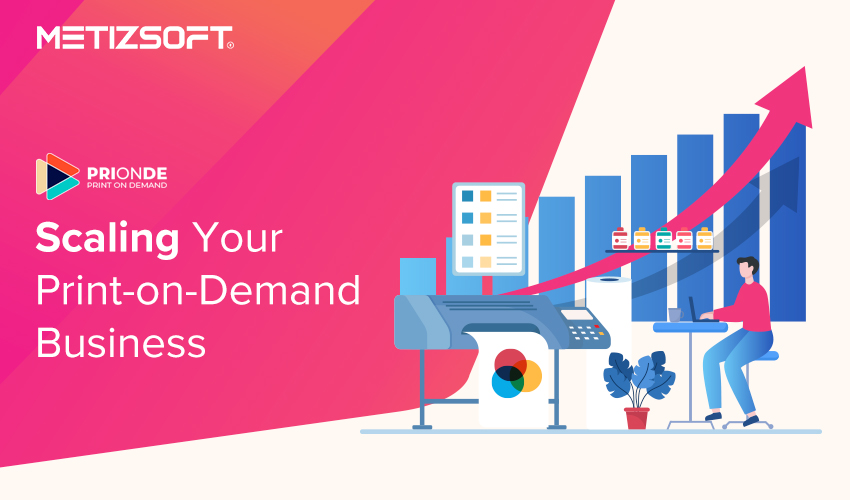 Starting a Print-on-Demand business is just the beginning. It has been the go-to option for many eCommerce business owners who wish to sell custom-designed products without holding inventory. However, like any business, success in the POD industry requires careful planning and effective strategies.
This blog post will explore strategies for scaling your print-on-demand (PoD) business. We will cover automation, outsourcing, expanding product offerings, and success stories and invite you to discover our PoD platform's scalability.
Scaling a Print-on-Demand Business for Long-Term Success
Scaling a PoD business involves more than just increasing your production capacity. It requires a strategic approach that ensures sustainable growth and continued customer satisfaction. Here are some critical insights into scaling:
Automation
Implement automation tools and software to streamline your operations. This includes order processing, inventory management and even customer support. Automation saves time, reduces errors, and allows your team to focus on more critical tasks.
Outsourcing
Consider partnering with reliable third-party providers for printing and shipping to expand your product offerings and reach a larger audience without significant capital investment.
Expanding Product Offerings
Diversify your product catalog to attract more customers. Explore new niches, offer personalized products, and regularly introduce fresh designs. This not only attracts new customers but also encourages repeat business.
Success Stories of Entrepreneurs
Case Study – Jane's Custom Apparel: Jane started her PoD business by designing custom t-shirts for local events and small online communities. She automated her order processing as demand grew and partnered with a fulfillment center. Today, her business offers a wide range of customized apparel and accessories, serving customers worldwide.
Case Study – Mark's Artistic Creations: Mark began his PoD journey as a freelance artist, selling his artwork on a small scale. He expanded his product line by outsourcing printing and shipping to include posters, home decor, and more. Mark's art is now enjoyed by customers across the globe.
Expanding Your Print-on-Demand Business: A Call to Action!
We are a top-rated Print-on-demand service provider with a proven history of delivering high-quality service. Our dynamic POD team understands the challenges and opportunities of scaling a PoD business. We're here to support your growth with:
State-of-the-Art Automation – Our platform has advanced automation features that simplify order management, printing, and shipping, allowing you to focus on creativity and strategy.
Outsourcing Solutions – We offer seamless integration with trusted fulfillment partners, ensuring reliable and efficient order fulfillment. This partnership enables you to expand your product range without the overhead costs.
Expansive Product Catalog – Our platform empowers you to diversify your product offerings effortlessly. Whether it's personalized apparel, home decor, or promotional items, we provide the tools to expand your PoD business.
Customer Success Stories – Explore the success stories of entrepreneurs who started small and scaled their PoD businesses with our platform. Learn from their experiences and discover how you can achieve similar success.
Conclusion
Scaling your Print-on-Demand business is not just about getting bigger; it's about improving. By embracing automation, outsourcing, and expanding your product offerings, you can position your business for long-term success. The stories of entrepreneurs who started small and achieved remarkable growth serve as a testament to what is possible in the world of PoD.
Now is the time to take your PoD business to the next level. Partner with Metizsoft Solutions and experience the scalability, automation, and support that will help you achieve your growth goals. Together, we'll embark on a journey toward more tremendous success in the Print-on-Demand industry. Don't wait; start scaling up today!
About

Manthan Bhavsar

Manthan Bhavsar is one of the most brilliant go-to people when someone thinks to Hire Shopify Certified Experts! A techie by profession and a technologically driven person by passion, Manthan Bhavsar isn't shy to blog and share the knowledge he has with the world. If you want to follow Manthan, you can do so on Facebook, Twitter, and LinkedIn