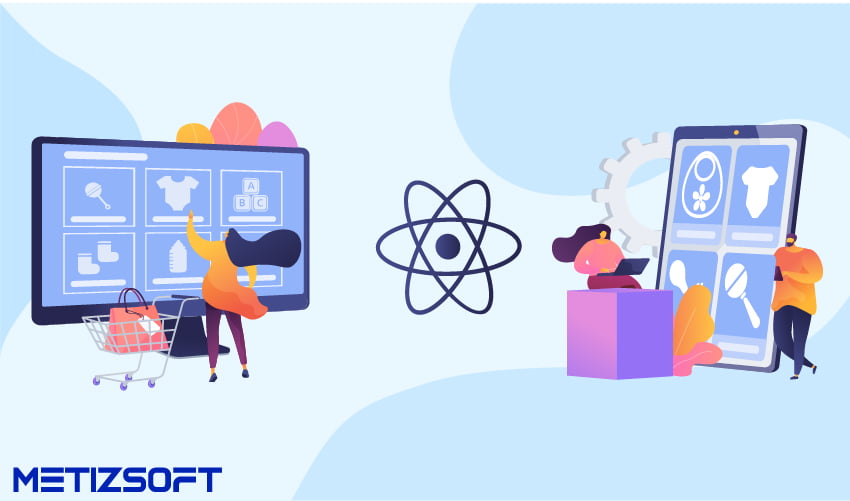 How can you turn an eCommerce website into a mobile app with React Native Development?
Mobile phones have brought a great revolution in the industry and have changed our way of living. Because of the increase in the popularity of mobile phones, the demand for mobile apps has also rapidly increased. Mobile apps have brought a revolution in the eCommerce industry and have changed the way businesses connect with customers and provide their services.
From providing a wide range of products and services, and sending regular notifications about your order status, to collecting customer behavior, mobile apps have helped many business owners and customers in several ways.
We have several mobile apps installed on our phones as well, and we find it very convenient to order products and get them delivered to our doorsteps. This is one of the primary reasons behind the popularity and success of eCommerce mobile apps.
Many business owners out there are looking to turn their eCommerce websites into mobile apps because of the success of mobile apps in expanding the eCommerce business.
This blog will discuss how you can build a mobile app from an eCommerce website and how turning a website into a mobile app will help you grow your business quickly.
Benefits of creating a mobile app for a successful business
Converting your eCommerce website into a mobile app will add value to your eCommerce business in multiple ways such as-
Better customer experience– A mobile phone is easier to carry and ensures better connectivity with the store.
There are more mobile users– there are more mobile users, and therefore, mobile traffic dominates browsing.
Increased user engagement- user engagement in mobile apps is much more than eCommerce websites.
Exclusive features– A mobile app offers far more exclusive features than the mobile browser version. eCommerce apps have many built-in features that help in the successful running of the app.
Quicker payment- smartphones accelerate the payment process since receiving OTP is easier on the mobile phone than the browser.
Apart from these features, many other intelligent features such as artificial intelligence, voice recognition, and AR/VR can be integrated with mobile apps, which adds to the great customer experience.
Thus, migrating from an eCommerce website to a mobile app is a great decision when you want to grow your business.
Converting an eCommerce website to a mobile app- what are the benefits?
Better customer experience
One of the significant differences between creating a mobile application and an eCommerce website is the screen size. Desktops have a large screen and, therefore, can accommodate several elements.
On the other hand, mobile phones have smaller screens, and therefore placing the same elements on a mobile screen needs a strategy. The mobile app experts have to take special care of the menu, product descriptions, images, and action buttons.
To provide a better customer experience, our React Native app development company offers excellent features to make sure your app works smoothly. The responsiveness and app loading speed are our top priorities.
React Native for eCommerce app development
React Native is a go-to solution for its ability to create cross-platform apps for both operating systems. The React Native technology makes it easy for developers to use the same code to develop mobile eCommerce apps for both Android and iOS platforms.
React native saves time and cost associated with developing a native app. The technology primarily uses JavaScript, which is highly popular among developers in creating powerful mobile apps.
In a fully functional eCommerce app, a customer has access to several in-store features such as seasonal sales, promotional coupons, discounts, order status, etc. Customers expect all these features in a mobile app.
Building a mobile app with React Native makes sure that the features are up-to-date and the data is synced in real-time.
Thus, converting a website into a mobile app requires several features that help in running the app correctly and without any issues.
Some mobile apps work without any internet connection
Some mobile apps function even without internet connectivity, and that's such an advantage. Unlike browsers, mobile apps are faster and have easy navigation as well. The users can install mobile apps and use them anytime, anywhere. On top of it, if the app works offline, it's like the cherry on top.
The mobile apps will help to reach potential customers easily
As we know, there are more mobile users than desktop users, and therefore, with the help of a mobile app, you will reach more potential customers. There has been an increasing demand for mobile applications as people use mobile apps for almost everything these days. If your app has all the required features and robust functionality, you will reach more customers as compared to the website.
Why should you use React Native for mobile application development?
React Native has become a popular choice Being a cross-platform framework, React Native eCommerce platform allows reusability of the code, which is its most significant advantage. With React Native mobile app development, you can easily use the same code to quickly develop Android and iOS apps. Apart from this, a few of the other reasons to build React Native eCommerce app are-
The cross-platform feature will help small businesses with iOS and Android development grow with a small budget.
The hot reload feature of React Native helps to update data in real-time
The reusability of the code increases productivity by reducing the time taken to develop the app.
Final words
You might be looking forward to getting in touch with React Native development Services if you plan to convert your eCommerce website to a mobile app. If you want the best functionalities and integrate the best features into your app, you can reach out to Metizsoft Solutions. We have experience in building the best React Native eCommerce apps for our clients and are dedicated to providing the best React Native solutions.