Nowadays, most businesses are switching to online platforms and enjoying more success than ever before in terms of sales and audience reach, it is tempting for many people to have their own online store and build a successful business. But for any new entrant, the world of eCommerce can be ruthlessly challenging.
A successful eCommerce store requires a fully-fledged strategy to reach out to the target audience and consistently generate sales. The challenge is particularly overwhelming with so many big-brand e-commerce stores out there.
It is not just about going through an eCommerce store setup and developing your search engine presence through various channels.
The success factors for any eCommerce store start from the steps corresponding to the conceptualization, strategy, design, and development to search engine, and social media marketing.
Here throughout the length of this post, we are going to explain the key tips to start and build a successful eCommerce store.
How to Start a Successful E-commerce Business in 2019?
When it comes to the elementary steps of building a successful eCommerce store, you need to focus on the following key steps.
Great website design: An engaging and eye-catching web design is the first step you need to begin with.
Superb customer support: A successful web store gets momentum through continuously solving problems for the customers. This is why invaluable customer support plays a great role in eCommerce store success.
High-quality product images: Thirdly, an online store besides choosing the right eCommerce solutions should always use high-quality product images to grab the audience's attention instantly.
Unique selling proposition: Finally, an eCommerce store must come with a unique value proposition with its product offerings and services for the customers to stand apart from the competition.
Developing an Ecommerce Business: Key Steps to Consider
To develop an eCommerce business you need to set your priorities right. Starting from the brainstorming of the ideas to setting up and marketing the store, you need to take every step into consideration one by one.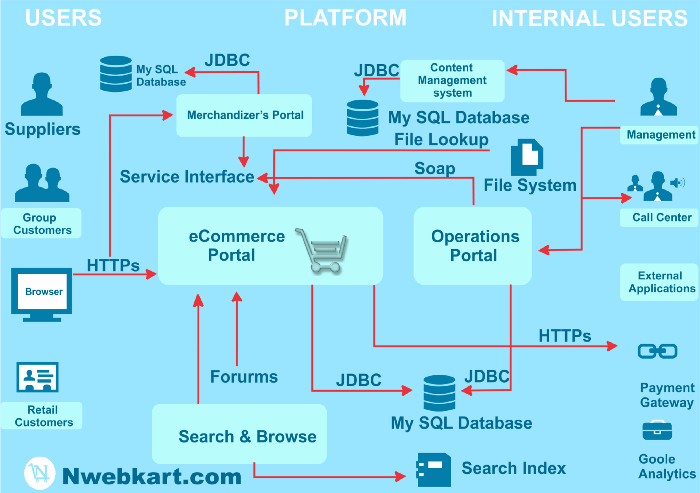 (Image Source: Medium.com)
Brainstorm the Ecommerce Store Ideas
Through an online store obviously, you are going to sell something and so, you need to decide what you are going to sell.
You need to have a clear idea of the product, its market demand, and how your offerings are going to cut through the competition.
Let's show the key aspects that you need to focus on while brainstorming the business idea.
Whether you have any interest in that product range and offerings.
Your existing knowledge about the products and niche.
Short and long-term market demand.
Business competition for that niche.
Kind of expertise and skills you need.
Pain points and constraints related to the niche.
Legal and statutory requirements for the business.
Measure the Depth of the Competition
This is another important area that you need to focus on from the very start.
You need to research and find out who are the major players in your category and niche and what their key value propositions are. You also need to figure out the competition locally in various areas where you are going to focus initially.
Now, based on the competition you need to figure out ways to stand ahead of the competition through unique and different value propositions with your products and services. Here are the key ways to stand apart from the competition.
Unique products that nobody is offering yet.
A wider range of product choices with a variety of color choices, brands, sizes, and other attributes.
Lucrative pricing, discounts, promotional offers, and freebies.
Value-added delivery service with added advantages like zero shipping cost, next-day delivery, etc.
Exceptional shopping experience.
Come With a Business Model
Now, that you have decided the products you are going to sell through your online store, it is time to decide how you are going to sell it out, make money, and how through this you are going to position your brand.
All these aspects will be decided through your choice of a business model.
Some of the most popular business models for eCommerce stores include the following.
Subscription model
Third-party product sales
Brand manufacturing
Warehousing or bulk reselling
Know Your Audience
At the very next step, you need to focus on the audience to whom you are going to sell your products. Your target audience consists of buyers who will value your products more than others.
To research the target audience, you have to begin by creating appropriate buyer personas.
The buyer person should have all the attributes including gender, age group, lifestyle attributes, the key motivations behind purchasing your products, etc.
Setting up the Store
Based on your market, competitors and audience research, and the eCommerce business idea we need to set up the online store. Here are the key steps.
Decide on an easy-to-remember brand name for your store that can be easily found as the domain name. Now, register the domain name.
Take a hosting service from a reputed provider with the option of scaling up from the economy package to more professional package options.
Select an eCommerce CMS solution that perfectly matches your requirements. The major and acclaimed options include Magento, Shopify, WooCommerce, etc.
(Recommended Reading: Why you should go for Shopify for your eCommerce Startups?)
Pick an appropriate theme for your eCommerce store that perfectly matches your brand image.
Now, you need to design an eye-catching and meaningful logo for your eCommerce brand name.
Now, build a design prototype for your eCommerce store focusing on simplicity, ease of browsing products, and audience engagement.
Now, start building your eCommerce store with the help of expert developers who have knowledge of the CMS platform and all necessary plugins.
Upload your product images and descriptions and conduct user testing as well as bug testing to ensure optimum and satisfactory user experience.
Customizing the Ecommerce Store
The eCommerce market is increasingly focused on custom user experience based on the target audience, the business niche, product line, location, and the intended market, every store needs to customize the e-commerce experience as per their requirements.
Here below we provide some of the key elements of an eCommerce store that can be customized.
Product page listing, search filters, and product categories.
Personalizing product recommendations based on browsing history, behavior, and experience.
Custom loyalty programs and customer-specific promotional campaigns.
Context-aware custom content based on specific customer requirements.
Contact page with GPS location map and detailed company information.
SEO
After putting all things in the right places, you need to take measures to boost the visibility of your eCommerce store in the search listing and this is done through Search Engine Optimization (SEO). To drive SEO for your online store, consider the following measures.
Choose a great SEO plugin that can take care of your on-page SEO.
Conduct frequent SEO audit to improve your search engine quotients.
Make use of deep linking and internal linking to help search engines find your content.
Develop a great profile of authoritative inbound links.
Focus on the most effective social media platforms for your niche and make a consistent social presence to build organic traffic.
Take the help of social bookmarking and promoting links to utilize the most influential marketing channels.
Conclusion
As the last token of advice, we must tell eCommerce startups to focus on offering exceptional customer service. Provide a detailed FAQ page covering all the aspects of customer service and if possible, allow real-time live customer interactions through live Chatbots.
CTA
Known as one of the leading eCommerce development services providers, Metizsoft has already cut out a niche reputation. Metizsoft Solutions can build the most sophisticated eCommerce stores with rich user experience and cutting-edge features.
If you want to know how we can help to materialize your eCommerce dream, feel free to contact us.
Read More:
About

Chetan Sheladiya

Director at Metizsoft Solutions, Chetan Sheladiya today stands at the top of a leading Mobile Application Development company, which further specializes in Online Business Marketing, Social Media Marketing, and Web Development, amongst other areas. A tech-lover at heart, Chetan has had more than a decade's worth of experience, dealing with hundreds of projects, and creating a bunch of unique IT solutions along the way. His other interest lies in sharing his ideas and opinions with people as passionate about technology, as he is. You can find his thoughts expressed on LinkedIn, Twitter, and Facebook.