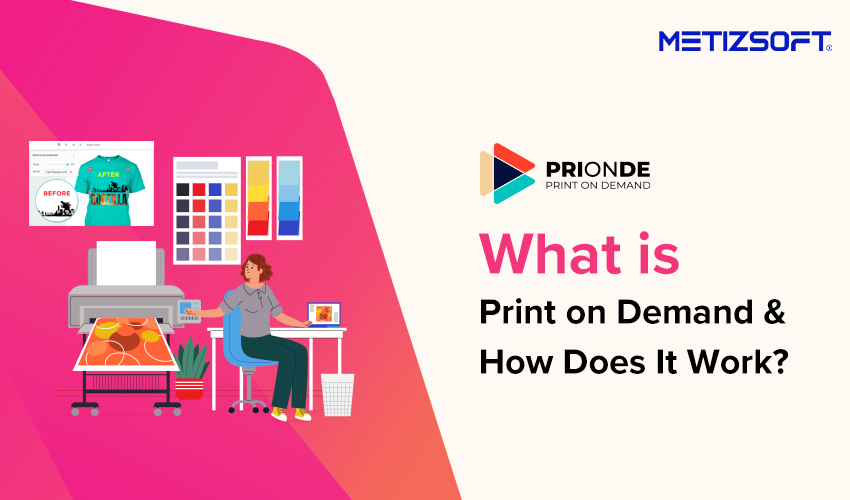 Print-on-demand is a revolutionary concept in the ever-evolving e-commerce and creative entrepreneurship landscape. If you're a budding business owner a creative artist or simply someone intrigued by the idea of turning your designs into tangible products, this guide is for you.
In this article, we'll dive into the world of print-on-demand, exploring what it is, how it works, and the incredible opportunities it offers businesses and creators alike.
What is Print-on-Demand and Why Does It Matter?
Print-on-demand (POD) is a dynamic and versatile business model that empowers individuals and companies to create custom products without significant upfront investments in inventory or manufacturing equipment.
Instead of producing a surplus of items and hoping they sell, POD allows you to print or manufacture products as orders are placed.
The significance of POD lies in its ability to democratize entrepreneurship and creativity. It levels the playing field, enabling startups and independent creators to compete with established brands globally.
Whether you're an artist looking to showcase your designs on merchandise or an e-commerce entrepreneur seeking a low-risk way to test new product ideas, POD can be a game-changer.
How Does Print-on-Demand Work?
Understanding how POD works is vital to harnessing its potential. Here's a simplified overview of the process:
Product Creation: You design or select products you want to sell. These could range from custom t-shirts, mugs, and phone cases to posters, books, and more.
Digital Artwork: Create or provide high-quality digital artwork or designs for your products. This is the heart of your POD venture, as the quality of your designs can significantly impact sales.
Integration with POD Platform: Partner with a reputable POD platform or provider. These platforms offer tools to upload designs and connect your online store or marketplace.
Product Listings: Using the platform's tools, create product listings by adding designs to various items. You can set prices, customize product descriptions, and choose product variants.
Market and Sell: Once your listings are live, promote your products through your website, social media, or other channels. When a customer places an order, the POD provider handles the printing, manufacturing, and shipping directly to the customer.
Profit and Scale: You earn a profit margin on each sale after the POD provider deducts the production cost. As your business grows, you can scale by adding more products, designs, or marketing efforts.
Illustrating the Potential of Print-on-Demand
Now, let's explore how print-on-demand has transformed the lives and businesses of many entrepreneurs and artists worldwide. Here are a few success stories to inspire you:
Case Study 1: Sarah's Artful Apparel

"Sarah, an aspiring artist, decided to turn her passion for watercolor paintings into a business. She partnered with a POD platform with minimal upfront investment and began selling her artwork on various products. Sarah's artful apparel store gained a loyal following within a year, and customers wore her designs worldwide."
Case Study 2: Dave's Niche Nook

"Dave was passionate about a niche hobby, vintage typewriters. He created a blog and an online store featuring typewriter-themed products. With the help of a POD platform, Dave expanded his product line to include notepads, posters, and even typewriter-themed clothing. His dedication to a niche market paid off, and his store became the go-to place for typewriter enthusiasts."
Case Study 3: Maya's E-book Empire

"Maya, an aspiring author, used print-on-demand to publish her first book. Instead of investing in a large print run, she opted for POD services to publish her book as orders came in. This cost-effective approach allowed her to bring her novel to market without the financial risks of traditional publishing. Maya's book gained popularity and eventually expanded her writing career into a thriving e-book empire."
Metizsoft: Your Partner in Print-on-Demand Solutions
Your journey into the world of print-on-demand development is teeming with opportunities for entrepreneurs, artists, and creatives. It's a gateway to turning your ideas into reality, reaching a global audience, and building a sustainable business without the usual hurdles of inventory management and production costs.
As you venture into the realm of print-on-demand, consider partnering with Metizsoft. Metizsoft offers comprehensive print-on-demand solutions such as Prionde that can elevate your creative journey. With a proven track record and a commitment to excellence, Metizsoft is your trusted ally in transforming your ideas into tangible, customizable products that the world will love.
Take that first step today and explore the world of print-on-demand with Metizsoft by your side. Whether you're an artist, writer, or visionary entrepreneur, the future of your creative endeavors is just a click away.
Ready to unlock the full potential of print-on-demand? Contact Metizsoft on this exciting journey and bring your creative ideas to life.
About

Manthan Bhavsar

Manthan Bhavsar is one of the most brilliant go-to people when someone thinks to Hire Shopify Certified Experts! A techie by profession and a technologically driven person by passion, Manthan Bhavsar isn't shy to blog and share the knowledge he has with the world. If you want to follow Manthan, you can do so on Facebook, Twitter, and LinkedIn