In the recent interview with Ms. Sweety Christian, The Senior Business Development Executive narrated her remarkable journey and strategic compass with gratitude.
She is the most confident and resilient employee who plays a vital role in the company's growth plan and business enterprise of Metizsoft Solutions.
Delineate your Journey with Metizsoft Solutions so Far?
I feel pleased and take pride in being a part of the successful journey and an award-winning work environment company.
started working with this renowned IT-driven company as a business executive in 2013.
I was genuinely thrilled with the opportunity to work with the sound and incredibly hard-working team.
Our commitment to growth is founded on the belief that everyone has the right to grow. My journey has been an exciting ride at this renowned company which helped me to be more successful.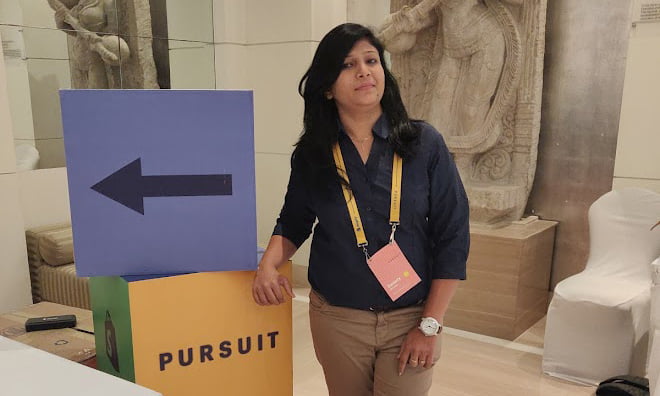 Henceforth, let me take this as an opportunity to mention the Shopify Pursuit Bangalore meet, which was a great pleasure to attend in 2018 with my founder managers, and team leader.
This was a thoroughly exciting and engaging Shopify event held in Bangalore.
After that, I took the courage to continue that count and quite impressively grew up our business worldwide under the supervision of supremely talented seniors and founder members.
Lastly, with an extensive and distinctive-transparent approach, I started contributing as a Senior Business Development Executive in no time.
Describe your work here at Metizsoft Solutions.
To my surprise, I was exhilarated that my senior team members trusted me in providing a rousing career in Business Development.
I became better and more passionate about delivering my interpersonal skills and creating solutions to business problems, especially for Shopify Industry and the eCommerce world.
Besides that, I became more confident in embracing new challenges and modern technologies coming daily.
With my strong adaptability and innovative business ideas, I got an imminent experience to discover spotting business development opportunities and new skills in me.
Overall it has been a remarkable and utterly different journey all throughout seven years working at Metizsoft Solutions, Ahmedabad.
How Metizsoft Solutions helped you to develop your Interpersonal and Leadership Qualities?
Each day is a new challenge involved with different activities. Moreover, I take pride in stating that my company and supremely talented founders – Mr. Manthan Bhavsar, and Mr. Chetan Sheladiya – and consummate Team Leader Bhavin Raval, helped my career grow as a senior Business development.
My ideas were always welcomed by my supportive seniors, depending on different strategies and different shapes.
Also, I was constantly encouraged to express my interest in exploring to reach my business goals and business potential.
New skills and traits have allowed my professional growth to run extremely fast, and I am always able to grow in so many different directions regardless of any industry.
It has been an epic blend to work with benevolent seniors and managers and develop a never-ending bonding experience with team members.
Tell us about the Company's Culture, Benefits, and Strategies According to you.
The crucial part of the organization's culture is that we all kept going and worked really hard to get to the top of the ladder.
Moreover, being the most renowned and leading market players globally, we all still strive to accomplish inevitable new projects and applications for our potential clients and customers.
Metizsoft Solutions Private Limited is blessed with young and intelligent talents who are highly devoted to achieving their goals.
We all have regular on-to-on meetings to build confidence in professionals' challenges and goals.
Lastly, we have a very positive and encouraging culture of leadership and mentoring and fostering a self-sustaining culture of success.
What According to you are the Futuristic Goals of Metizsoft Solutions?
We are a proven IT-driven platform with a unique set of values and goals. We are focusing on employee growth and learning.
Moreover, our company prioritizes individual development and implements programs that incorporate the whole team to meet their goal.
Final Words
"Do not hesitate to Comment to us and share." And keep following us on Linked In, Facebook, Twitter, and Instagram, to enjoy a seamless experience and be a part of our fruitful expedition.