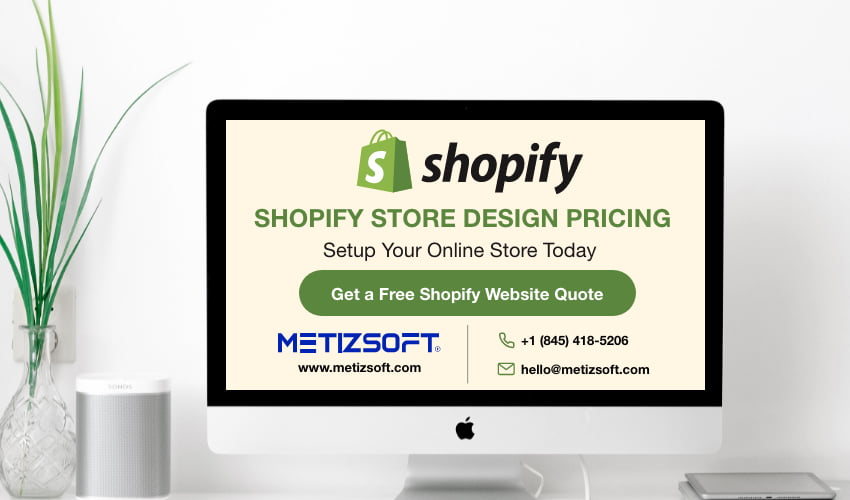 Shopify Website Design Pricing (Updated in 2023)
You want to build a website, and you decided to build it on the Shopify eCommerce platform; now, that's not all. Once you choose an eCommerce platform, there's much more to learn about that Shopify pricing plan and platform to understand it better and how it will be profitable for you and your website.
In this blog, we will talk about the Shopify eCommerce giant, particularly about Shopify website design pricing 2023, to help you better understand the platform.
Shopify offers many powerful features and affordable templates, but that's not all there is to know about this platform.
If you want to set up your Shopify online store and stand out from the competitors, using the right platform to build the online store is of utmost importance.
You must be aware of the Shopify pricing plan and much more. These factors are essential when it comes to building a Shopify website or store.
How Much does it Cost to Build an eCommerce Website?
Generally, an eCommerce website development cost ranges from $10,000 to $500,000 or more. The price will ultimately be driven by the project's complexity and depends on the project's requirements.
Another factor that decides the cost of building an eCommerce platform is the eCommerce platform you want to build your website.
How does Shopify Design your Website?
Shopify is a great eCommerce platform for developing powerful eCommerce websites, but it does not offer custom website design services.
In Shopify, you must choose from the templates in the store or purchase a Shopify template from a third party. You can also hire dedicated Shopify developers to design a custom theme for your eCommerce website.
Although some theme templates are available in Shopify's stores, most of Shopify's store owners rely on custom-designed themes built with several goals in mind.
Shopify Store Design Pricing 2023 Guide
Earlier, the cost ranged between $500-$1,000 just for the basic Shopify graphics and design for essential Shopify store design services.
In this context, most Shopify website design projects fall between the $10,000- $20,000 range, with extensive project costs as high as $100,000.
However, this estimation was purely based on the constant Shopify pricing. It's because From 2006 to 2022, Shopifys' pricing has remained unchanged.
In Shopify designing, you get what you pay for, so the prices may vary according to your needs.
In the new Shopify pricing 2023 structure, the Monthly pricing plan contains the following:
The Basic ($29) has increased to $39
The Shopify ($79) has increased to $105
The Advanced ($299) has increased to $399
Likewise, the Yearly Shopify pricing 2023 structure contains the following:
The Basic ($14.44) has increased to $29
The Shopify ($39.44) has increased to $79
The Advanced ($147.78) has increased to $299
Some of the additional features included with the above Shopify pricing are
Online store – Create multiple online stores without any coding.
Sales channel – Get access to multiple sales channels to promote your products to a larger audience and region.
Point of Sale (POS) – The advanced POS has inventory tracking, staff management, and more.
24/7 Support – Now you will get 24/7 support, including email and live chatting.
Shopify Monthly Pricing 2023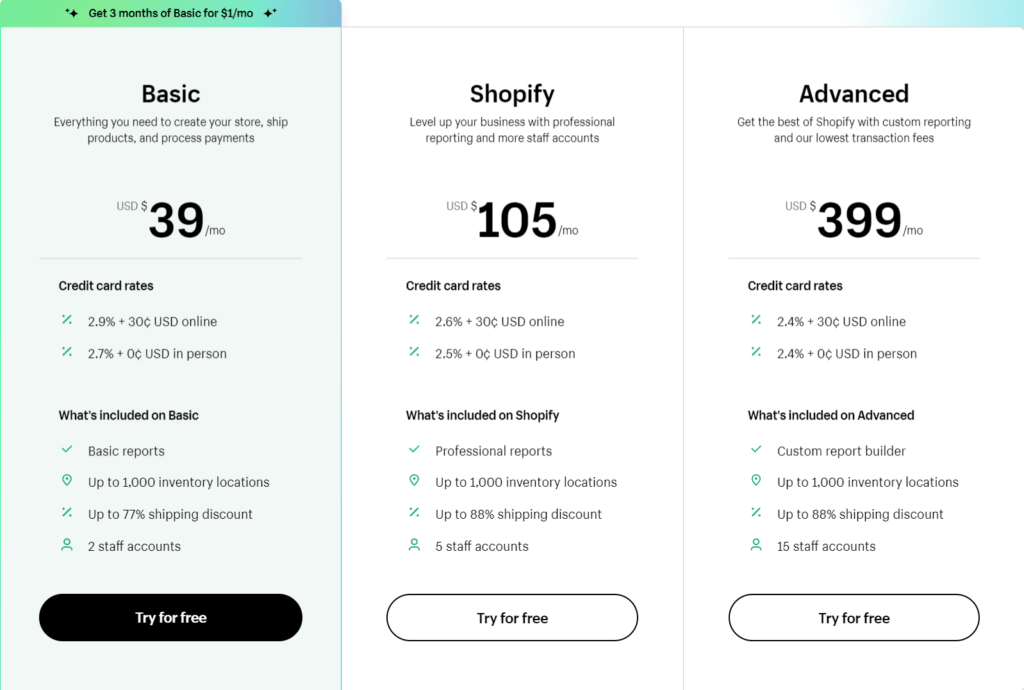 Shopify Yearly Pricing 2023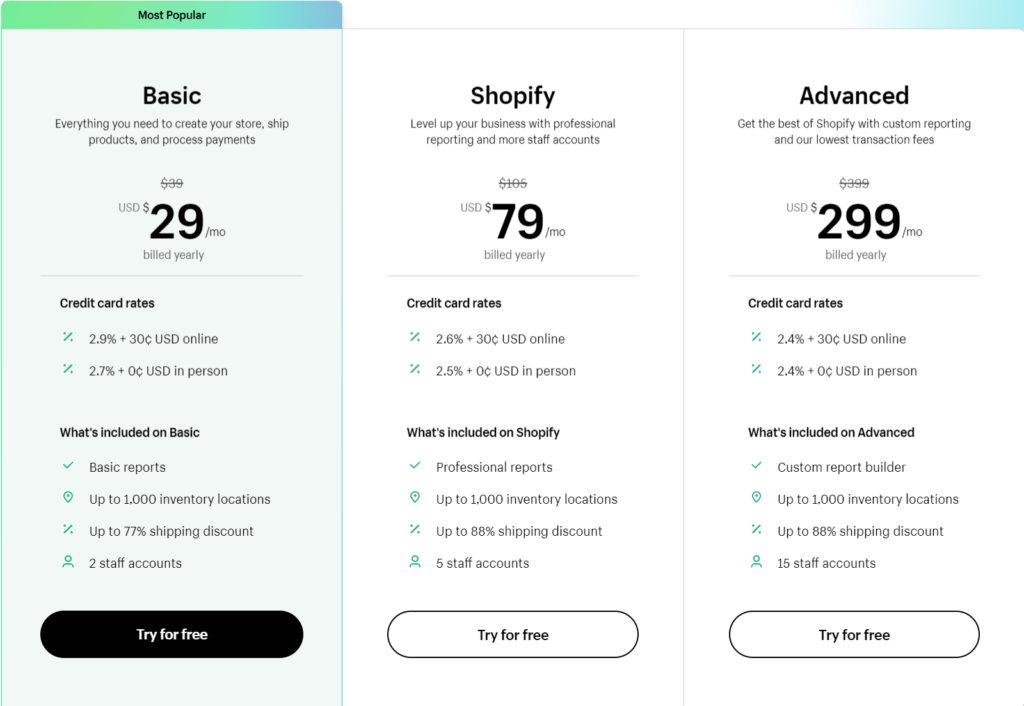 Shopify Pricing 2023 Major Highlights
Existing subscribers won't see this pricing effect until April 2023. However, new merchants will have to pay an initial $1/mo (Starter plan) to explore the platform upside down during their paid trial.
Moreover, the Shopify Plus cost starts at $2000/mo with many additional features for high-volume online stores.
With this sudden price hike, Shopify has cut down the Monthly vs. Yearly savings from 50% to 25%.
With this pricing, Shopify has allowed merchants to choose components suitable to their business model.
Shopify-Pricing
Shopify web designing has several unique templates. For basic Shopify eCommerce stores, you need separate pages designed for a product, category, and blog pages.
Some Shopify store owners develop one product page that can be used for all the products.
The number of unique page designs and the extent of functionality needed beyond Shopify's in-built features add to the cost of website designing and development of the Shopify store.
What are the Main Items that Determine the Cost of your eCommerce Website?
Several factors determine the cost of building an eCommerce website. Here are some of the major factors-
Design- There is a difference between custom design and template costs. Thus Shopify pricing plan will differ accordingly.
Functionality- Custom functionality includes unique features that might increase the pricing of building the website.
Marketing and SEO- A great SEO marketing plan will boost the cost of building an eCommerce website, but SEO is essential for driving traffic to your site.
The eCommerce company selection- Choosing a skilled and experienced eCommerce development company will cost a little more, but it is worth it. Because the more experience the company will have, the better the development of your Shopify eCommerce website.
These were some crucial factors determining the cost of building an eCommerce platform. Now, let's see how Shopify design pricing is defined and how much it costs to design a robust and feature-filled Shopify eCommerce website.
Shopify Website Marketing and Ranking on Google
Building a Shopify website is not the most significant task; driving traffic to your website is what matters the most.
50% of the organic traffic comes from Google and other search engines; therefore, it is essential to stay on top of search engines to get the most traffic.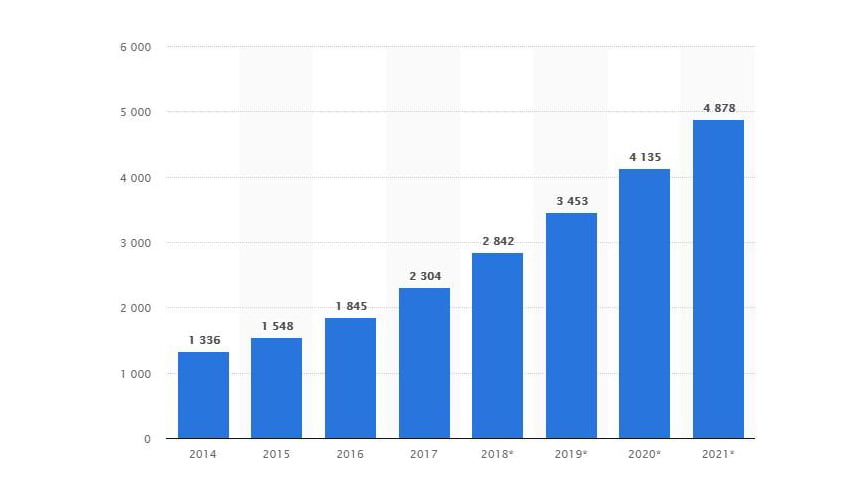 The more traffic you get on your website, the more sales will ultimately increase. A site can rank higher on Google's search engines with helpful SEO tools and marketing techniques.
If you need any help with marketing and want to rank higher in Google, you can contact our Shopify experts.
Quick Facts- How much is the Cost Associated with the Development and Design of a Shopify Website? It Includes the Following-
Monthly Shopify subscription ranging from $39.99/mo for basic and $399/mo for advanced Shopify
Shopify offers some free basic templates/themes which are affordable for free.
Depending on the business owner's needs and complexity, a custom Shopify design ranges between $20,000- $30,000.
If you need any additional features or functions, it will add up to the price of your Shopify web design project. However, planning to achieve these functionalities can save you some dollars in the future.
To hire a Shopify expert Shopify development agency, you must also pay for Shopify marketing services.
Are you planning to set up Your Shopify Online Store? If yes, you can discuss your project ideas with Metizsoft Solutions. We can give you an estimate of your project with the help of the Shopify plan calculator.
Our team will answer your questions, give suggestions, and clarify your doubts regarding Shopify website development, store design pricing, and project timeline.

Do you have any more questions regarding the Shopify pricing plan?
If yes, hurry up; Get a free Shopify website quote from us!
Contact Form
Project Details
Hire Shopify Experts from Metizsoft Solutions
Our team will answer your questions, give suggestions and clear all your doubts regarding Shopify website development, Shopify website design pricing, and project timeline. We will provide you with a detailed Shopify pricing plan info and assistance.
Metizsoft Solutions will help you with the most attractive Shopify website development and designing services to generate great results.
If you wish to Setup Your Shopify Online Store, reach out to us. We look forward to hearing from you. Let's get in touch.
Frequently Asked Questions
Can I use a personal domain name with Shopify?

Yes. You can use your existing domain name or purchase one within Shopify. Shopify also provides a forever free myshopify.com domain name to all store owners upon signing in.

Will I get a FREE web hosting facility from Shopify?

Yes, Shopify has a secure, unlimited eCommerce hosting solution for all plans except Starter. You can use the Buy Button to add your eCommerce store to any existing website.

Does Shopify charge for transactions?

There are no such transaction fees for stores using Shopify Payments. However, if you choose a third-party payment provider, additional fees will be 2%, 1%, or 0.5% for the Basic Shopify, Shopify, and Advanced Shopify plans.

Can I cancel my Shopify subscription at any time I want?

Yes, you can. You can cancel your subscription if you ever feel like Shopify is not the right platform anymore.

Can I switch to any Shopify plan in the middle of my existing plan?

A big Yes. Shopify ensures high-end flexibility, and you can switch or change to any plan anytime without paying extra or anything.

Does Shopify offer any discounts?

Yes, With the latest Shopify pricing 2023 update, you will get 25% off on yearly plans. For other discounts and benefits news, contact our Shopify experts now!