With hundreds of high-volume businesses using Shopify, and a couple of thousands using Shopify Plus, one can only imagine the high prospects of Shopify Gold that was announced this July, in India.
Shopify Experts would tell you, how the biggest brands in the country have been waiting for Shopify Gold – and we're saying, we wouldn't be surprised one bit.
Here's Why Shopify Gold Has The Makings Of The Next Big Thing In The Realm Of eCommerce:
Shopify Gold Is Big On Providing Solutions To The Common Merchant Problems.
Some Examples Are:
They give you unlimited SKUs, more than 7000 CPU cores, and 99.99% uptime amongst other things so that your platform doesn't crash during high-volume periods.
You don't have to worry about the growing cost of IT maintenance as you expand your business. They have priced the cloud service the same as before, irrespective of how much your company grows.
Discounts are an easy game now, with Shopify Scripts and Discounts API on your side. You can even logic-based discounts for items in your store.
They provide your online store with the perfect tools for international expansion, in terms of 3 website clones for multi-language and multicurrency purposes.
Enterprise apps would, of course, need ERP integrations. You will have RESTful APIs to help you integrate with ERP tools like Sage, Microsoft Dynamics, and Netsuite among others.
Other than all this, you will also be the recipient of 24/7 Tier 1 Priority Support and have a dedicated Merchant Success Manager to guide you throughout. You will be aided, at all times, by a more than proficient team of Shopify Gold Solutions Engineers to help you with anything you want.
You Are Right Now Looking At A Platform That Is Cloud-Based – Which Automatically Implies That Is Both Secure, As Well Scalable.

However large a volume of data you'd want to store, there's just no bar at all! With an infrastructure that includes more than 8000 CPU cores, and boasts of being able to handle 6000+ orders any given minute, this platform is brilliant in every way possible. Shopify website development, therefore, is the best solution that you can offer to your enterprise.
The Best User Experience Is Always The Result Of Simple And Customer-Centric Customizations.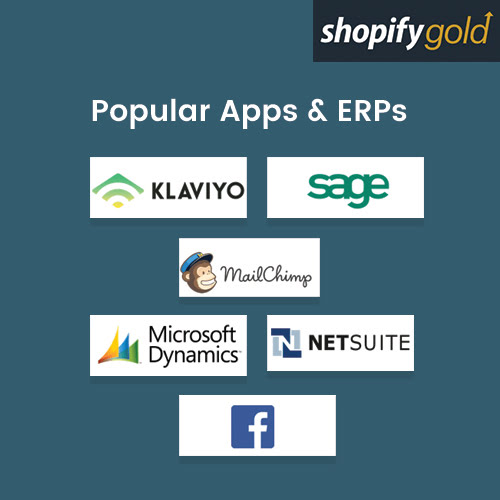 With Shopify Gold, customers can have the best buying experience of their lives. Whether it's adding items to their carts, checking out, making a payment, or just looking at the various products (like window shopping) – Shopify Gold is one flexible and user-friendly platform for all.
What's more? It works great for mobile and desktop both. You can sync your ERPs, take advantage of the exclusive APIs that Shopify offers, and manage any business just like one wants to.
User Friendliness Comes With A Hassle-Free Payment And Shipping – As Any Shopify Expert Would Tell You, This Platform Comes Armed With Both.
Offering one of the most seamlessly brilliant payments gateway integration, you can be assured of all kinds of payments accepted – net banking, debit or credit card, UPI, and whatnot.
Cash on delivery is also a very viable option, making it irresistible for a person to shop in one of the Shopify-built eCommerce stores. In addition, with more than 10 readymade logistics partners, they make shipping seem like a piece of cake!
Shopify Gold Website Development Comes With A Dedicated Account Manager Who Is On Your Side From The Day You Start.
You do not have to dial a hundred different numbers to get to their customer support. You will have a one-point contact who will, in turn, be supported by a 24×7 team of experts.
You Also Have The Marketing Experts And Certified Design Partners Of Shopify Gold.
These form a formidable team of professionals who'd be there to provide you with unique solutions for the growth of your e-store.
And Here Comes The Part That Deals With Pricing.

4% of monthly sales or Rs. 65000/month, whichever is higher, to a maximum of Rs. 130,000/month – that's the deal that Shopify Gold customers would be looking at. And while the features of this platform go beyond money, when it comes to value – this isn't a bad deal at all by any means!
Conclusion
There's a list of reasons right here, in addition to a bigger list out there which would definitely convince you how great an eCommerce platform Shopify Gold really is. If you want your enterprise to not just breathe, but thrive – go for Shopify plus development! It won't let you down!
About

Manthan Bhavsar

Manthan Bhavsar is one of the most brilliant go-to people when someone thinks to Hire Shopify Certified Experts! A techie by profession and a technologically driven person by passion, Manthan Bhavsar isn't shy to blog and share the knowledge he has with the world. If you want to follow Manthan, you can do so on Facebook, Twitter, and LinkedIn