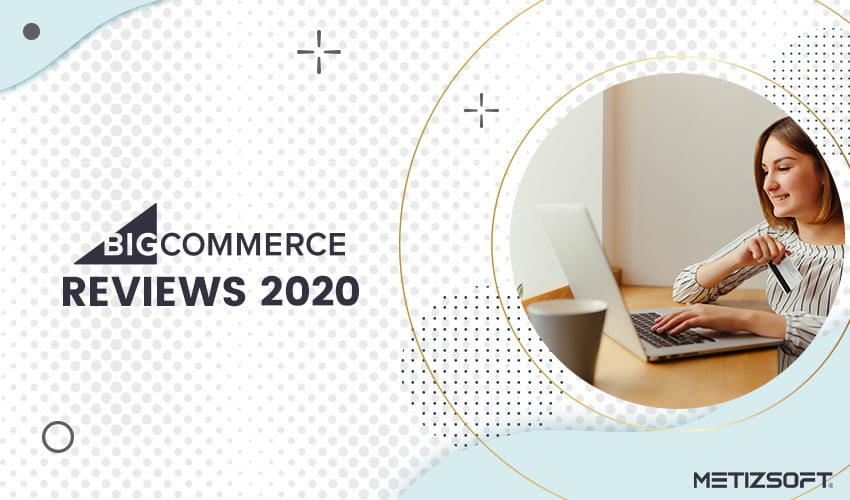 BigCommerce Reviews 2020- How Does BigCommerce Work, and What are Its Pros and Cons?
We all must have heard about BigCommerce at least once. BigCommerce is a reliable platform for selling products online and processing payments online. BigCommerce provides a viable and powerful interface for your eCommerce needs. It is a public technology company and provides a SaaS eCommerce platform. You can build robust websites and stores for anything with the flexibility of SaaS.
BigCommerce is a leading hosted eCommerce solution that allows business owners to set up an online store and sell their products online. With BigCommerce, you don't have to buy web hosting since it's a hosted solution.
All you need to have is a web browser and the internet, and you can manage your store from anywhere. BigCommerce offers a wide range of built-in marketing tools to promote your online store and its products.
In this blog, we will discuss the BigCommerce eCommerce website builder in detail. We will talk about BigCommerce reviews 2020, its features, and BigCommerce's pros and cons in detail.
Table of Contents
Let's First Begin with the Features of BigCommerce in 2020
Website Customization
BigCommerce is a highly customizable platform. The platform lets the developers customize the website as per the client's needs. BigCommerce allows customers to enhance fast-loading templates to their specific needs.
These templates help in quickly building an online store that showcases your products. BigCommerce has its Akamai image manager at no extra cost. This image manager optimizes the browser's and devices' images to ensure a beautiful display and fast load.
BigCommerce also allows you to test the website before launching it to ensure no bugs or issues on the website.
SEO and Analytical Optimization
BigCommerce eCommerce website builder has many SEO and analytical optimization options that make it one of the ideal platforms for website development.
BigCommerce's dashboard offers customer insights and visibility into the page and product-level performance. BigCommerce recognizes the analytical suites, and their in-house team continues to invest in improving the dashboard.
Payment and Inventory Management
BigCommerce supports many third-party payment services. They accept payments from major providers such as PayPal, Stripe, ApplePay, Amazon Pay, etc. These payment methods allow businesses to make the decision of which services are right for them.
BigCommerce helps businesses in managing inventory and orders from a single location. You can also use various third-party applications to grow your business.
Third-Party Integrations
BigCommerce integrates with external applications and maintains a marketplace of tested third-party apps. The active app development community and app marketplace help businesses find custom elements or features to improve their sites.
You can hire BigCommerce developers who are experts in integrating third-party apps into website development.
Omni-Channel Selling
BigCommerce's omnichannel selling technology elevates the business by connecting the business with the modern buyer. This software integration creates a multi-channel experience and reaches customers when they shop online.
Apart from the features mentioned above, BigCommerce also provides many other features such as-
12 free templates
A drag-and-drop builder
Unlimited staff accounts
Full content management system (CMS)
Search engine optimization (SEO)
Professional reporting
These were some of the essential features of BigCommerce, making it a successful platform for website development. BigCommerce has a comprehensive set of features that are unique for building online stores.
Let's Throw Light on BigCommerce Reviews 2020 Based on the Following-
BigCommerce offers impressive responsive templates that you can use for the most attractive-looking online store. BigCommerce has several free themes to choose from, and they are all responsive and engaging.
There are paid themes that give business owners an option to customize their stores the way they want. Personalization with BigCommerce is extremely easy as you can use any theme to sell any product or service.
You can get in touch with an expert BigCommerce design and development company for the best results.
In BigCommerce, one can upload quick products, set up inventory tracking, and update the stock levels in just a few minutes. You can use the inventory tools and also customize the inventory the way you like.
You can also sell many things like products, events, and out-of-the-box services. Managing these products and services is also pretty cool with BigCommerce.
Many eCommerce companies have integrated with Amazon for syncing their store's products with Amazon. BigCommerce provides a feature for reversing that sync to increase the customer base for their website instead of Amazon's.
BigCommerce offers four pricing plans for clients to choose from. These plans are as follows-
BigCommerce standard- $29.95 per month
BigCommerce Plus- $79.95 per month
BigCommerce pro- $299.95 per month
BigCommerce enterprise- its pricing varies depending on various business needs.
These are the four types of pricing plans that BigCommerce offers. Business owners can choose the one which suits their business the most.
Pros and Cons of BigCommerce 2020
Pros of BigCommerce
BigCommerce has excellent management tools such as order management, product management, reports, analytics, and much more. BigCommerce is an ideal platform for store management daily.
BigCommerce is quite affordable than many other eCommerce platforms. It offers several unique features and considering that we can say that the pricing of Bigcommerce is quite affordable.
BigCommerce provides impressive customer support. It provides 24*7 customer support if you need any assistance with figuring out things like SEO, marketing, etc.
BigCommerce is a suitable website builder for small and big businesses, and therefore, it is an ideal eCommerce platform.
BigCommerce doesn't charge any transaction fee for their plans. This way, business owners can save a lot of money, which will primarily benefit small businesses.
Adding product variants and options is easy in BigCommerce. Unlike other platforms, there are no limitations on the products you can add.
BigComemrce is available to try for a 14-day free trial
Cons of BigCommerce
The themes can get quite expensive when you want to customize your store in BigCommerce.
In BigCommerce, it isn't easy to adjust all the aspects of your home page
Creating content such as blog posts, landing pages, and about us pages is challenging in BigCommerce as the editor for this content is simple and not flexible.
In BigCommerce, you have to pay quite a lot to access things like abandoned cart functionality.
The free themes in Bigcommerce are very much similar to each other.
The design adjustment feature in BigCommerce doesn't always work the way it is supposed to.
In BigCommerce, you will automatically be updated to a higher plan if your annual sales limit is exceeded. This can result in higher costs than expected.
These were some of the BigCommerce reviews 2020, pros, and cons that make BigCommerce the platform that it is today. Like any other eCommerce platform, BigCommerce also comes with its pros and cons, but that doesn't mean it's not a good eCommerce platform.
Many people rely on BigCommerce for building robust and feature-rich stores and websites.
Are You Looking for a BigCommerce Design and Development Company?
If you are looking to hire BigCommerce developers for your next project, Then, Metizsoft Solutions is one of the best BigCommerce design and development companies offering quality BigCommerce store development services.
BigCommerce is an eCommerce website builder, and we have successfully developed many eCommerce websites for our clients.
You can hire BigCommerce experts, and they will help you develop the website of your dreams. Reach out to us for any assistance. We are here for you.