So Magento Go is shutting down, so if you are using their services, the last day that your online store will be working will be February 1, 2015.
Pretty crappy if you've been using their services to power your eCommerce store.
But I suppose they've made a decision to focus on their higher-end services such as their Enterprise & Community Editions.
Metizsoft Solutions Help you MagentoGo/ProStores Migration to Bigcommerce/Shopify/Volusion at 1499 $
Choosing the best e-commerce software is one of the biggest decisions you will have to make prior to creating an online store. The best platform will have the store features that are needed while being sensitive to their budgets. Since we are comparing hosted shopping carts, there should be minor technical issues.
The three shopping carts below are featured on my list as the best eCommerce software.
Bigcommerce vs Shopify vs Volusion – Shopping Cart Plan Comparison
The table below shows us a clear comparison between the three top shopping carts. Hopefully, you will be able to pinpoint the best shopping cart for your online store.
| | | | |
| --- | --- | --- | --- |
| | Shopify | BigCommerce | Volusion |
| Review Rating: | 88% | 77% | 90% |
| Free Trial: | 14-day free trial | 15-day free trial | 14-day free trial |
| Plans Pricing: | $29 to $299 | $29.95 to $249.95 | $15 to $135 |
| Bandwidth: | Unlimited | Unlimited | 1 GB to 40 GB |
| Products: | 25 to unlimited | Unlimited | 100 to unlimited |
| Transaction Fees: | 0 – 2.0% | None | None |
| Bandwidth Overage Fees: | None | None | $7 per gigabyte |
| Complete Reviews: | Shopify Reviews | BigCommerce Review | Volusion Review |
Bigcommerce vs Shopify vs Volusion – Which is the Best Shopping Cart?
When comparing the best shopping cart software, it is important to see which platform suits your needs.
While Shopify is the best overall e-commerce software, it might not be the best choice for your online store. Each store is different and so are the three platforms below.
For example, if you are looking for a simple way to create and launch an online store, then Shopify would be the ideal choice for you.
Update in 2014: BigCommerce has introduced transaction fees on their silver package, so I feel that they are not the best shopping cart anymore. Having no transaction fees is what kept BigCommerce in the first place.
While BigCommerce is still one of the carts I would recommend, Shopify is now the best choice for creating an online store. With Shopify, using their Stripe credit card processing services waives those pesky transaction fees.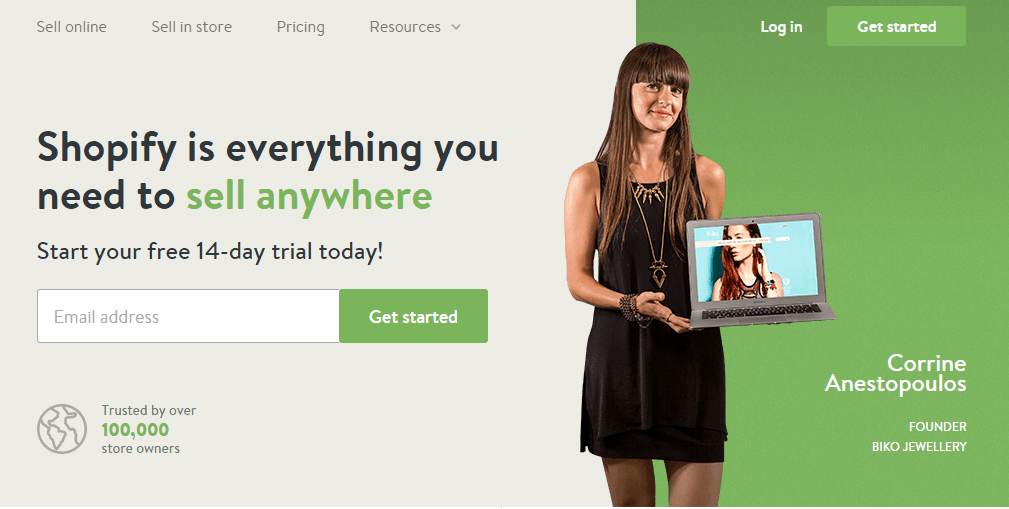 Their e-commerce software was released in 2006 and hosts over 70,000 online stores.
Over the past several years, Shopify has surpassed several of the top e-commerce platforms, including Bigcommerce and Volusion.
Their shopping cart is popular with many store owners due to its incredibly fast setup, light design, and simple storage management.
In 2013, they launched a new plan for small stores and are now offering a way to waive their pesky transaction fees.
The Good
Price: Plans start as low as $29 per month for 25 products, unlimited bandwidth, and 1 GB of storage. Their shopping cart has three additional plans that offer unlimited products.
Unlimited Bandwidth: Like BigCommerce, Shopify offers unlimited bandwidth on all of its plans, including its cheapest plan.
Easy Store Customization: Their simple design editor allows you to customize the layout of your online store. This editor requires no experience in HTML and CSS.
Quick Store Launch: Shopify has a simple and convenient store launch wizard tool that sets up an online store within minutes.
Abandoned Cart Recovery: Available on their Professional and Unlimited plans. The abandoned cart recovery tool is the same as the abandoned cart saver that BigCommerce offers.
Built-In Marketing and SEO: In terms of SEO, their shopping cart is awfully like the one of BigCommerce. Their search engine optimization tools will rank your store high on major search engines. However, some of their marketing tools are limited to their smaller plans.
Mobile-Friendly: You are able to manage your store on the go using a supported mobile device. Additionally, all of their themes and the actual checkout pages are integrated to work on mobile devices.
The Bad
Limits Plan Features: This is where things get a little tricky. Shopify limits theme editing and some marketing tools on their smaller plans. Their $29 per month plan does not allow you to use coupons and advanced reporting.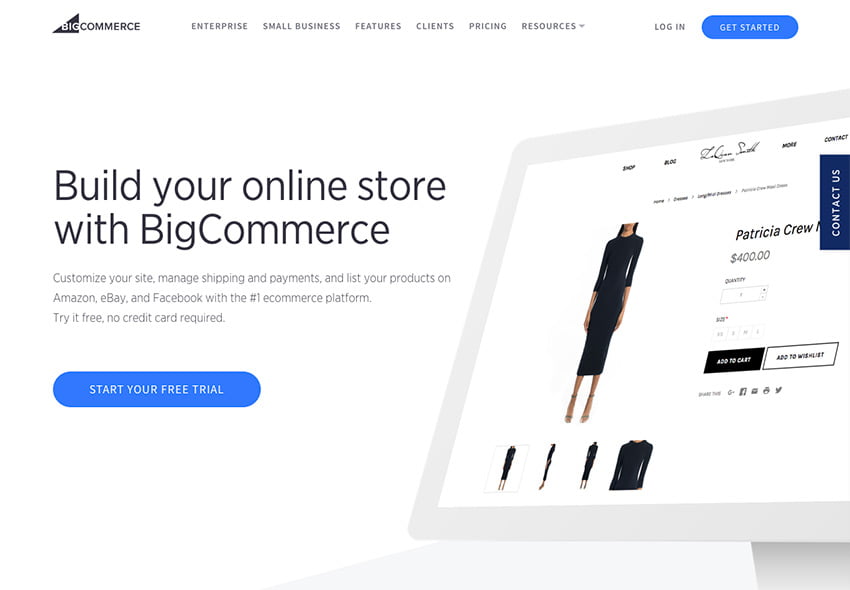 Hosting over 50,000 stores, Bigcommerce continues to dominate the e-commerce world.
Their shopping cart is loaded with the best features such as unlimited bandwidth, built-in marketing and SEO, and flexible design tools.
The Good
Price: Plans start as low as $29.95 per month for unlimited products & bandwidth, and 3 GB of storage. Furthermore, they have three additional plans for stores with larger inventory levels.
Unlimited Bandwidth: That's right, unlimited bandwidth is offered with each and every one of their plans.
Abandoned Cart Saver: This feature is available in their Gold, Platinum, and Diamond plans. The abandoned cart saver attempts to notify customers of their uncompleted orders and abandoned carts. Generally, this tool converts lost customers into sales.
Built-In Marketing and SEO: Their marketing and SEO tools allow you to dominate search engines and give your store the maximum exposure. Integrated newsletters, social sharing, and coupon codes are just a sample of what you get.
Mobile-Friendly: The eCommerce platform has been adjusted to integrate with mobile commerce. You can now manage your store on the go and enable customers to shop using their mobile devices.
Ease of Use: In early 2013, BigCommerce brought a new look to its admin dashboard. Their new look has a neat design and simple navigation.
The Bad
Customization: Their shopping cart comes with tons of free templates and easy store setups. However, if you want to edit the look and feel of their templates, HTML and CSS experience is strongly recommended.
Transaction Fees: There is a 1.5% transaction fee for all members of the Silver plan. All other plans do not charge any transaction fees.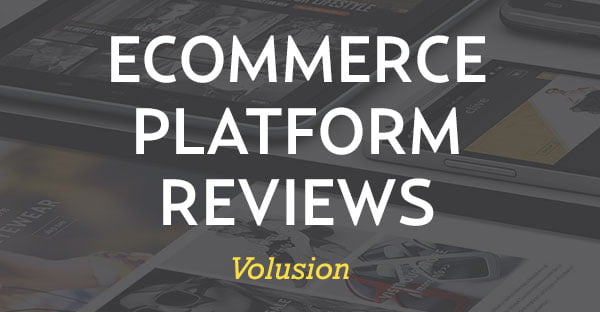 Volusion has been around since 1999 and its platform hosts over 40,000 online stores.
Several years after its launch, the Volusion platform emerged as the leader in e-commerce.
Over the years, their shopping cart has been hit with negative reviews on their service and support.
Needless to say, Volusion continues to offer limited bandwidth and has hidden overage fees.
The Good
Price: Plans start as low as $15 per month for 100 products and 1 GB of bandwidth. Furthermore, they have four additional plans for larger online stores.
No Transaction Fees: Transaction fees are something that you do not want to affect your profits. Volusion does not charge transaction fees.
Built-In SEO: Their shopping cart comes with basic search engine optimization tools that will give you the maximum exposure on the top search engines.
Ease of Use: Overall, their platform is simple and almost anyone can use their software. An online store can be created without any prior experience.
The Bad
Technical Support: As mentioned above, Volusion has negative reviews directed at their help and support team. Generally, their support lacks the knowledge that is required in the e-commerce business.
Overage Fees: Their overage fee policies are hard to find on their site. However, the sites that go over their monthly bandwidth limits will be charged additional overage fees. These overage fees are charged for every gigabyte that goes over the bandwidth limit associated with your plan.
Templates: Their templates are too simple and plain. It would be nice to see more professional templates in their gallery.
Bigcommerce vs Shopify vs Volusion: Conclusion
Deciding between Bigcommerce, Shopify, and Volusion will never be an easy decision, but this comparison will give you an idea of which shopping cart better suits the needs of your online store.
While we find that Bigcommerce is the best shopping cart, it might not the right choice for every online store.
About

Manthan Bhavsar

Manthan Bhavsar is one of the most brilliant go-to people when someone thinks to Hire Shopify Certified Experts! A techie by profession and a technologically driven person by passion, Manthan Bhavsar isn't shy to blog and share the knowledge he has with the world. If you want to follow Manthan, you can do so on Facebook, Twitter, and LinkedIn