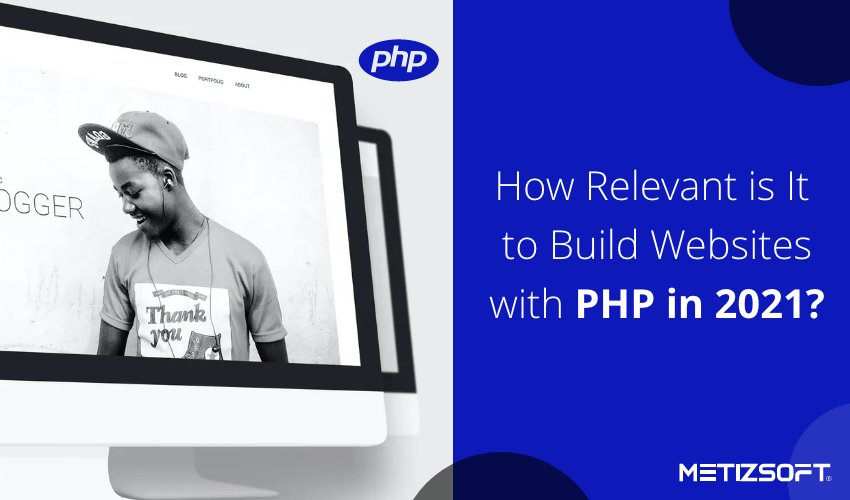 How Relevant is It to Build Websites with PHP in 2021?
The world of the internet is ever-growing, and with new technology coming all the time, thousands of new websites are launched now and then and are trying to make their place in the industry.
In the age of mobile phones and technology, we quickly find a website or application for whatever we need but have you wondered what goes into developing a website?
A website is created after successful development, testing and launching. The programming language matters a lot while developing a successful website.
When it comes to choosing the right programming language for web development, the choice is hard to make. There are many options available in the industry.
However, one programming language that is ruling for a few years is none other than PHP programming language.
PHP programming language has been around for two decades and has established itself as a leading and widely used programming language globally.
There are many supporters and admirers of this programming language which makes it a renowned programming language.
Let us See What Some of the Benefits of the PHP Framework are-
As PHP is the most frequently used programming language, it has many advantages, and we are going to focus on some of the top benefits of PHP programming language-
This is the first thing you need to know about PHP. PHP is an open-source programming language which means this technology is free in all senses.
The crucial benefit of open source is that it has a large community of developers working with it. Because of open-source technology, programmers can learn faster and implement cutting-edge solutions as soon as possible.
PHP has its own support, unlike other languages, and these features and factors make PHP the right choice for developing websites.
PHP Programming has High Speed
PHP uses its own memory, and therefore, both the workload and loading time are reduced. As a result, the processing speed increases. This is a benefit of PHP for developers and clients who receive their products sooner.
Some people and developers have a misconception that PHP is not secure because it is open source. However, that's not the case. The truth is each programming language is vulnerable; it just depends on how they are used.
The security of the programming language depends on the expertise of the developer. One of the ways to avoid security flaws is by providing software testing.
Provides Custom Development
The server side of PHP enables custom PHP development for developing customized websites. Developers can create web platforms based on PHP precisely the way the clients desire.
The customization gives the developers the freedom to develop the website with all the features and functions that the client wants.
Thus, a custom PHP web development service provider can fulfill the needs of the clients without any hassle.
PHP programming language has good flexibility, enabling PHP to combine with other programming languages so that the software product could use the most powerful technology for each particular feature.
It is also a cross-platform programming language that allows the developers to use any operating system such as Windows, Linux, or macOS, to perform the coding.
This flexibility of the programming language facilitates the development process by making it faster than usual.
These were the top benefits of the PHP programming language. Choose a trusted PHP web development company that provides all these benefits and develops a customized website for your business.
Several popular websites use PHP, and above all, 80% of the total websites all over the internet are built with PHP programming language.
Some of the large platforms that have used PHP as their programming language are Facebook, Wikipedia, Yahoo, Tumbler, and Flickr.
Is PHP Still an Adequate and Relevant Programming Language for Developing Websites in 2021?
PHP has been the leading programming language for many years, and its popularity is here to stay. The PHP programming language was considered a very easy and light programming language in the past due to its easy and fast development.
It remains one of the strongest benefits of PHP. For developing a feature-rich and robust website, PHP can be trusted even today.
The latest PHP version 8 is much more potent than the previous version, and we can say with the changing times, PHP also keeps updating and bringing new features and functionalities.
It undoubtedly has impressive benefits for developing websites, but we can't ignore its disadvantages. Everything has pros and cons, and just like that, PHP also has its share of disadvantages that you must be aware of.
Here are a few disadvantages of the PHP language-
Even though PHP is quite popular among developers and is a powerful tool for developing websites, there are other simpler programming languages.
Developers prefer learning Python these days and don't add PHP to their skillset. Currently, PHP dominates the industry, but it is likely to change in the future.
Because of new and easy programming languages entering the industry, the popularity of PHP might decrease.
PHP has Some Security Flaws
Many developers believe that the open-source nature of PHP leads to several security flaws. There are possibilities of code vulnerabilities, and any programmer with inadequate skills may exploit these vulnerabilities.
However, this drawback is common for all open-source programming languages and not only for the PHP language in particular.
Future of PHP Programming Language
PHP is currently at the top of its game and continues to influence many developers and customers worldwide despite having a few drawbacks.
A great share of all websites run on this programming language, and it continues to gain popularity.
Despite the flaws, this programming language's future seems bright as it will continue to evolve and be used extensively.
Python is giving tough competition to PHP the present, but PHP has established itself, and it would be right to state that PHP has become more efficient and can handle more diverse tasks effortlessly.
Conclusion
Considering the pros and cons of this programming language, we can say that It offers several advantages and benefits of PHP that overshadow its cons.
It is one of the most powerful and popular programming languages and will be one for the years to come. Thus, we can say you can trust PHP for building websites in 2021.
If you are searching for a Custom PHP Web Development Company to develop a customized website for your business, contact us.
Metizsoft Solutions is a renowned name in PHP web development and offers fantastic web development services using PHP.
Hire PHP developers, they will take care of your needs and build a top-notch website that will take you to new heights of success.