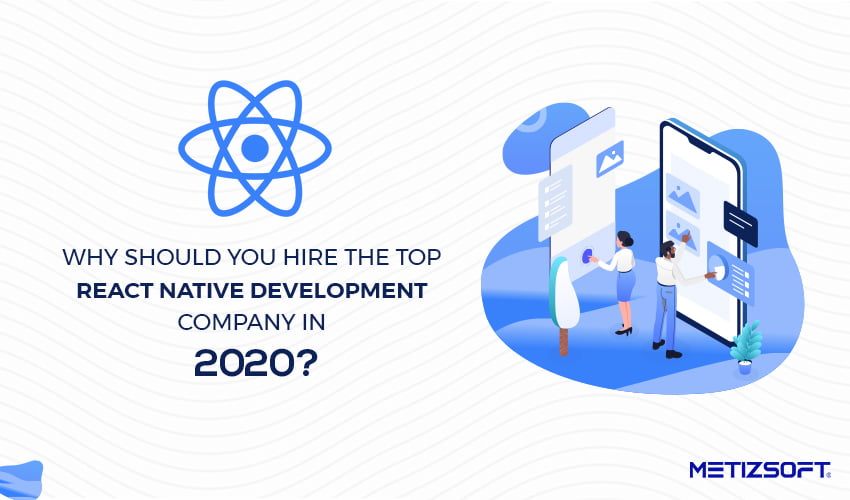 Why Should You Hire The Top React Native Agency in 2020? How will It Impact Your Business?
Everyone today wants the 'best' of everything. Today's world is a world of competition, and in this cut-throat competition, everyone looks for the best services. Mobile application development is no exception to this, either. With advancements in technology, mobile apps have become the top choice for store owners to take their business online.
Mobile apps have become the sought-after affair during current times. Due to the increasing demand for mobile apps, the demand for native apps is also increasing immensely.
Due to the popularity of native apps, every leading react native agency has high demand worldwide.
In this world full of competition, all businesses are thriving to give the best customer experience to their users. There are various app development frameworks out there, and choosing the right framework is a difficult task.
React Native is a robust cross-platform development framework used to build an extensive app for Android and iOS phones.
When it comes to choosing the mobile app framework, one can't miss out on React Native.
To understand it better, let us know a little about react native framework.
What is React Native?
React Native is a cross-platform open-source framework for mobile app development launched by Facebook. It is used to build fully functional apps on Android and iOS platforms using just one coding language instead of two different ones.
The best thing about React Native is that you can use the same code and deploy it both to Android and iOS saving a lot of your time and effort.
There are already many companies that are successfully using this framework. These companies are Skype, UberEats, Facebook, Instagram, Tesla, and others.
All these apps have turned towards React Native for iOS and Android application development.
React Native has become one of the best and most widely used app development frameworks in recent times. It is only going to grow in the coming times as it is gaining popularity and community support.
Now that you know what React Native is and what it does, we will begin with the top reasons you should choose React Native agency for app development in 2020.
Let us waste no more time and begin!
It offers cross-platform app development
React Native allows the same code for developing both iOS and Android mobile apps, saving a lot of time and effort. It gives the same performance without any additional changes.
With React Native, you can design a mobile app for your business in lesser time. In React Native, you only need a Javascript developer that is profound with native UI libraries, APIs, and hybrid app development.
React Native is ever-growing
React Native has gained massive popularity in recent times. It is ever-growing. Both Facebook and the massive community of React Native are continuously working on improving the framework.
React Native always comes up with solutions to the problems faced by new developers.
Even Microsoft noticed React Native and even encouraged them to create their own fork- React Native for Windows. This solution lets the developers develop apps for Windows 10 more easily.
React Native app runs like a native app
In React native, all the codes are comparable with React, for both iOS and Android. React Native functions efficiently and reacts faster to all the conjunctions.
If compared to other cross-platform development and Android frameworks, React Native allows us to create an app faster and increase the agility of the app.
The fundamental units of React Native are open for mobile gadgets; therefore, it is profitable for the mobile environment.
It is a futuristic and flexible approach
React Native is ever-growing, and there are several reasons behind it. One of them is that it uses a single code for both Android and iOS application development.
The popularity of this framework is evident because of its reliability and responsiveness. Developing both iOS and Android applications with the same code is like a cherry on top.
React Native is easy to understand and works as an all-in-one solution for developers.
React Native is cost-saving
When starting your business, money is the most crucial factor that store owners are concerned about. Every start-up wants to achieve fast returns to make an online brand presence and gain new customers.
Another reason to hire a react native development agency in 2020 is that it will save time and cost if you hire react native agency.
What are the factors you should look at? 
As we discussed how in this world of competition, everyone is trying to become the 'best,' and therefore, there are a massive number of companies out there.
One thing to understand is that not all of these companies provide the quality services that they promise.
While choosing a React Native agency, one has to be patient and should take multiple factors into consideration. You can't risk the failure of your app by taking any decision in a hurry.
You should make sure of the quality of their work and services. When you consider a company for a project, you must check its previous works and its reputation.
If needed, get in touch with previous clients to know about the quality of their services and the work they have done for the previous customers.
These two are essential factors to look for. Creating native apps requires a budget and time. These two are essential criteria to judge when you start searching for the Hire React Native team.
Their portfolio and feedback 
A portfolio of a company reflects its experience and capabilities. If they have worked successfully in the past and have delivered top-notch services, you can trust them with your project.
Check the feedback of their previous customers and verify if they know of the latest React native technologies and tools.
Check if their developers are experienced enough
It is important to make sure that you hire developers is experienced and skilled enough to carry on your project effortlessly.
Check the projects they have previously worked on and ask them the questions you need to ask about your project.
If the developers are skilled enough, your project will be in safe hands.
These were some of the factors to look for while you begin your hunt for a Hire React Native agency in 2020. An Agency that fulfills these criteria is the right one for you.
Final Words
The popularity of React Native is ever-growing, and thus we can say it is only going to grow in the future. If you are hunting for a React Native development company that fulfills all your needs and requirements, Metizsoft Solutions is the right choice for you.
We offer quality React Native mobile app development solutions and have worked on several successful projects in the past.
Hire React Native app developers and give us a chance to serve you with the best. To know more about us and our services, reach out to us.
Recommended Reading: