Have you ever heard about brand collaboration? I am sure you must have. Well, a brand collaboration is where two highly or not so highly brands join hands to benefit each other business and brand value. The same thing happened with Shopify and Youtube in the recent past. And that's what this blog is all about!
Recently, Youtube announced that it is partnering with Shopify, allowing its merchants to feature their products directly in its live shopping channels.
It means that those merchandise with a valid and active Shopify store can now link it to their Youtube channels and efficiently boost sales and brand value.
By doing this, Youtube allows viewers to buy directly from their channels without making them visit external shopping links from the description box. How cool is that, right?
So before jumping straight to the Shopify stores and Youtube channel connection procedure, let's have a look at:
Eligibility criteria of the Youtube channels before connecting them with your Shopify Stores
The Youtube channel creator must belong to an eligible country or region.
The channel must consist of a minimum of 10K or is an official artist channel.
The channel audience category must not be set as "Made for kids."
The channel must get approval for Monetization from Youtube officials under the monetization criteria.
The channel follows the monetization criteria at any cost and doesn't violate any rules or terms and conditions.
Now, coming to the mainstream subject, let's show you how you can connect your Youtube channel to Shopify and leverage the newly added shopping tools to boost your sales and revenue.
Step-by-step procedure to connect youtube with your Shopify channel
Consider following the below procedure to connect your Shopify stores to Youtube:
Enroll/Sign into Youtube Studio
Select Monetization from the left menu
Click on the Shopping
Then click on the Connect Store
Now, click on the Shopify option
Finally, hit the Continue button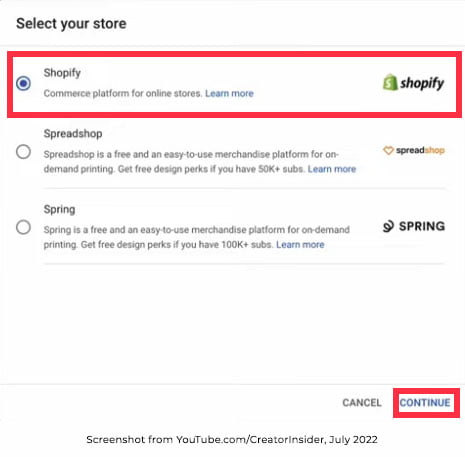 After clicking the Continue button, you will be directed to Shopify by Youtube, asking you to complete the process.
Now, you need to Sign in upon prompted and click on the Add App option to add the Google channel to Shopify.
Followed by you need to complete the following steps on Shopify.
Once you complete the Google App adding to Shopify, click on the Add Sales Channel on the top-right.
Then, click on Connect Google Account to Sign in
Now, fetch all required data and information of the Shopify store on the next page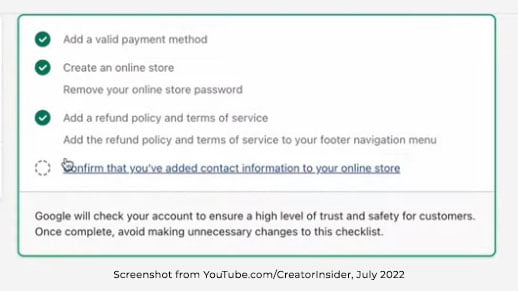 You are almost close to the final step.
Now, complete the setup process by following the below steps:
Consider adding your Google Merchant Center account (You will need to create one if you don't have one).
Click on the Agree to Google's terms of service condition
Finally, hit the Complete setup.
Now that you have successfully connected your accounts with Youtube, you must sync your products with the Youtube channel.
To do that, you need to follow the below-mentioned procedure:
To sync your product with the youtube channel, you need to click on Get Started on the next screen
Check whether the data and information you have entered are in the correct order and meet all the requirements. Make relevant changes if required, and then click on the Continue button.
Select your Youtube channel from the dropdown menu where you want to sync your Shopify stores products.
Click on the service box's Agree to the YouTube Shopping terms and click Complete Setup.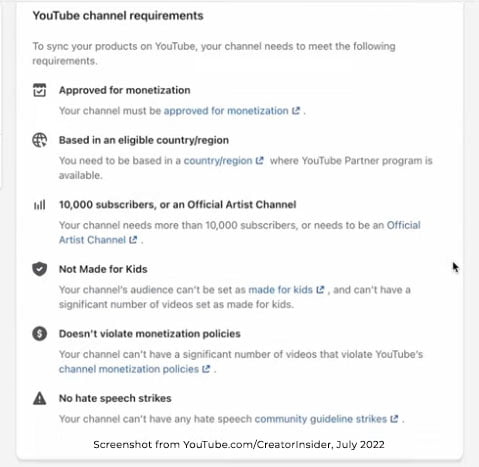 Once you complete the setup process, Youtube will review your products and check whether they comply with its and Google Merchants Centre policies.
Nothing to worry though! The overall approval process is said to take a few business days. However, once you get the final approval, you are set to appear your products on Youtube, and most importantly, you have the advantage of selecting your choice videos to make them appear.
Benefits of connecting Youtube to Shopify
If such huge brands like Youtube and Shopify collaborate to improve merchants' and shoppers' lives with tiny technical changes, then there must be some advantages.
So let's have a look at those core benefits of connecting Youtube to Shopify:
Visibility
It's an essential part of any viral marketing strategy.
With the new collaboration, creators now have the advantage of featuring their products directly beneath videos, on end screens, and elsewhere across YouTube.
Automation
These updates and changes have significantly impacted the automation process.
As a result, the product catalog will now automatically sync with Youtube. The updates work in the background while adding and removing the products to Shopify.
Live Shopping
With these Live Shopping features, the creator can efficiently manage their product tag and appearance on a Livestream directly from the Live Control Room.
On-site Checkout
With new features, on-site checkout has become easy and reliable for users. They can buy products directly from the channels without leaving youtube.
(Note – The On-site checkout is currently available to channels in the US region only.)
Shop Tab
Once you connect your Shopify account to the Youtube channel, you will unlock the Store Tab, which serves as a digital storefront.
"YouTube says it's aware that creators spend a lot of time developing their products, so it wants to make it easier and flexible for them to manage their stores on YouTube and bring their products directly to their audience through these new tools."
Bottom Line
The primary reason behind this collaboration is to cut the distance between shoppers and merchants struggling to generate traffic and revenue through Youtube. Youtube is continuously working towards improving the platform visibility and performance along with Shopify by making it a core Shopify destination.
However, these changes and updates are still new, and the chances of getting stuck during the setup process will stay high till the next few months. In contrast, we suggest you hire Shopify experts to move ahead efficiently and quickly adapt to changes to take advantage of your competitors.
About

Chetan Sheladiya

Director at Metizsoft Solutions, Chetan Sheladiya today stands at the top of a leading Mobile Application Development company, which further specializes in Online Business Marketing, Social Media Marketing, and Web Development, amongst other areas. A tech-lover at heart, Chetan has had more than a decade's worth of experience, dealing with hundreds of projects, and creating a bunch of unique IT solutions along the way. His other interest lies in sharing his ideas and opinions with people as passionate about technology, as he is. You can find his thoughts expressed on LinkedIn, Twitter, and Facebook.