The eCommerce industry is ever-changing, and with every year, new trends enter the industry. As we know, due to an expected increase and the advent of 2020's effect on the future of eCommerce, the eCommerce industry is flourishing.
Every day, more retailers are switching to online selling, and entrepreneurs are setting up their start-ups online.
As per industry stats, the expected revenue of the eCommerce industry is ready to reach up to 28,00,000 million by the upcoming 2 years.
8 eCommerce Trends and Technology to Watch Out For in 2023
Omnichannel is the Next Big Thing
AI and AR will Transform the eCommerce
Virtual Payment Methods to Ensure Safety
The Role of Social Media is Impeccable
ChatBots are Worth It.
Mobile Apps are the Future of eCommerce
Go for Local Shopping
Personalization is the Key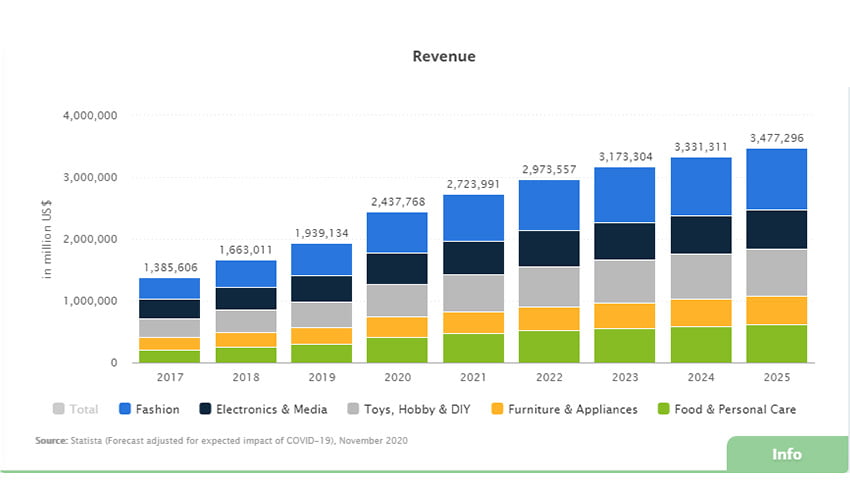 Image Source – Statista
As we will step into 2023 very soon, it's better to know about some of the eCommerce trends that will help smoothly run your websites and apps.
This article will give you an insight and in-depth overview of each trend that will help you grow your eCommerce business in 2023.
For a better tomorrow, you must start working now, and therefore, before we step into 2023.

Let's Look at These Trends and Technologies in Advance of the Future of eCommerce 2023.
1. Omnichannel is the Next Big Thing
Omnichannel retailing is going to be the next big thing in the eCommerce industry. Omnichannel provides users with the following-
Seamless and consistent experience
Contribute to the success of the eCommerce industry
It helps you analyze the products in demand
Allows you to build reports for events
2. AI and AR will Transform the eCommerce
AI and AR technologies are there in the eCommerce industry for a few years, and these technologies are going to stay and enhance with time.
AI and AR help with the following-
It offers a personalized experience
Allows the customers to try on the products virtually
Help in increasing the conversion rate of the website
3. Virtual Payment Methods to Ensure Safety
Most web development companies now integrate multiple payment methods into apps and websites. These payment methods help with the following-
Customers have a choice with the mode of payment
Ensures safety with secure payments
The flexibility of choosing the payment method
4. The Role of Social Media is Impeccable
With the introduction of the "buy" button on Facebook and Instagram, social media plays a significant role in the eCommerce world.
Businesses can get help from Instagram influencers to increase the traffic
Businesses can link their online stores with social media sites
Social media allows your brand to be discovered by people scrolling through their feeds.
5. ChatBots are Worth It.
Chatbots have been there in the eCommerce industry and have proven to be fantastic technology till now. Chatbots are totally worth it. Let's find out why-
Chatbots benefit both customers and retailers
Chatbots work as personal assistants
Accurate responses to the customer's queries
It's a smart solution to assist the customers
6. Mobile Apps are the Future of eCommerce
Mobile devices have become the favorite gadget of people these days. Online shopping has reached its highest due to mobile apps. Let's see how mobile apps are the future of eCommerce-
Mobile apps provide a smooth shopping experience
Shopping is easier on mobile apps
Mobile apps generate better results than websites
7. Go to the Local Shopping
The coronavirus pandemic caused an increase in the popularity of shopping from local businesses. Customers now search for products within their local area.
Shopping locally boosts the value of your community
It also helps the local economy as well as supports local jobs
Supporting locals will help a lot of people in such challenging times.
8. Personalization is the Key
Personalization is an integral part of the eCommerce industry, and the companies offering personalization will always remain ahead of the others. More than 50% of users say that a personalized online experience is important.
Personalization has a strong impact on improving customer relationships
Customers value the personalized experience
Personalization strengthens the bond with customers
So, these are the top trends that are going to dominate the eCommerce industry in 2023. Keep an eye on these trends and make the most out of this year.
Conclusion
The eCommerce industry has gone through a lot of transformation, and new and updated trends are entering the industry all the time. These eCommerce trends mentioned above will prepare you for the future.
You can include these trends in your ongoing practices and add them to your eCommerce development strategy for improved results.
For successful website development, one has to make smart decisions. To help you with these eCommerce trends, you must hire a skilled Shopify developer.
Hire Shopify developers from Metizsoft Solutions, which is a renowned eCommerce web development company.
Our experts will help you make the most out of these trends, and the future of eCommerce 2023 will be in safe hands. Reach out to us to know more about our services and how we can help you reach new heights this new year.
You can contact our team of Shopify experts to integrate these eCommerce trends and technologies into your eCommerce websites and apps.
About

Manthan Bhavsar

Manthan Bhavsar is one of the most brilliant go-to people when someone thinks to Hire Shopify Certified Experts! A techie by profession and a technologically driven person by passion, Manthan Bhavsar isn't shy to blog and share the knowledge he has with the world. If you want to follow Manthan, you can do so on Facebook, Twitter, and LinkedIn