When Emails and Phones with texting apps come, the traditional practice of scheduling meetings via pen and paper has become obsolete. With the emergence of advanced technology, appointment booking apps have become a trend. Numerous well-known businesses are now using the best appointment-scheduling apps to schedule meetings with clients, sales executives, colleagues, vendors, and more.
Well, it is one of the most convenient and best possible solutions that save time, effort, and money without causing significant mishaps. Irrespective of your business or profession, using an appointment scheduling app is what one should always prefer compared to other options.
Not only for its convincingness but also the sheer money, time, and overall sanity it will save while ensuring 100% progress and efficiency. So without dragging the introductory part too long, let's dive straight into the context of this article:
What is an Appointment Scheduling App?
You must have assumed such apps' meaning and working cycle by the name. But in contrast to an in-brief explanation, an appointment booking/scheduling app is an online portal that business owners and officials use to schedule or accept appointments. Moreover, the appointment scheduling app helps them manage product and service pricing, cancellations, and client information for products and services.
Appointment scheduling apps belong to the SaaS (software as a service) tech category. It allows you to do a free sign-up for a few days and later asks you to subscribe monthly or yearly to enhance its integrated features. The Appointment booking apps are hosted and published online, resulting in two interfaces:
The frontend portal where customers and clients make appointment bookings
The Backend interface is where the admins manage the entire schedule.
Core components to consider in an Appointment Scheduling App:
Every appointment scheduling app differs in features, format, configurations, and work functionalities. However, there are specific components that one must seek in an appointment booking app irrespective of its built-up and feature prospects:
Integrated Frontend Calendar
A calendar with all necessary details like holidays and days off helps customers and clients see available appointments and times. It helps them plan their bookings, leave notes, and make required payments.
A well-structured backend Admin portal helps edit their schedule, keep up with their appointments, and communicate with clients.
Direct Website Connection Support
It may be a link or a different admin panel for you to quickly switch tabs and sneak peek into your website whenever possible.
Multiple Location & Team Member Access
This option provides flexibility to customers' search by allowing them access to multi-location businesses and independent workers, including healthcare professionals, personal gym trainers, ad many more.
Multiple Payment Processing Option
Integrating multiple payment options allows clients and customers to choose different payment options best suited to their currency and region.
Automated Notification Pop-ups
An appointment booking app with advanced notification pop-ups is a comprehensive way to get reminder messages and notifications about cancellations of appointments and other changes on your portal.
Offers & Gifts Generation Tool
The best appointment scheduling app must have an offer and gift generation tool. The admin can use it appropriately to reward valued customers and clients with various offers and gift cards.
Now that you learned the must-have features of an appointment booking app let us take you to our list of the best five appointment apps with higher userbases.
Top 5 Appointment Scheduling Apps in 2022
1. HubSpot Scheduling Software:
HubSpot offers free scheduling software with valuable tools for smaller businesses to accept appointments. But you can extend your service by upgrading to a paid plan to access upgraded features like:
Multi-language content
Payment processing
Automated marketing packaged and more.
HubSpot is the most complete and reliable free scheduling app available. As a busy CEO or CMO, most features you need are available, including an online calendar, calendar syncing, grouped meetings, and more in the free plan.
Pricing:
The three pricing structures of HubSpot are:
Starter: $50/Month to remove branding from the meeting scheduler, live chats, documents, and one-to-one emails. You also get payments for the scheduler, Stripe integration, repeating tasks, conversation routing, and email/chat support.
Professional: $500/Month, including everything of the previous plans, plus more advanced tools for sequences, required fields, video messaging, E-signatures, teams, and phone support.
Enterprise: $1,200/Month, including everything from previous plans, hierarchical teams, playbooks, advanced permissions, conversation intelligence, and more.
2. Squarespace Scheduling Software:
Squarespace is a renowned website builder and eCommerce platform that offers a separate system called Squarespace Scheduling. You can efficiently run the calendar booking app or add it directly to any website using Squarespace scheduling.
The Squarespace Scheduling is designed in a unified way to automate your entire calendar. From bookings to reminders and payments to availability. Moreover, it comes with a front-end calendar option where you can promote your availability and stay organized. Also, customize your daily, weekly, and monthly appointment confirmations and intake forms.
Pricing:
Squarespace Scheduling comes with annual and monthly pricing plans—no need to tell you that you will save a decent amount on an annual subscription.
Emerging: $15/Month with access to one calendar per team member or location. You will have access to the following:
Calendar syncing
Custom payments
Invoicing
Automatic reminder emails
Card vaulting.
Growing: $25/Month with access to 2-6 calendars per team member or location, plus SMS/Text reminders, gift certificates, memberships, and packages.
Powerhouse: $50/Month with access to 7-36 calendars for each team member or location.
Plus:
Multiple time zones for each location
Access to the custom API
CSS controls
HIPAA (BAA) compliance.
3. Zoho Bookings: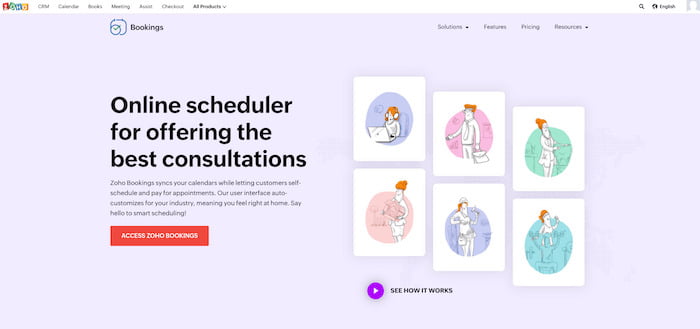 Zoho Bookings is a free solution to enhance modern appointment scheduling, allowing clients to book and pay for services. Its dashboard has an easy-to-understand navigation system and Android and iOS apps for tinkering.
You will receive templates and customization options for the online calendar with auto-update notifications and reminders. You can also update your CRM from Zoho Bookings and handle tasks like two-way calendar syncing and team meetings.
Pricing:
Zoho bookings pricing structure surges around:
Free: $0/Month for one staff member, notification emails, online meetings, Office365, Zoho, Google, and two-way calendar syncing with Outlook.
Basic: $8 User/Month, including everything from the previous plan. It includes:
Notification emails
Mobile apps
More integrations
The brand color palette for the booking page
Round-robin allocation
Auto time zone conversions
Zapier integration
Reporting.
Premium: $12 User/Month, including everything from the previous plans. It includes:
An appointment sign-up portal for customers
Text notifications
Upsells like rooms and equipment
Recurring group events
Zoho Assist integration (remote support sessions
Removal of the Zoho branding
A booking page on your domain.
4. Setmore:
The Setmore appointment booking app helps businesses stay ahead with its advanced, simple, yet powerful online booking functionalities. It's a dynamic appointment scheduling app that helps get paid in advance, minimize no-shows, and reach a high-end global customer base with 1-click Teleport and Zoom meetings.
You can easily customize your page, display business reviews, and connect it to your website, Facebook, and Instagram.
Pricing:
Setmore is known for its affordable monthly and annual subscription plans, which include:
Free: Zero cost. You can use services like:
Unlimited appointments
Email reminders
Payments with Square
Teleport video meetings
Social media integrations
Custom booking page with a unique URL.
Premium: $12 User/Month, including everything from the previous plan. Plus:
SMS reminders
Payments (with Square, Stripe, and PayPal)
Two-way calendar sync
Recurring bookings
1-click video meetings through Teleport and Zoom.
Pro: $9 User/Month including everything from the previous plans but for 3+ users (It could be a promotional price—since the Premium plan costs more than this)
5. Calendly Scheduling Software: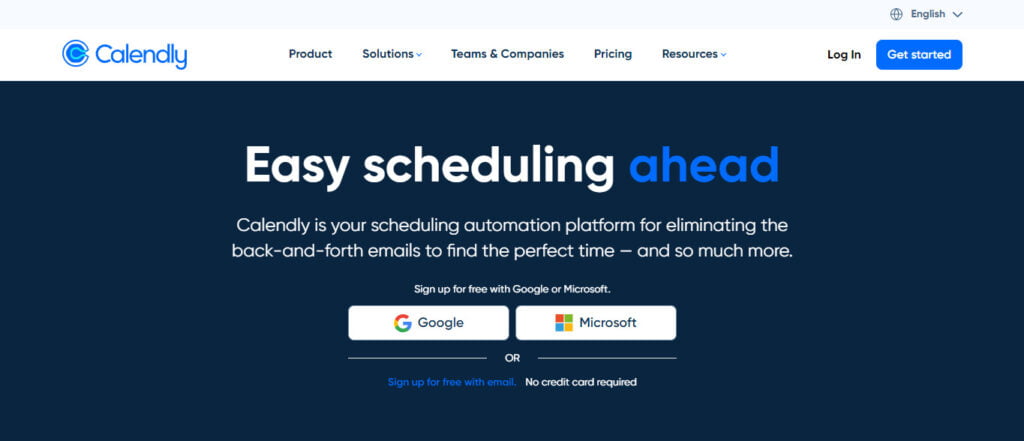 Calendly comes with a multi-format type scheduler that helps you schedule meetings in joint meetings, round robins, Group meetings, and One-on-one meetings.
Above all, the sales-oriented scheduling hub from Hubspot offers automated reminders and follow-ups. It has a short online scheduling calendar links directly to video conferencing and calendar apps.
Pricing:
Calendly has a free trial plan and offers discounts for annual billing.
Basic: The basic plan starts with a:
Free one calendar connection per person
Syncing with calendar software
Unlimited one-on-one events
Polls
A booking link
Automated notifications
Connecting your website with specific cloud-based software and including a calendar feature is possible.
Essentials: $10 Seat/Month for everything in the free plan, plus additional group events, email reminders, follow-ups, reporting, and more.
Professional: $15 Seat/Month, including everything from the previous plans, plus customizable notifications, text notifications, redirections, and more.
Teams: $20 Seat/Month for all previous features, round-robin events, the locking and syncing of managed events for your team, and more.
Which one sounds like a perfect Appointment booking app for you:
So far, you must have concluded which one of the five appointment booking apps best suits you and your business. However, If you still find it challenging to decide between two or three of these, do consider our final recommendations:
HubSpot Scheduling Software: A powerful sales team platform that helps smooth the booking of client calls and video conferences.
Squarespace Scheduling: It's an all-in-one booking tool, especially for small businesses and multiple users.
Calendly: It's a decent alternative to HubSpot, especially for sales teams to enhance their sales funnel.
Zoho Bookings: Zoho belongs to the cost-effective appointment booking app category with many advanced features—a comprehensive solution for medium and large business categories.
Setmore: This one is budget-friendly with a great video conferencing option and ensures accessible payment collection.
Now, you decide what to explore in your business and personal growth.
Final Words
So, I hope you have a broad spectrum of knowledge and information from the above content regarding appointment scheduling apps. All the above apps are handy and filled with incredible features and functionalities. If you are one of those business individuals with a tight schedule that is hard to manage, you can use one of the above appointment apps per your budget and requirement.
If you have used many and want to build your customized appointment booking app, then Metizsoft Solution is your one-stop destination. We have had experience building similar CRM and apps for our clients, and we assure you complete solution for the same at a budget-friendly price.
About

Manthan Bhavsar

Manthan Bhavsar is one of the most brilliant go-to people when someone thinks to Hire Shopify Certified Experts! A techie by profession and a technologically driven person by passion, Manthan Bhavsar isn't shy to blog and share the knowledge he has with the world. If you want to follow Manthan, you can do so on Facebook, Twitter, and LinkedIn