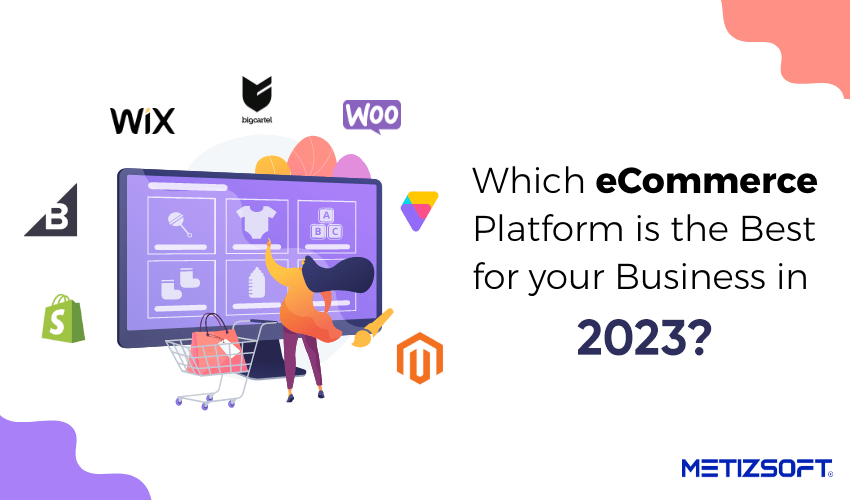 Which eCommerce Platform is the best for your business in 2023?
Starting an eCommerce business is an exciting event. When a business owner starts an eCommerce business, he/she has tons of things in his mind, such as:
Creating a brand logo
Branding
Ui/Ux design
Overall Website development
Among all the hustle, one thing that matters the most while developing an eCommerce website is picking the best eCommerce development platforms.
Everyone wants their website to perform the best and have all the updated and powerful features. Savvy entrepreneurs continuously look for the best platform for their businesses. But they often get confused while choosing the right eCommerce development platform, amongst many.
Table of Contents
Let us first discuss what an eCommerce platform is.
The first thing a person must think of while developing an eCommerce store is selecting the right eCommerce platform. An eCommerce platform is a powerful software that enables the commercial process of buying products over the internet.
An eCommerce platform is responsible for multiple tasks, such as allowing buying and selling, making payments, transferring data over an electronic medium, etc.
There are several eCommerce platforms that the owners can select for building their websites and online stores, and all of these platforms have distinct features and tools that make them unique.
This blog will discuss in-depth the top eCommerce platforms for you to choose from in 2023. These platforms are widely used and quite popular among entrepreneurs these days.
Before we begin our discussion of the top eCommerce platforms in 2023, let us brief you on two types of eCommerce platforms you can choose for your business.
Here are the two types of eCommerce platforms
Some website developers offer a hosted platform where the clients don't have to worry about third-party hosting and additional fees attached to it.
Shopify, for example, offers website hosting in every plan. All the Shopify updates are automatic, which means the site will always remain up-to-date.
Building a hosted eCommerce platform gives you more freedom to focus on running your business smoothly.
Self-hosted on non-hosted eCommerce platforms require merchants to use their own server space or pay for the hosting to the third-party hosting provider.
It makes the ongoing projects a little complex as you will be responsible for the updates, maintenance, and bug fixes.
Self-hosted platforms are open source, so you must use a third party to host your website data. Third-party will charge fees for their services, adding to the overall costs.
Thus, self-hosting can cost you more than the hosted platforms and sometimes leave you hanging.
These were the two types of eCommerce platforms to choose from. You must be careful while selecting the right hosting, as it will impact you further.
Now, let's come back to discussing the best eCommerce platforms for 2023.
What are the types of eCommerce businesses?
A business owner can choose from four types of eCommerce businesses. These types are-
B2C stands for business to an individual customer. This type of eCommerce is where a business sells the products directly to the customers, and the relationship between them is direct. 
Because of the direct relationship between the business and the customer, B2C eCommerce is renowned as DTC- direct-to-customer.
When one business sells to another online business, it is B2B eCommerce. This type of eCommerce involves wholesale buying, where a business sells the products in bulk to another business, and the purchasing business resells it at a profit.
In this type, the customers sell to the businesses. The consumers get the selling power here. This type of eCommerce is not very traditional.
This is the type of eCommerce where one customer sells the products to other customers. This trend has gained popularity recently with the sharing economy. Examples of such eCommerce apps are eBay and OLX. Thrift stores have also emerged as a new form of C2C eCommerce.
Here is the list of the best eCommerce platforms in 2023.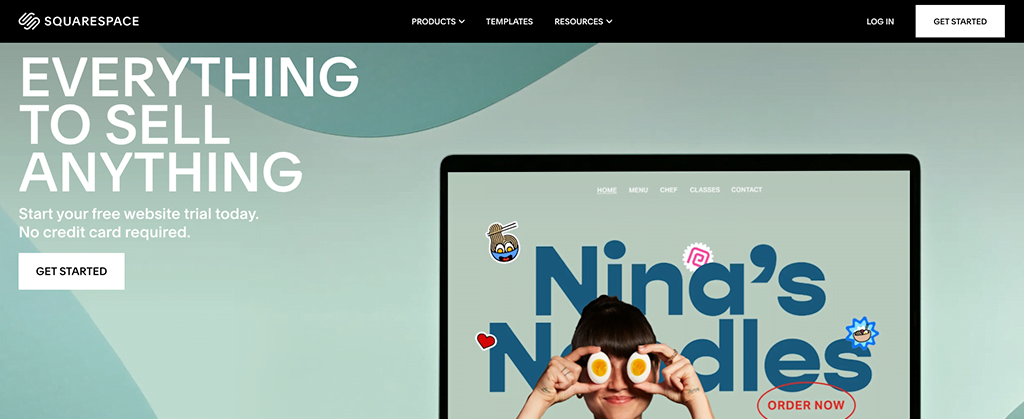 1. Squarespace – (All-in-one Platform)
Square is not less famous than the above platforms. It has been steadily making its presence countable among merchants with its flagship offerings. The best thing about this unified eCommerce development platform is that it lets you create visually appealing websites in minutes. 
No issue if you are not good at coding or have exhausted finding a website host. Using its flexible drag-and-drop functionality, anyone can set up their eCommerce website according to the business module. 
Some of its bespoke features include:
Tons of best-in-class Themes – Squarespace is known for its enormous Themes and template offerings. Irrespective of your business niche, you will find the best Themes with relevant functionalities from the store.
Blogging Tools – By using Squarespace's advanced blogging tools, you can quickly share stories and news about your brands' success and announce product releases.
SEO Tools – Each Squarespace website comprises built-in SEO features and helpful guides that help merchants boost their organic traffic.
Analytical Tools – With Squarespaces's futuristic Analytical tool, checking and tracking website traffic and content engagement becomes easy and precise.
Smartphone App – Squarespace has not limited itself to the desktop screen. Merchants can manage their websites using its powerful mobile applications available in both OS (Android & iOS).
Video Studio App – Using the video studio app, you can quickly create amazing promotional videos to drive more sales and traffic. 
Squarespace is an excellent first choice for beginners. Anyone opting for it can sign-up with a 14-day free trial. Later they can subscribe to the basic plan by paying $14/mo to the Advanced plan, $49/mo.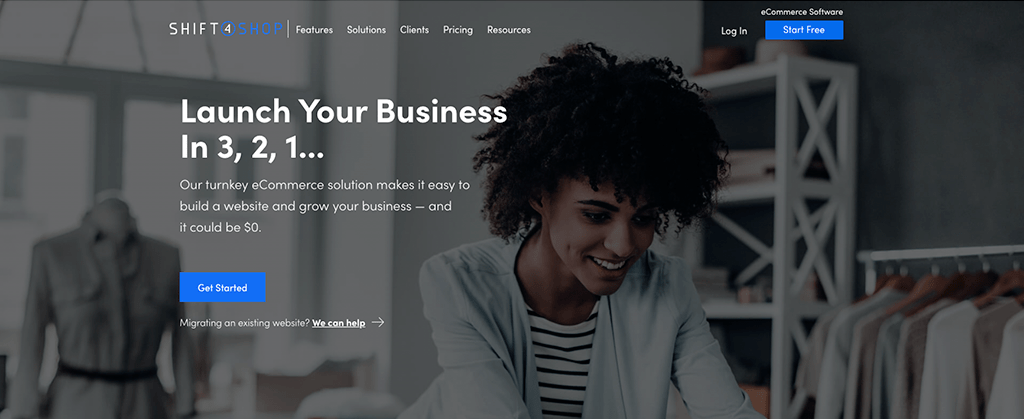 2. Shift4shop – (The best Free E-Commerce Platform)
Shift4Shop is famous for creating feature-rich online stores. It doesn't have a vast user base like many others. But the few that have used this eCommerce platform always boast about its intuitive offerings such as:
Seamless product listings adding
High-end inventory management
Streamlined product orders management
Customer management. 
Above all, the eCommerce platform offers high-class flexibility in Theme customization.
Shift4shop standout features are:
200+ Payment Gateways
Built-in Blog
Third-party online marketplace integrations
Unlimited Bandwidth
24*7 Customer Support
In Shift4shop, if you process a minimum of $500/month, you don't need to pay any monthly free!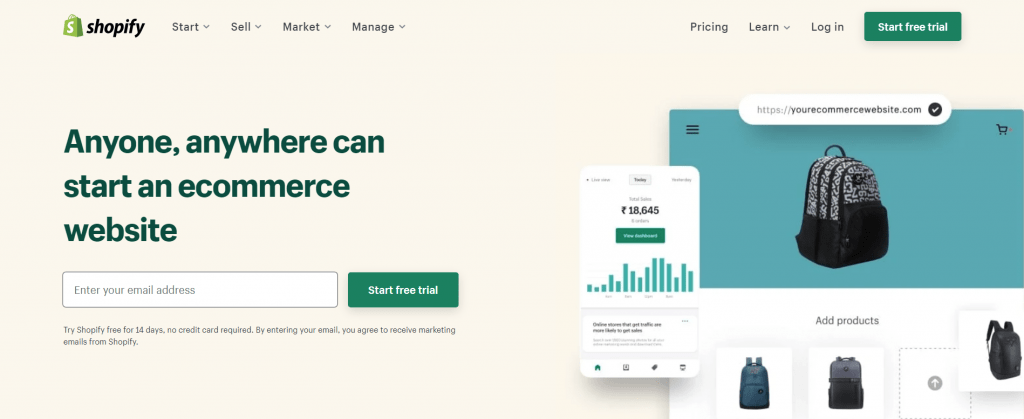 3. Shopify – (Best for Dropshipping)
Let's begin with the eCommerce giant Shopify. Shopify is one of the biggest and most popular eCommerce platforms for businesses of all sizes. It is the most preferred platform for small businesses in the world.
Shopify's user interface is straightforward, making it one of the best eCommerce platforms for small businesses. It has several essential features, such as as-
Easy to use – You don't need expert IT and coding skills to create a store on Shopify. You can quickly build a responsive and fantastic store without much effort.
It offers multiple plans – Shopify provides various options, such as basic Shopify, Shopify, and advanced Shopify. The prices of all these plans vary, and you can choose the right one per your budget and requirement. Apart from these plans, there is Shopify plus, which is appropriate for large businesses.
Mobile app feature – you can build amazing mobile apps with Shopify eCommerce. The mobile feature lets you build apps for your business and run your business successfully without any hurdles.
eCommerce platforms for small businesses – If you have a small business, Shopify can help you grow and reach more customers online. Shopify has helped many business owners continue to assist business owners in transforming their businesses and achieving new success in the eCommerce industry.
Customer support – Apart from the fantastic features of Shopify, another reason for its huge success is its customer care service. Shopify has 24*7 customer support service, making them approachable and trustable.
Overall, Shopify is a great option when you start from scratch and are looking for a user-friendly and easy-to-use store builder.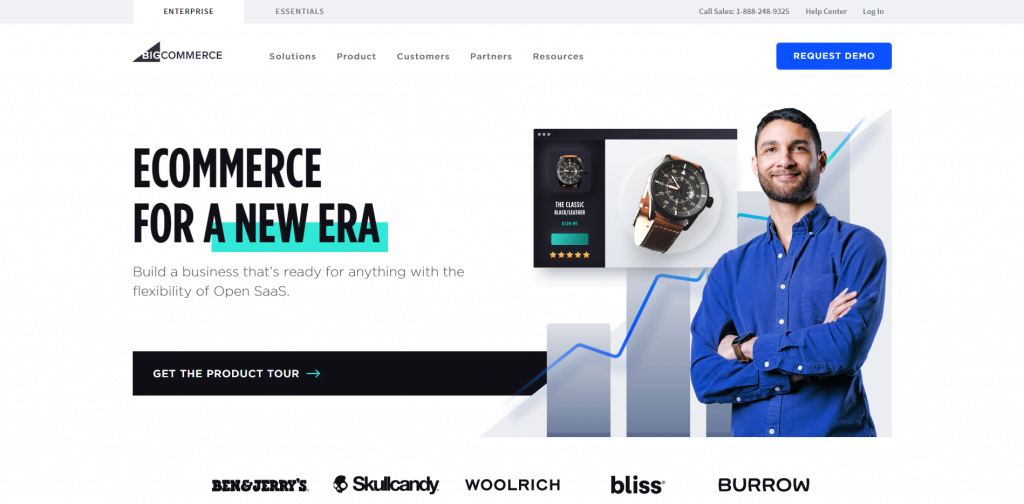 4. BigCommerce – (Best for Boosting Sales)
Another great platform that we can't miss is the BigCommerce platform. It's none less than Shopify when it comes to features and performance.
Powerful tools – BigCommerce offers an extensive set of tools to help built powerful websites and eCommerce stores.
Sell your products quickly – BigCommerce is an excellent platform to branch out and sell your products through other mediums. You can also use your BigCommerce site to build stores on other sites like Amazon and eBay. Building an eCommerce store on BigCommerce can help you expand your business and reach new heights.
BigCommerce is flexible – BigCommerce is also flexible, making it easier for the developers to create the site effortlessly. A trustworthy BigCommerce development company can help you create the best eCommerce store and grow without any hurdles.
It offers 24*7 support – Like Shopify, BigCommerce also offers 24*7 support for all development-related needs. The support is helpful for the new developers as they can get expert help while developing the site.

How can we forget Magento when discussing the top eCommerce platforms for our online business?
It is a popular eCommerce platform – It is one of the most preferred and widely-used eCommerce platforms for those who want a flexible, robust, and customizable eCommerce platform for their business.
Extensive SEO features – Magento comes with built-in SEO tools that help the search pages and improve the pages' ranking on search engines. These in-built features include support for SEO-friendly URLs, generation of sitemaps, and meta-tagging information.
Magento mobile app development – the Magento platform also develops mobile apps that give shoppers the best experience anytime and anywhere. The mobile app is powerful and feature-rich.
Magento can be a little complex despite having all these fantastic features since it requires advanced coding skills and expertise. If you manage the infrastructure yourself, you must have the coding skills necessary for Magento.
Magento is a comparatively complex platform that requires extra effort and skills. It lacks the tools to create a seamless multichannel strategy.
Thus, if you have expertise and coding skills, you can use the Magento eCommerce platform or hire a Magento development company to work for you.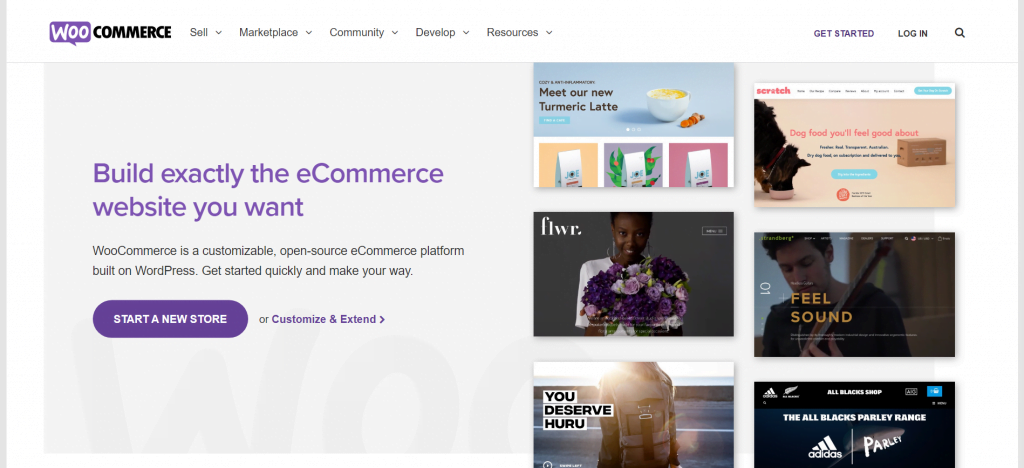 6. WooCommerce – (Best for Versatility)
If you have a blog for your business, you can use WordPress to host your blog. You can use the WooCommerce plugin for the development of your website. You consider this eCommerce platform for your small business.
Powerful WordPress plugin – wooCommerce works as a plugin to make it easy for you to create a functional eCommerce website. With WooCommerce, you can create a fully customizable website for your business. WooCommerce creates a fully customizable website that works smoothly and is user-friendly.
It is open-source – It is an open-source eCommerce plugin that allows you to add eCommerce functionality to your online store.
Suitable for small businesses – This WordPress plugin is viral among small businesses already using WordPress for their blog or website.
It is user-friendly – Since wooCommerce is a user-friendly platform, one can quickly develop a website using this platform.
A massive community of developers – When you choose WooCommerce for WordPress for your online eCommerce store development, you will have an enormous community of developers to help and assist you in case you encounter any errors or problems during the development phase.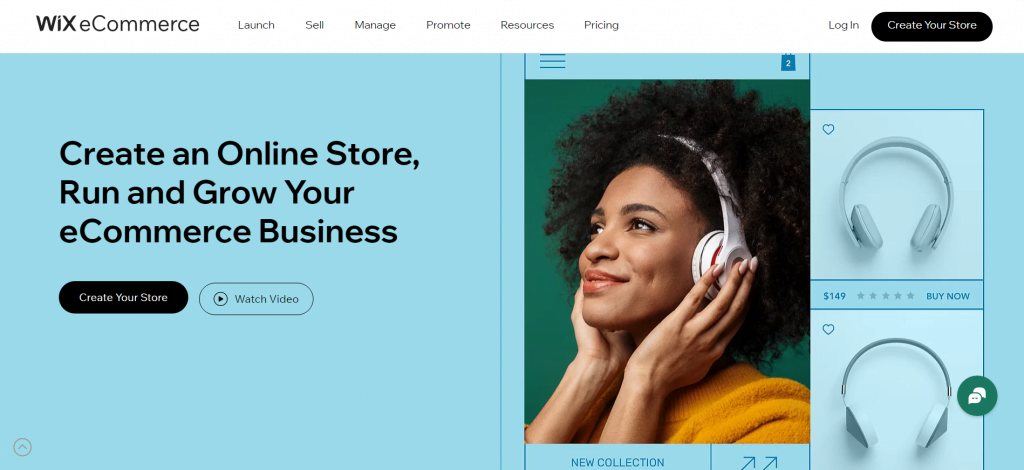 7. Wix eCommerce – (Best Drag-and-Drop Editor)
Wix is considered one of the best online store builders for start-ups and small businesses. Wix has excellent value for money, fantastic design, and ease of use.
Offers cheaper plans – Wix offers plans with unique features, less expensive than most of its competitors like Shopify.
Suitable eCommerce platform for small businesses – This platform enables small businesses to sell their products quickly on uniquely designed websites. This also helps them reach a wider audience and ultimately increase sales.
To create a customized store – With Wix, one can add and remove features as per their business needs. This feature enables the customers to develop their customized online store as per their requirements.
It provides powerful tools – Like many of its contemporary platforms, Wix also provides many powerful tools which help you smoothly sell your products on multiple channels like Facebook and Instagram.
If you are running a small business with a small product selection, Wix eCommerce might be your best eCommerce platform in 2023.
8. Big Cartel – (Best for Creatives)
Fully hosted platform- Big Cartel is a fully hosted eCommerce solution and website builder designed for creative people like artists and crafters.
Provides many templates- It offers loads of templates, domain name registration, and marketing tools.
It is a bonus platform- Big Cartel is like a bonus platform and is excellent for products like handmade jewelry, prints of art, or a unique fashion line. This platform might work for you if you have a unique handmade product or creative business.
It allows you to change your website's look, limiting the merchants to five images for each product. This might become a problem for some business owners.
Apart from this limitation, payment and integration options are also limited, making it much harder to scale as a multichannel business.
An eCommerce shopping cart software – Volusion is an eCommerce website store and shopping cart software that provides features and tools for website development.
Easy to track site's performance – Volusion provides no illusion when it comes to data reports, as everything you need for tracking the site's performance and progress is in one place.
Offers several data tools – Volusion has several data tools that help you measure your pages' success and improve the site's performance.
Volusion, unlike other eCommerce platforms, doesn't provide the best website features as it doesn't offer a blogging tool, which is its major drawback.
If you wish to grow and expand your business, you can try Volusion.
How to choose the right eCommerce platform for your online business?
The platforms mentioned above are the top and best online store platforms you consider while choosing an eCommerce platform for your online business in 2023.
The final decision of selecting the right platform is on you. You have to select a platform that fulfills your business needs the most.
To get the best benefits, you can hire experts and developers to help you choose the right platform and website development.
For the bright future of eCommerce 2023, remember the platform you choose for your business will impact your website's performance the most.
Are you in search of an eCommerce development company?
When you decide to start your eCommerce store, you will get the best results when you hire an eCommerce Development Company to develop the most unique and powerful website for your business.
A development company has expertise in all eCommerce platforms and can even help you decide on the right platform for your business.
Start selling online with Shopify!
Metizsoft Solutions is a renowned name for eCommerce website development and Shopify development. We have a team of Shopify developers working dedicatedly to meet clients' needs.
You can hire a Shopify developer from our company and have the website of your dreams. Our Shopify experts will help you with updated Shopify design & development pricing and other aspects of the development.
We will help you throughout the website development process and serve you with the development of the best online store platforms.