Setting up an eCommerce store with Shopify is quite easy. And, it is common to all Shopify plans that no email hosting and domain are included.
However, you can still buy a domain from Shopify for $13 a year
If you're starting out, opt for a monthly plan in the beginning. It minimizes the financial burden and downgrades or cancels Shopify anytime.
Shopify has basically 3 plans for setting up an eCommerce store – Shopify Basic, Shopify, and Advanced Shopify.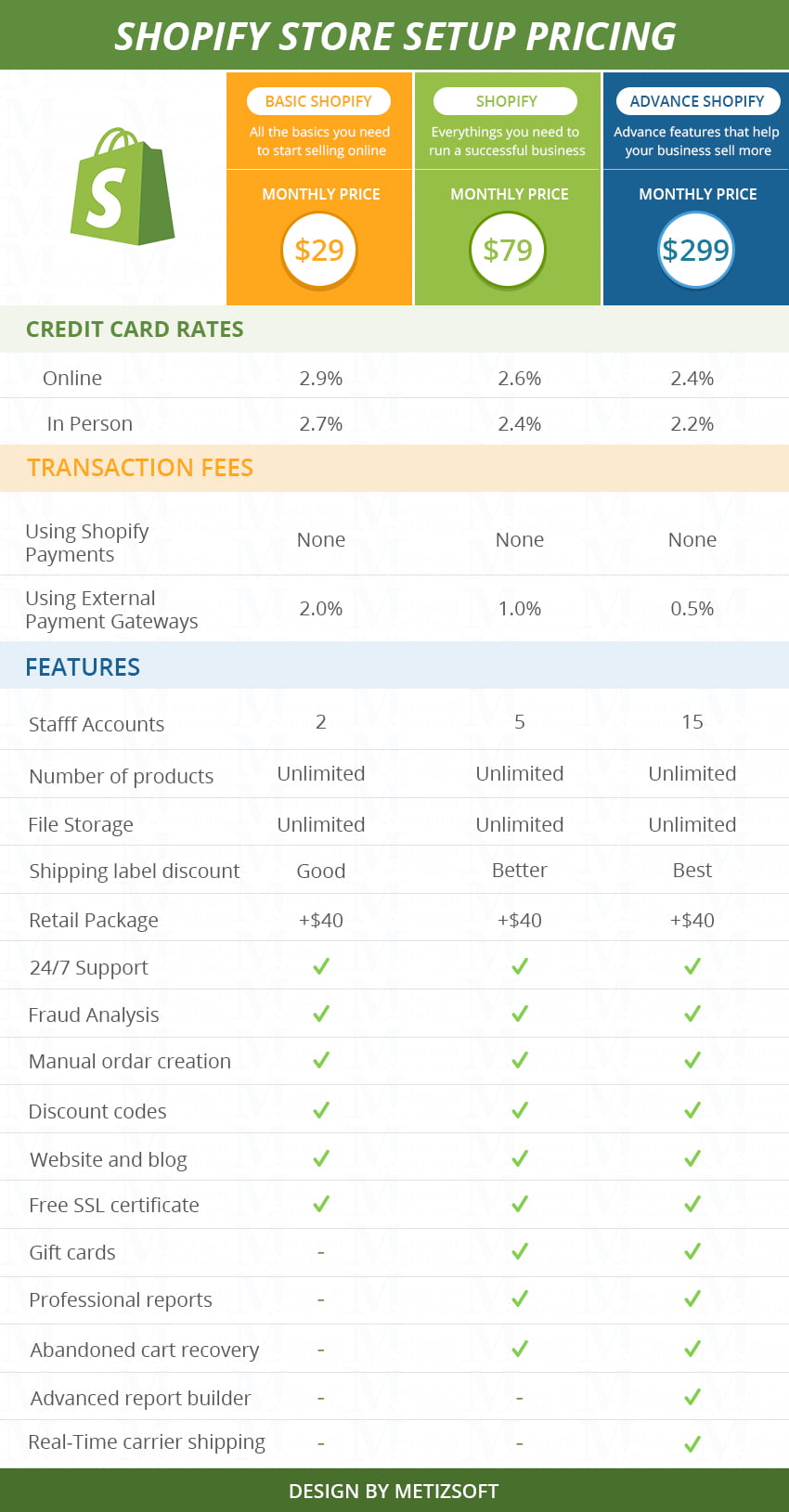 Basic Shopify costs around $29 a month.
What features are included in the basic plan?
It allows you to sell an unlimited number of products, and it's the cheapest solution when you've got a vast range of products. Although, Basic Shopify is limited to other features like gift cards, abandoned cart recovery, or professional reports, on the bright side telephone support is included in this plan.
The plan – Shopify – is a bit more expensive than the Basic Shopify and it costs $79 monthly, but it provides more features and has a lower credit card rate.
The credit card payments are charged 0.3% lower, and the professional reports in this plan provide great insights into your eCommerce store.
The Advanced Shopify plan is the most expensive costing $299 monthly. But luckily, the credit card payment rate is the lowest in this plan, and it provides the best shipping conditions among all plans for the US.
Moreover, if you need real-time carrier shipping where shipping will be handled by a third party, then it's the only option best for you. Additionally, the plan includes an advanced report builder to create your own professional reports to make analysis even more convenient.
As the name indicates, Shopify Lite offers a "LITE" plan, to be precise 9$ per month. However, if you look forward to developing an online store, your aspirations will be in vain.
The Lite plan is premeditated for those who are already equipped with a website (like Wix, Blogger, Tumblr, Joomla, WordPress, Drupal, or Weebly), as they can boost the website functionality by adding some kind of eCommerce add-on and see the persuasive online store.
Moreover, Shopify is often blamed for heavy transaction fees like – Lite 2% / Basic Shopify 2% / Shopify 1% / Advanced Shopify 0.5%. The transaction fee implies that for every sale you make with Shopify, it receives 0.5 to 2% of your sale.
The good news is in case you tend to use Shopify Payments to deal with the payment process is all transaction fees will be abdicated.
Final Word…!
In the end, the thing you need to appreciate about Shopify is that they are genuine and transparent in their payment structures with no hidden fees to give a big surprise you simply can't deal with at the end of the month.
Our Recent Post:
About

Chetan Sheladiya

Director at Metizsoft Solutions, Chetan Sheladiya today stands at the top of a leading Mobile Application Development company, which further specializes in Online Business Marketing, Social Media Marketing, and Web Development, amongst other areas. A tech-lover at heart, Chetan has had more than a decade's worth of experience, dealing with hundreds of projects, and creating a bunch of unique IT solutions along the way. His other interest lies in sharing his ideas and opinions with people as passionate about technology, as he is. You can find his thoughts expressed on LinkedIn, Twitter, and Facebook.