We are pleased to announce that Metizsoft has successfully completed 30,000+ eCommerce experts' Upwork hours, and there's a long way to go!
Action is the key to success
We don't talk big; we do big and repeatedly prove it. Benjamin Franklin said, "Well done is better than well said," and we relate to this quote strongly. We are happy and proud to declare that we have completed 30,000+ Upwork hours recently and only believe in working hard to bring more success. Our web development agency is committed to developing high-quality apps and helping them grow endlessly.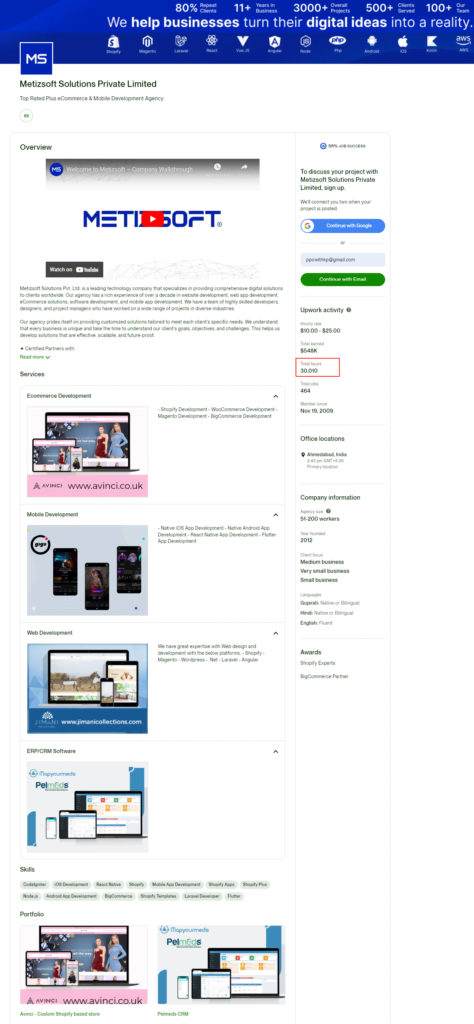 Metizsoft Upwork Profile
We are a renowned agency on Upwork and have an impressive and remarkable reputation. We also have a positive impression of the client satisfaction rate and quality-driven services.
A company's success score reflects its overall work history and loyalty towards the work, and our team at Metizsoft Solutions is loyal to the work to the core.
The question is, does everyone reach a 100% job success score? We don't know about everyone, but we are more than happy to say that we have reached that score. Yes, that's true, we did it!
Our result-oriented, high-quality solutions for Shopify, Magento, BigCommerce, Cross-platform mobile apps, iOS, Android, PHP, ASP.NET, and other technologies have helped us become a top-rated agency today.
We have years of experience with these technologies, and that has led us to where we are today.
Our expertise in building high-quality web and mobile apps has made us one of the most renowned companies, and we are immensely proud of that.
We have completed Upwork hours with many platforms such as Shopify expert Upwork, Magento certified developers Upwork, and top-rated PHP developers Upwork.
Our top-rated Upwork web and app development agency has successfully built web and apps that guarantee success, and we keep building great apps with utmost dedication.
We are 9001:2008 ISO certified and official partners with:
Metizsoft Solutions is a certified company, and the certification speaks of our commitment to and quality of services. We are also official partners with platforms like-
With many achievements to our name, like 30,000+ work hours, a 100% job success score, and certified partners with top platforms, we only look forward to motivating ourselves and our team and breaking our records in the future.
About

Manthan Bhavsar

Manthan Bhavsar is one of the most brilliant go-to people when someone thinks to Hire Shopify Certified Experts! A techie by profession and a technologically driven person by passion, Manthan Bhavsar isn't shy to blog and share the knowledge he has with the world. If you want to follow Manthan, you can do so on Facebook, Twitter, and LinkedIn