Do you want to make extra money besides your current profession by setting up an online business? Well, just by setting up a Shopify online store you can make a business presence online and start selling your offerings.
As far as personal experience is concerned it takes just less than 20 minutes to finish Building a Shopify online store.
But before showing you how to do it let us tell you about a few considerations.
Is Shopify ideal for beginners?
Yes, it is. Shopify is a robust tool for beginners and for people who just do not have enough experience with development.
It's great because you do not need to hire a developer. Moreover, you can sell as much as you like and can scale up your business just the way you wish.
Why Shopify?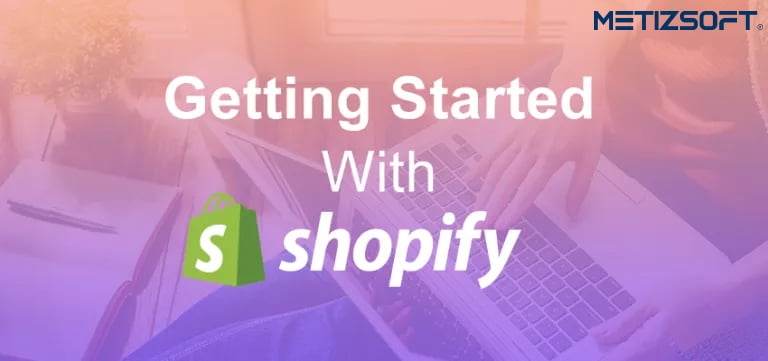 As a shop owner, you don't want the hassle of developing a website from scratch, right?
Well, that is why Shopify comes as the right platform for you. Here are some of the key Shopify benefits.
You don't need to have any coding experience at all.
Shopify allows having your own domain name and also helps with the hosting as well as the backend.
Building your store as per your preferences is easy just because you can select from hundreds of existing themes that you can further customize.
Shopify takes care of processing, management, and tracking of all your payments and orders while you only concentrate on your business.
How can you get started?
You need just half an hour for building your site, some products to sell, and as much as $29 to pay for the platform.
To test how it works you have a 14-day free trial as well.
A Shopify Store is Perfect One
There are practically no downsides to the Shopify store for any new ventures just starting.
You have a completely custom-built website with a robust backend under your command and all your payment and order processing concerns are taken care of automatically.
Maybe that $29 monthly fee can be a little expensive but what you get remains unparalleled compared to any other option.
Finally, how to build it?
Let's start building then. Here are simple and easy-to-follow steps we have explained how to Build Shopify online store without any hassle or difficulty.
Step By Step Guides For Setup Shopify Store
Step 1: Sign up for a Shopify account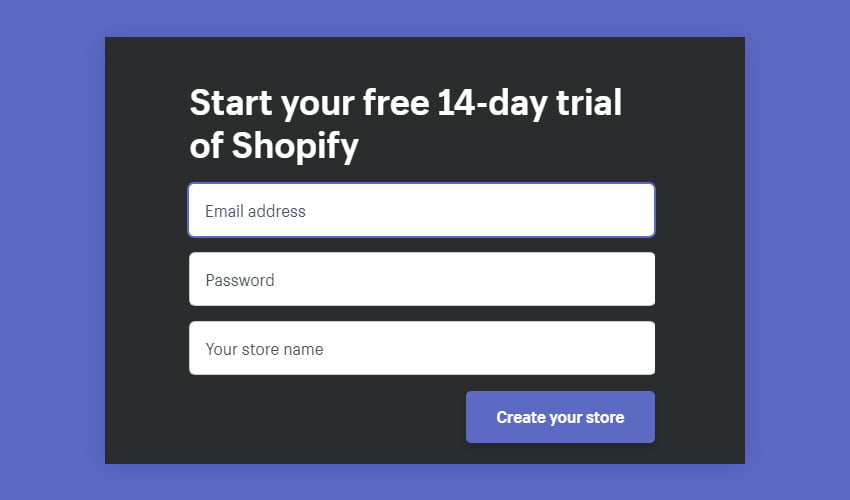 All you need in this step is to open Shopify.com in your browser and signup by entering your email address.
Step 2: Choose a Name for your Shopify store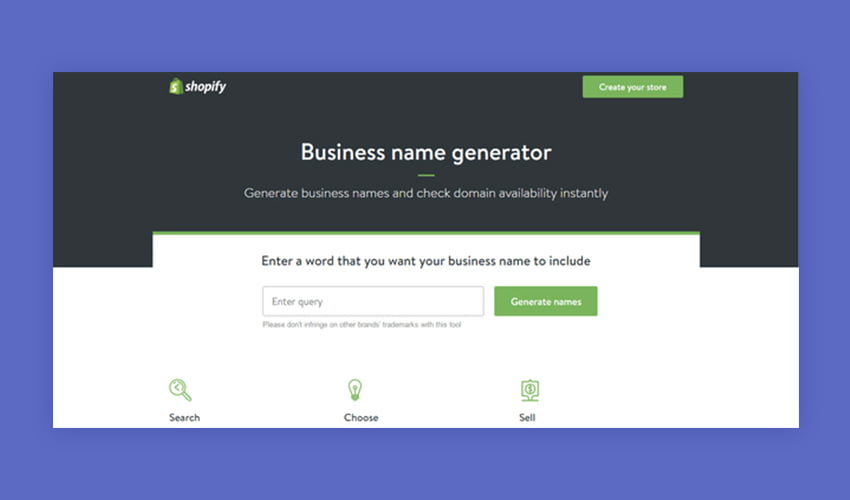 Now just choose a Shopify store name as per your preference and availability.
For the present discussion let us take a name as 'Abc Products.
Step 3: Add some credentials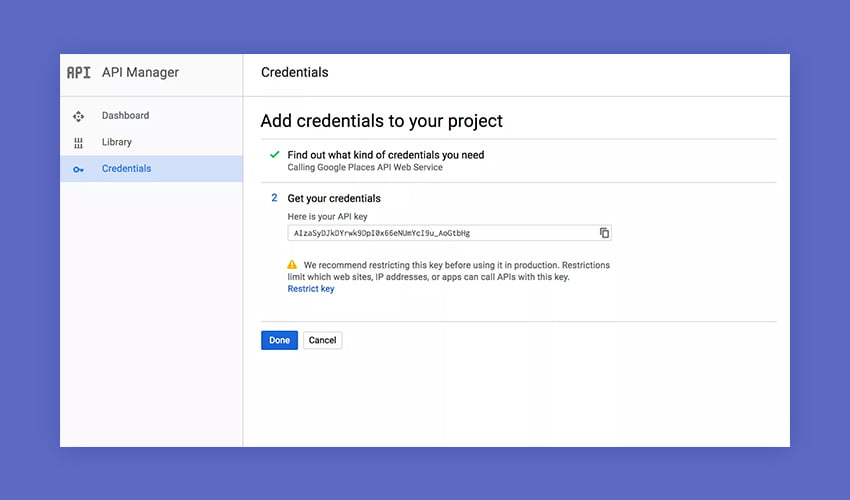 In this step, you need to add some basic credentials like your address so that Shopify can mention the payment address when calculating the tax.
Step 4: Give your Shopify Store a custom design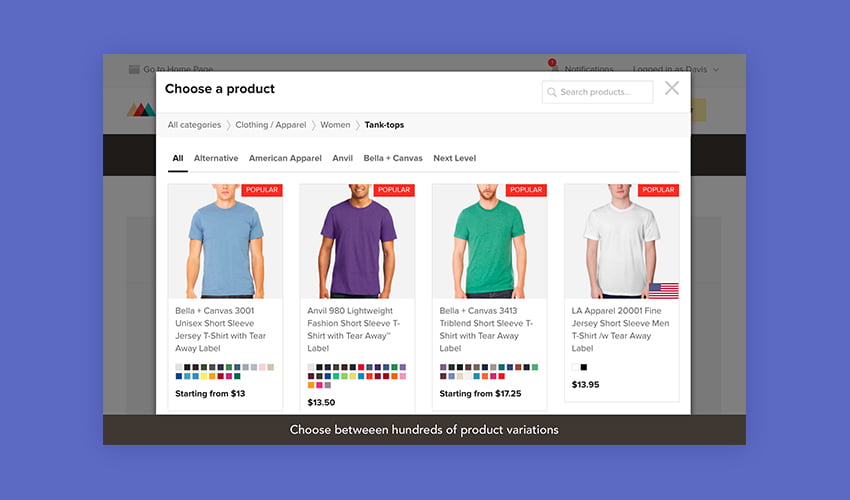 Now you have a simple and easy-to-use dashboard in front of you. You can now start designing the store.
Step 5: Select a theme of your preference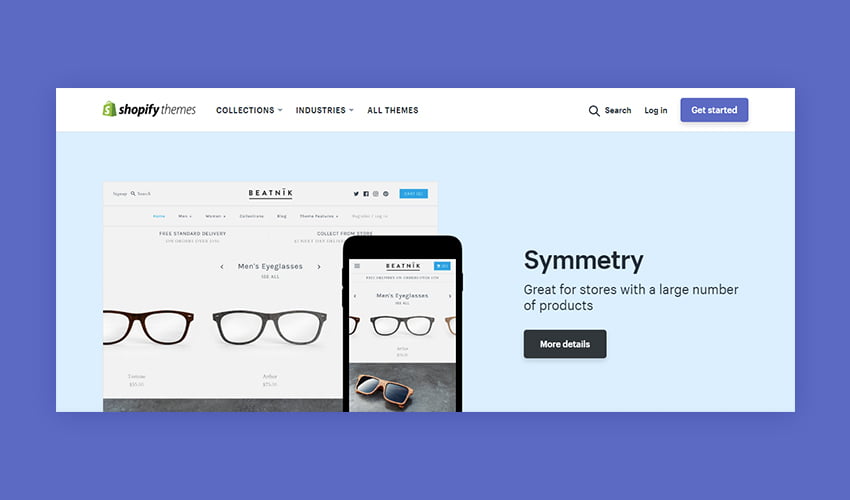 Shopify offers hundreds of design templates, or themes to choose from designing your store. After choosing a theme you can always tweak them for a custom look and feel.
Step 6: Bring changes to the theme as per your liking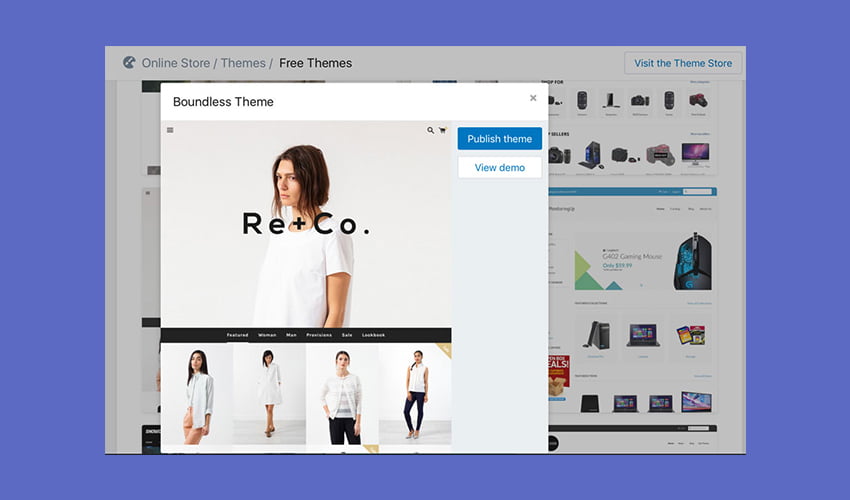 Shopify themes are always customizable and you can always tweak them to your preference in look and style. For instance, you can use a Hero image of your liking and design the logo on top of it.
Step 7: Now add the first product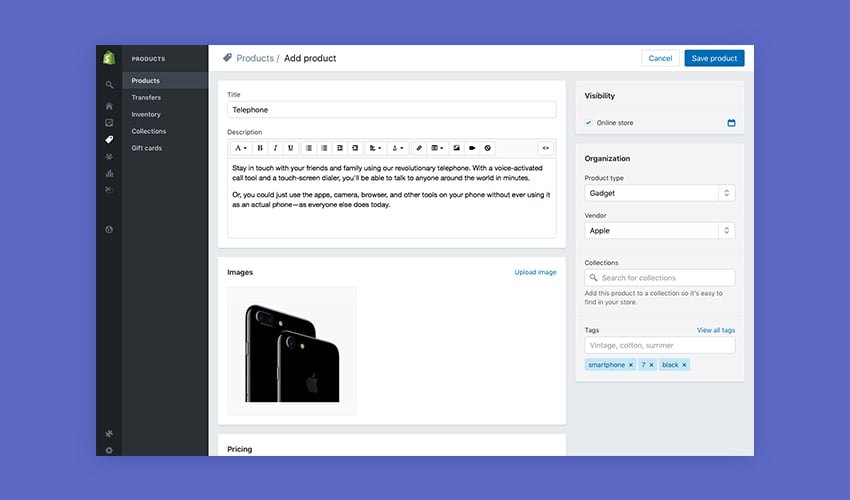 Now you need to go back to your dashboard and then just click on the 'add a product' button.
Step 8: Provide a name and description of your product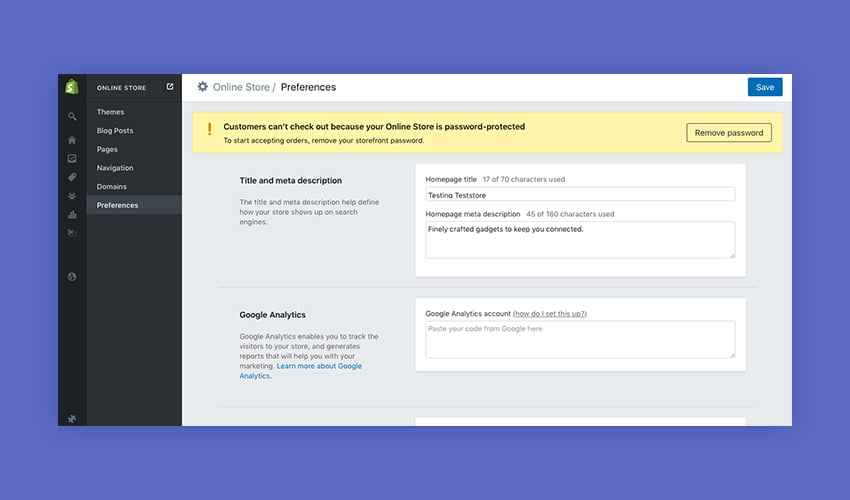 At this step, you need to provide a name and a brief description of your product.
A good description is a must for convincing customers.
The product description must be unique for achieving the search ranks as well.
Step 9: Boost your product page with some stunning images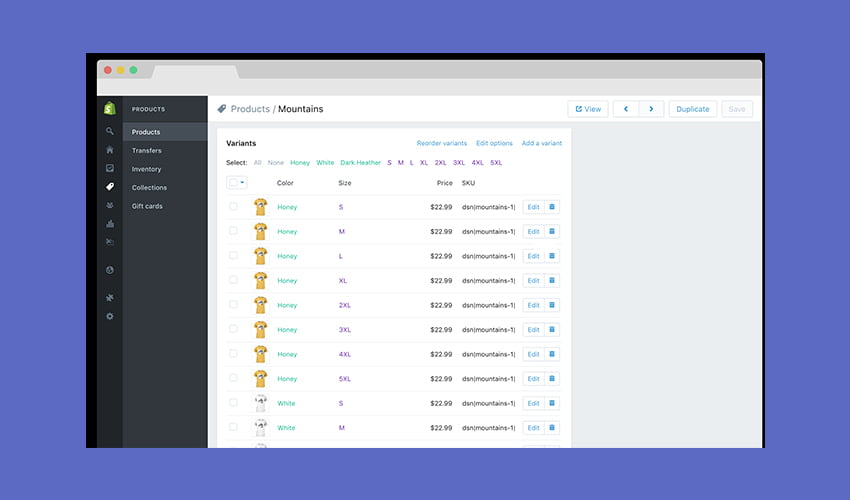 Upload some high-quality images of your product that can quickly grab attention. Remember, eye-catchy product images are important for ensuring conversion.
Step 10: Now add the price of the product and inventory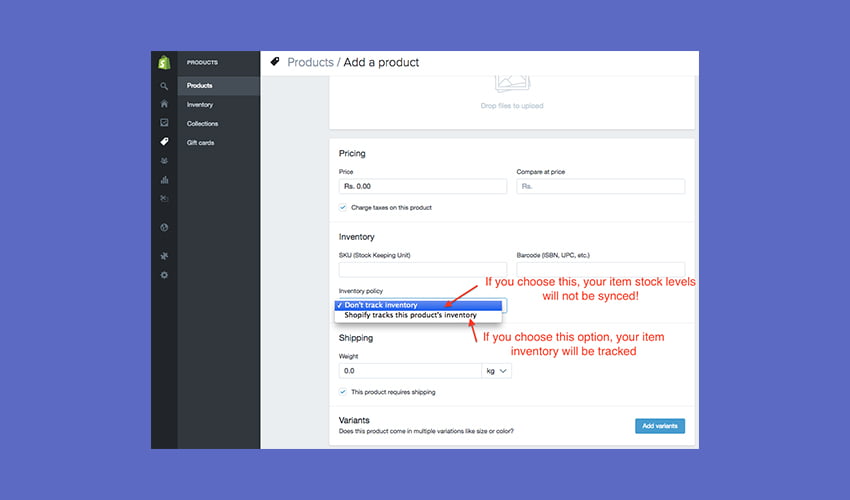 Now at this step add a price tag for the added product and check the 'charge taxes' box allowing Shopify to calculate the exact sales tax based on the address.
At this stage, you should also designate a product with a serial number referring to 'SKU' (stock-keeping unit).
This will help to keep track of your products sold or left.
Step 11: Provide the exact weight of the product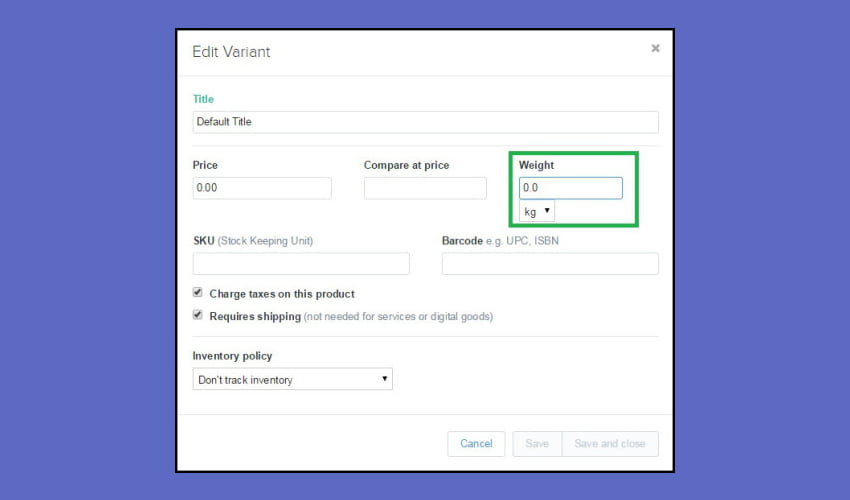 The shipping cost of the product will be calculated by Shopify based on the customer's location and also weight.
To specify the weight of your product.
Step 12: Mention variants of the products in size, color, etc.
In case your product comes with various options sizes, colors, designs, etc. specify the variants available for each product.
When adding the variants is finished hit the Publish button and your product is automatically added to the store.
Step 13: Create the online store domain name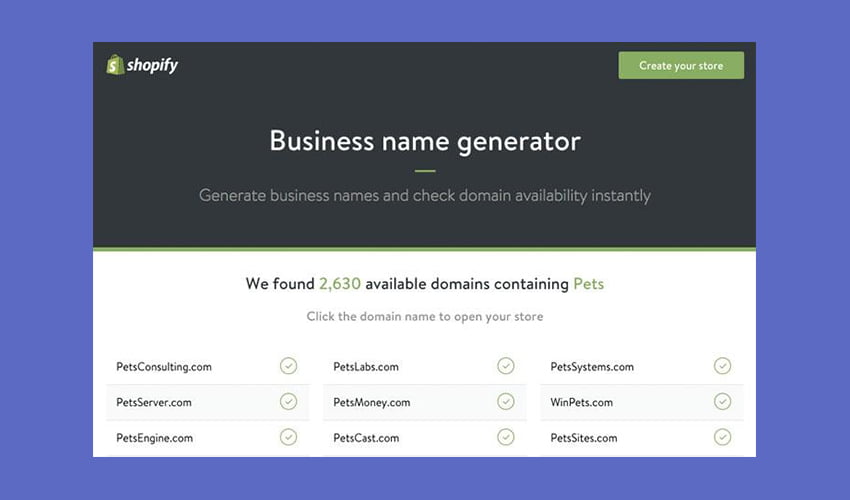 You need to appear like a distinct brand and for this, you need to add a custom store domain name.
Step 14: Buy the chosen domain through Shopify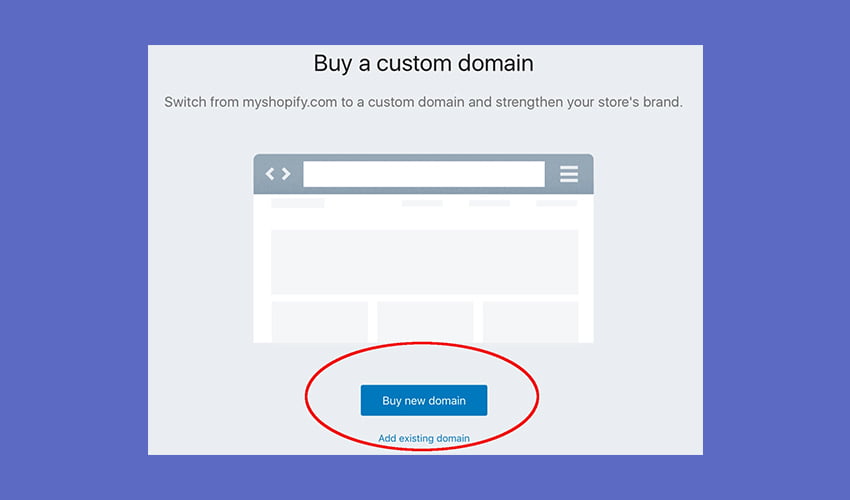 When you have selected a domain name based on preference and availability it's time to buy it.
You can buy it either through Shopify or you can add a domain already registered with a third-party seller.
Step 15: Add payment avenues for customers to buy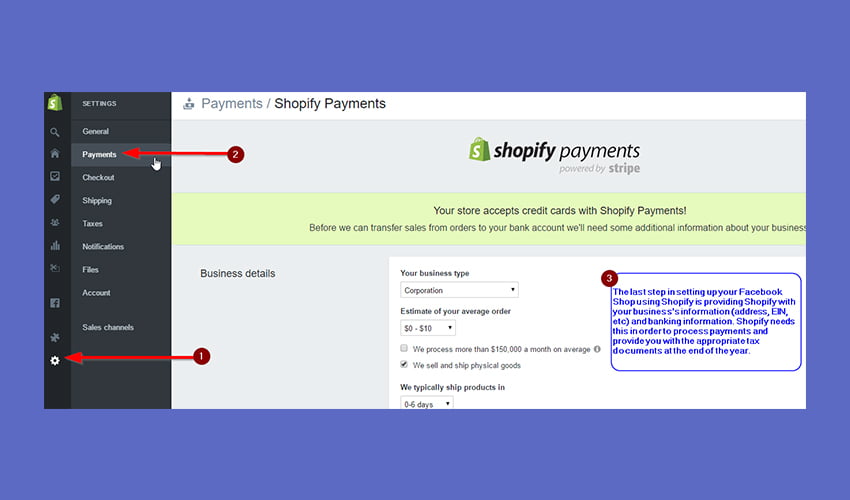 Just go to Settings >> Payments and select the preferred methods of making payment.
You can choose PayPal and in addition to that can also choose the Shopify Payments option to accept credit card payments directly.
You can also choose from an array of 'alternative payments' like Amazon, BitPay, and CoinBase.
Now, just hit the Publish button and your online store is ready for the customers to see your product and buy.
Now, add more products and with every subsequent addition try to boost search ranks as well.
Know More About Shopify
About

Chetan Sheladiya

Director at Metizsoft Solutions, Chetan Sheladiya today stands at the top of a leading Mobile Application Development company, which further specializes in Online Business Marketing, Social Media Marketing, and Web Development, amongst other areas. A tech-lover at heart, Chetan has had more than a decade's worth of experience, dealing with hundreds of projects, and creating a bunch of unique IT solutions along the way. His other interest lies in sharing his ideas and opinions with people as passionate about technology, as he is. You can find his thoughts expressed on LinkedIn, Twitter, and Facebook.