Print On Demand App For Shopify -
Smart Digital
Around 175 countries are using the most trusted Shopify platform for online business websites. Most micro, small and medium enterprises come to us for POD kinds of services in India. Thereby, Metizsoft Solutions came up with the Smart digital printing solutions for people and customers.

Abridgment Of Smart Digital -
Shopify Printing App
"Hereby, We Are The Digital Technology Hub Doing Creative And New Things."
Our Software developer team created a Smart app for young entrepreneurs and start-ups based on Print on demand.
While doing effective market research, our quality management team learned about the growing demand and business of digital printing, high-quality designs with digital printing, on-demand printing installed on cups, keychains, pieces of jewelry, stationery items, or T-shirts.
Our in-house skilled and experienced developers tried to maintain the project/app smoothly with an aim to develop quality products and solutions.
We all started working from the initial stage of the project, and our Shopify Expert team made some professional approaches toward the rich features. Our hard-working developer aesthetically provided seamless integration with Smart Digital App with Shopify, which means you can use Smart Services for custom designs on T-shirts or hoddies.
The detailed app is a unique custom-built app that was designed with the following purpose in mind likewise- Offering superlative UI framework, Payment gateway enhancement, maintaining social media accounts, Online Digital Printing, Improved inventory management, Help to gain maximum conversions, Customizable templates, and easy to use CRMs.
We made an incredible online printing app where you can simply choose your desired Print and dress and place an order based on the price, design, and size of the garment through the scalable payment gateway.
We are an expert and award-winning Shopify app development company trusted by global brands.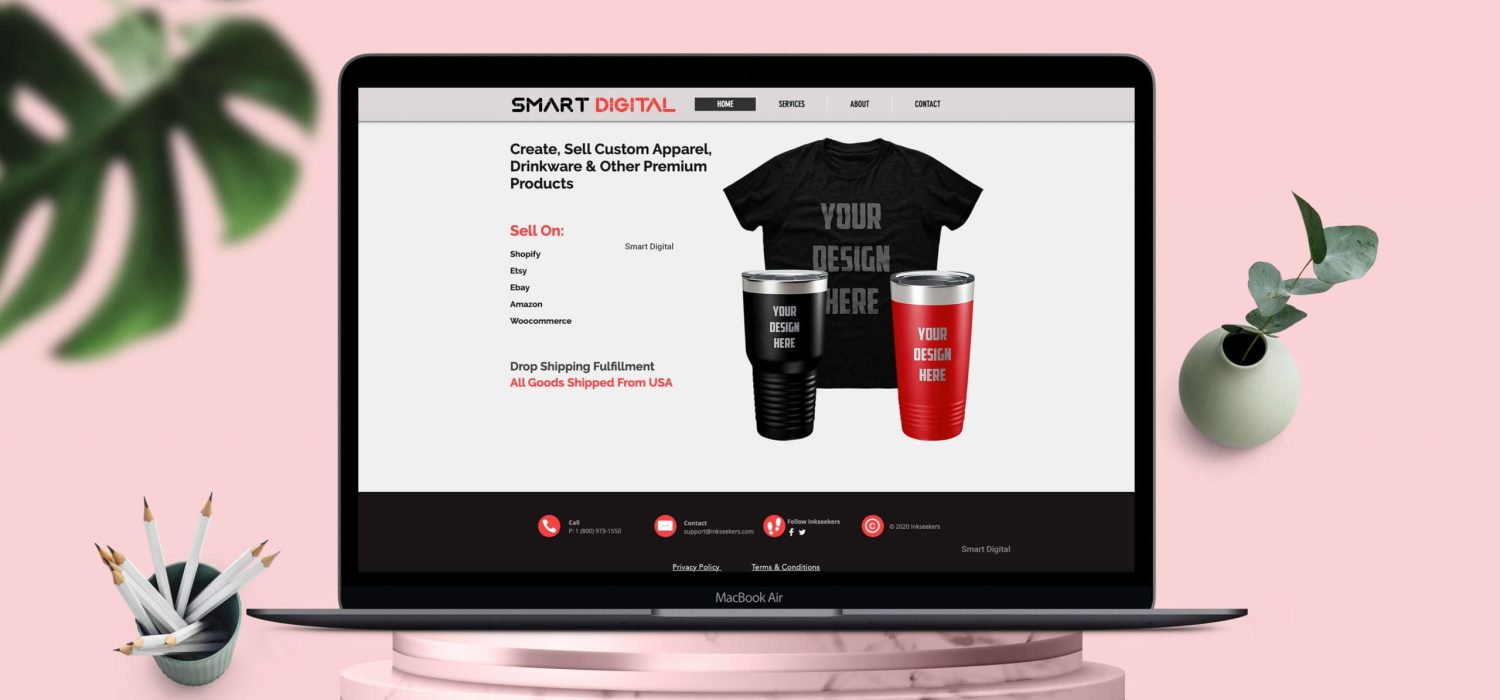 Highlights On Some Challenges
We Faced During The Project
Metizsoft Solutions always believed that overcoming challenges and failure makes the final product effective and pre-eminent. In this competitive online business era, customized printing business solutions for Indian merchants and sellers have been profitable.
However, as the project goes on, our team encountered many challenges depending upon the requirements, payment gateway locking system, email newsletter sign-up form, working with script tags, and handling ongoing updates.
Another most important challenge during the course of the project was pricing solutions depending upon various clothes and design sizes; however, our designers are experts in overcoming the business challenges.
Therefore, understanding challenges and making a strategic approach towards them is equally essential to building a successful Shopify app.
Moreover, we are always ready to develop and design an app that your business needs today.
"We Have Been A Benchmark In Understanding The Challenges And Then Being The Part Of Success."
"We Have A Creative Software Team
Who Can Dig To The Roots & Challenges Of A Problem."
Some Key Benefits
Of The Project
Regarding the advantage of the application, the platform saves time and user effort.
The stunning platform/application allows the users to increase cross-selling and built conversions ratios.
Another significant advantage is that the application offers complete flexibility to the users/customers and authorized clients.
When it comes to wireless technology, the application provides self-hosting platforms.
Moreover, the applications consist of better and up-to-date/modernize printed templates.
During the entire process, our team made sure that the Smart Shopify app should meet the business requirement and expectations.
"We Develop Flourishing Online Optimal Digital Solutions Worldwide."
Metizsoft Shopify experts were able to launch a fully functional Shopify App catering to the needs of Print-on-demand businesses suiting the niche market. The customer reviews and experience were marvelous, which ended up by posting their positive and valuable feedback. Therefore, we give the absolute best to launch an eye-catchy Shopify app or immediately use the Smart digital – Shopify Printing App; contact Metizsoft Solutions.