In 2023, looks do matter, especially in the tech-savvy world. You need that X-factor to drive traffic and engagement to your website and app. Of course, content is there, and you have done all your SEO to gain the top spot in SERPs. But, to attract users at first glance, you must invest in readily available Themes and Templates.
In contrast, here's a complete list of the best 20+ Premium Shopify Themes for your consideration. Go through it and pick relevant ones suitable to your business context.
Top 20+ Premium Shopify Themes Suggested by Experts in 2023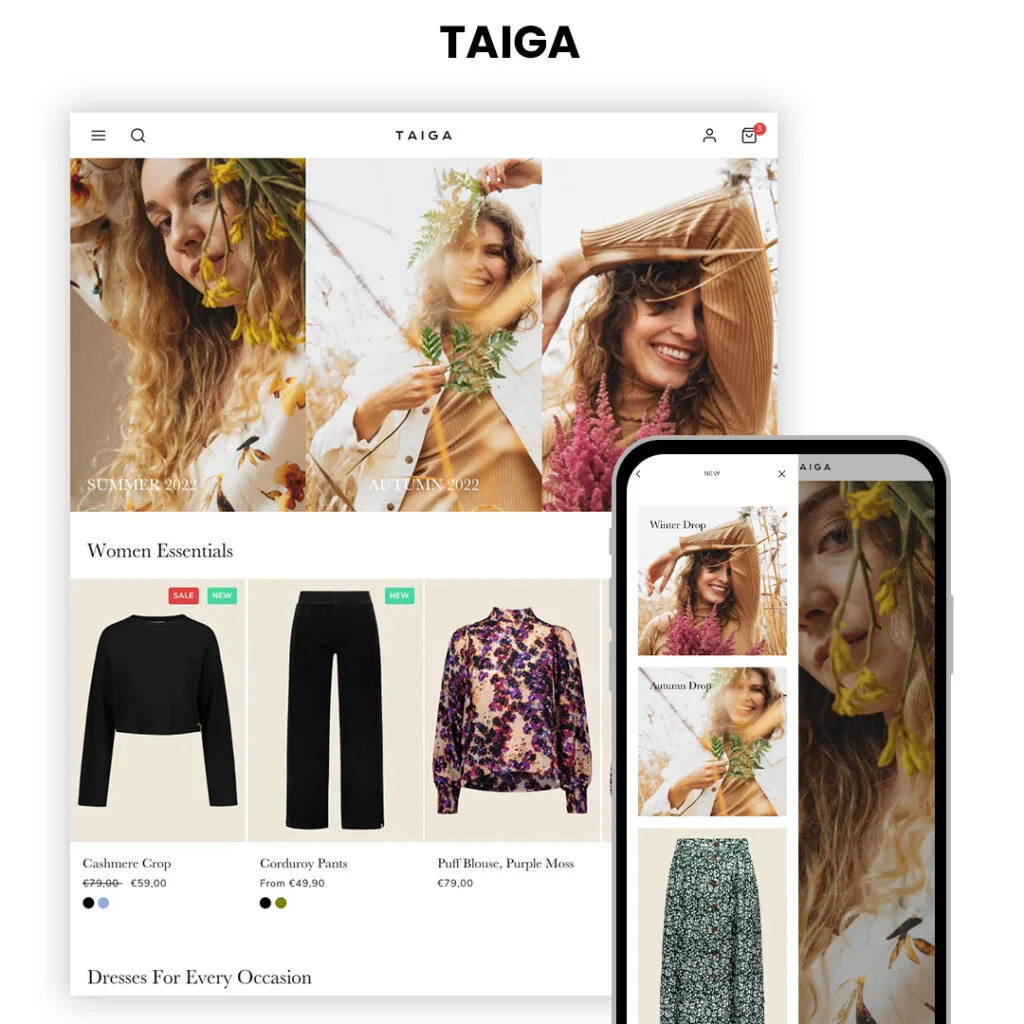 Taiga has made it to the top of the best Shopify Premium Themes 2023 list due to its exclusive responsiveness and modern offerings.
It has all the advanced layouts and style segments that could fit into any business module.
This Shopify store Theme has 20+ sections and features. It is specifically designed for high-volume stores with flexible, well-designed blocks for images, products, videos, quotes, and more.
👉 The Theme will cost you 💰350!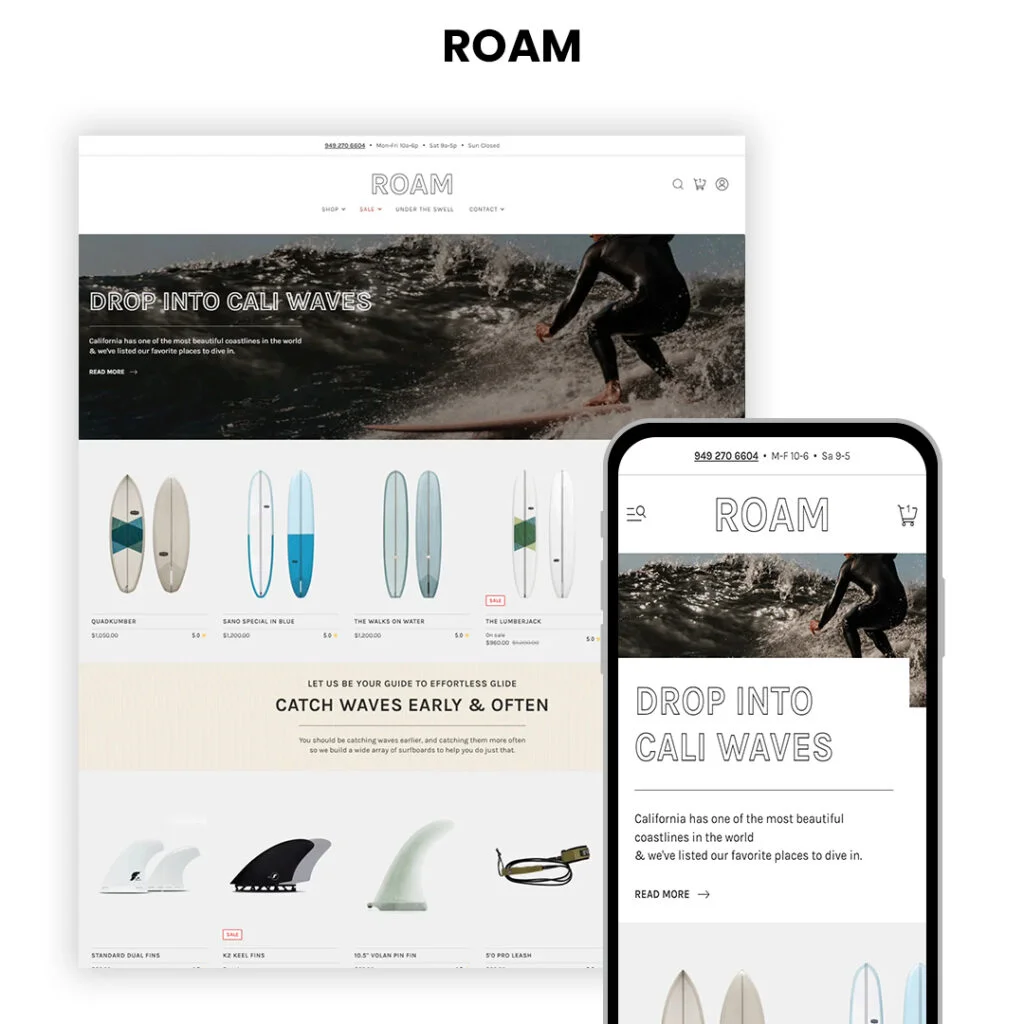 Roam is an attractive, simple-to-use, and mobile-optimized Premium Shopify Theme. It has 40 filters to offer for styling your images.
With Call to action buttons on products, touch-based interactions, and a horizontal scrolling option, it is a tailor-made option for stores that do in-person selling.
👉 The Theme will cost you 💰240!
This modern Shopify Theme has everything you need to establish and promote your business in the global marketplace.
With 20+ sections, product sales points, meta fields, multiple landing, product pages, and collection templates, it gives you a competitive edge.
👉 The Theme will cost you 💰350!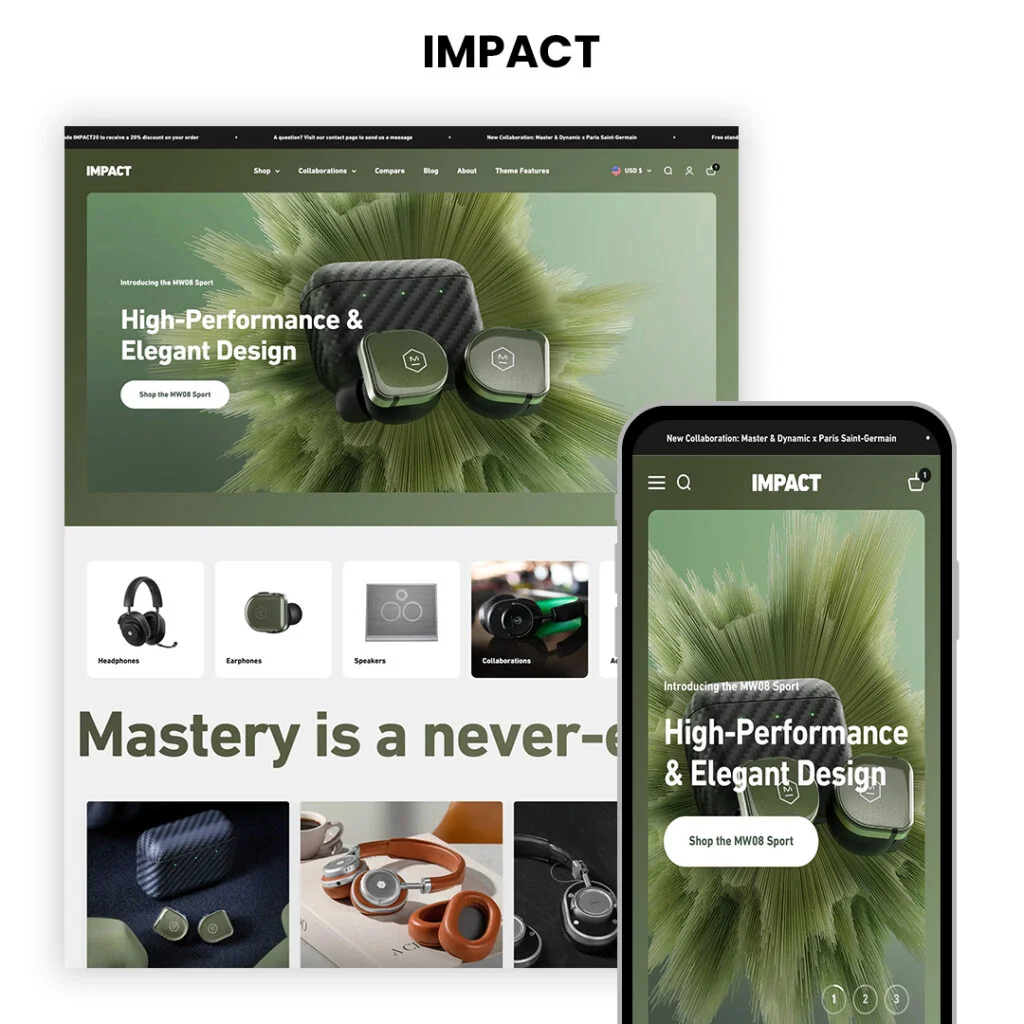 The impact is a visually attractive, modern, and impactful Theme with 35+ sections. The unified specifications of this Theme allow you to create a unique store.
Using its gradients, big headings option, and subtle animations, you can give your brand a new, intuitive look in the digital marketplace. It is a perfect Shopify Theme template for high-volume stores.
👉 The Theme will cost you 💰350!
Focal is a must-have Theme for you if your business deal with lifestyle and products. The Theme has 20 built-in sections that help create unique and creative landing pages.
Individual custom color sections, adaptable elements, and elegant animations enhance customer engagement and brand identity.
👉 The Theme will cost you 💰320!
You might find this Theme different from any other you have used or reviewed. It's a typography-focused theme with numerous feature-rich components.
You can use its interactive grid, color schemes, text, and navigation sections to display menus and type settings to give your online store a versatile look and feel.
👉 The Theme will cost you 💰320!
Symmetry is a perfect Shopify Theme for fashion stores, especially for those who do in-person selling.
It comes with premium customizable drag-and-drop sections and blocks to create custom pages. It also has powerful filters that help drive high-end conversions.
👉 The Theme will cost you 💰320!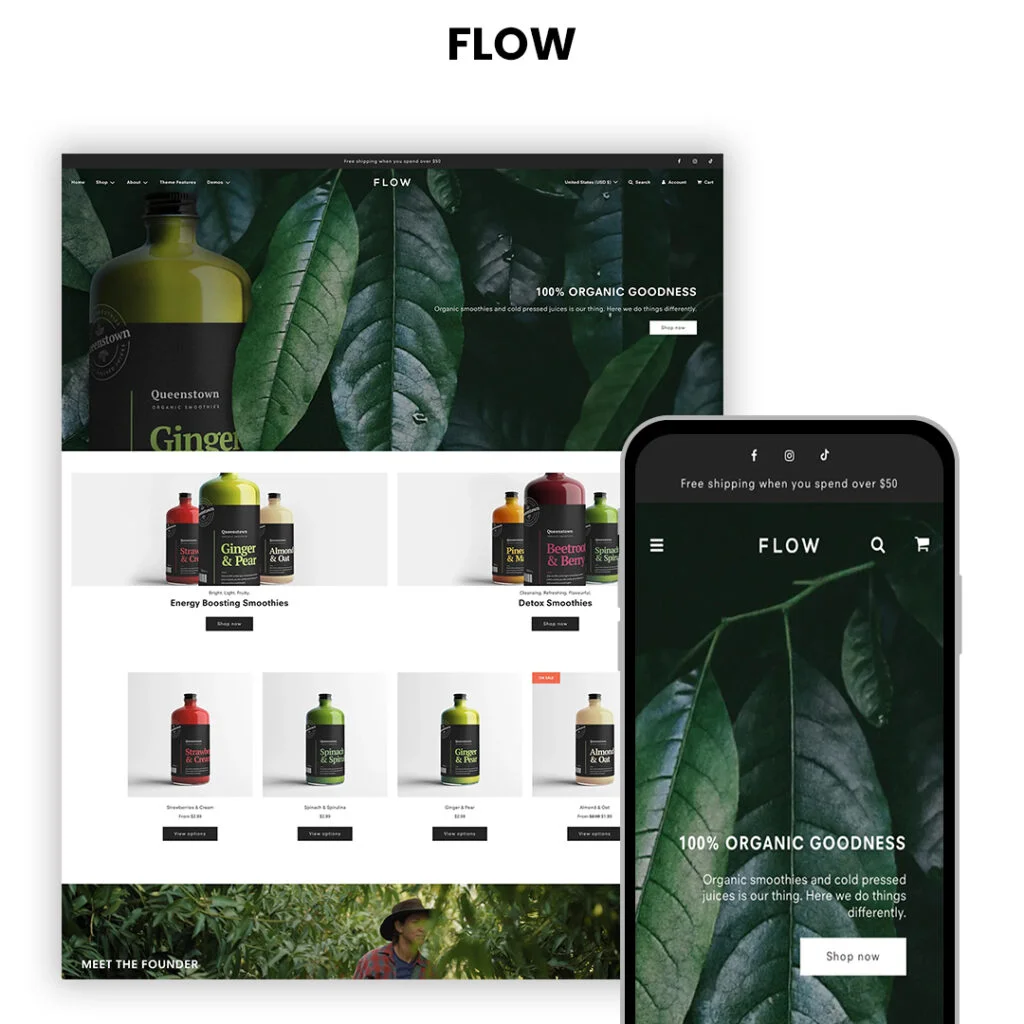 Have you ever seen and wondered how some eCommerce store put their products front and center and get amazed by the visual? It's the beauty of Themes like Flow.
With Flow, you could achieve the exact contrast. This Theme comprises a time-based promotion feature that enhances flash sales.
👉 The Theme will cost you 💰350!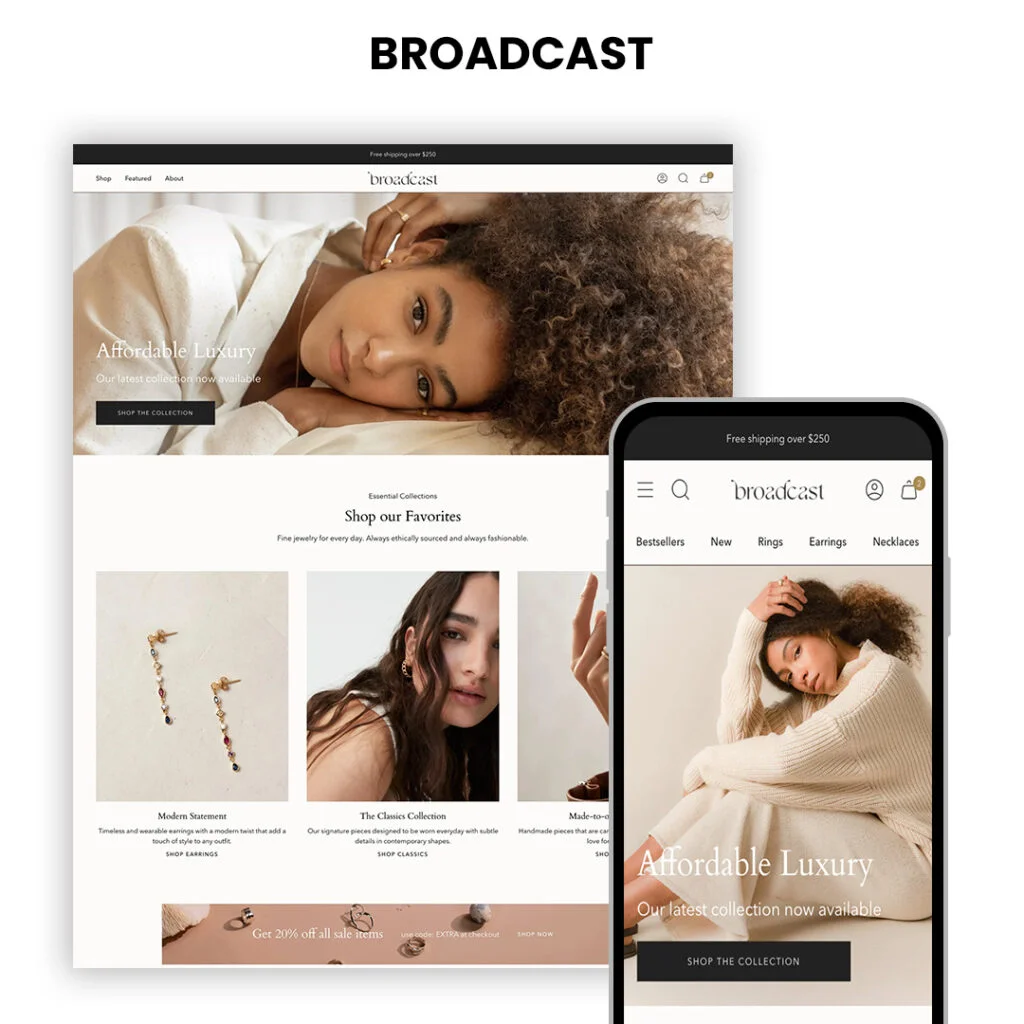 Designed for high-volume stores that do in-person selling, Broadcast has exceptional features like one-click add-to-cart, product upsells, and robust promotional options.
This is a mobile-friendly Shopify Theme with 20+ sections and best-in-class performance.
👉 The Theme will cost you 💰300!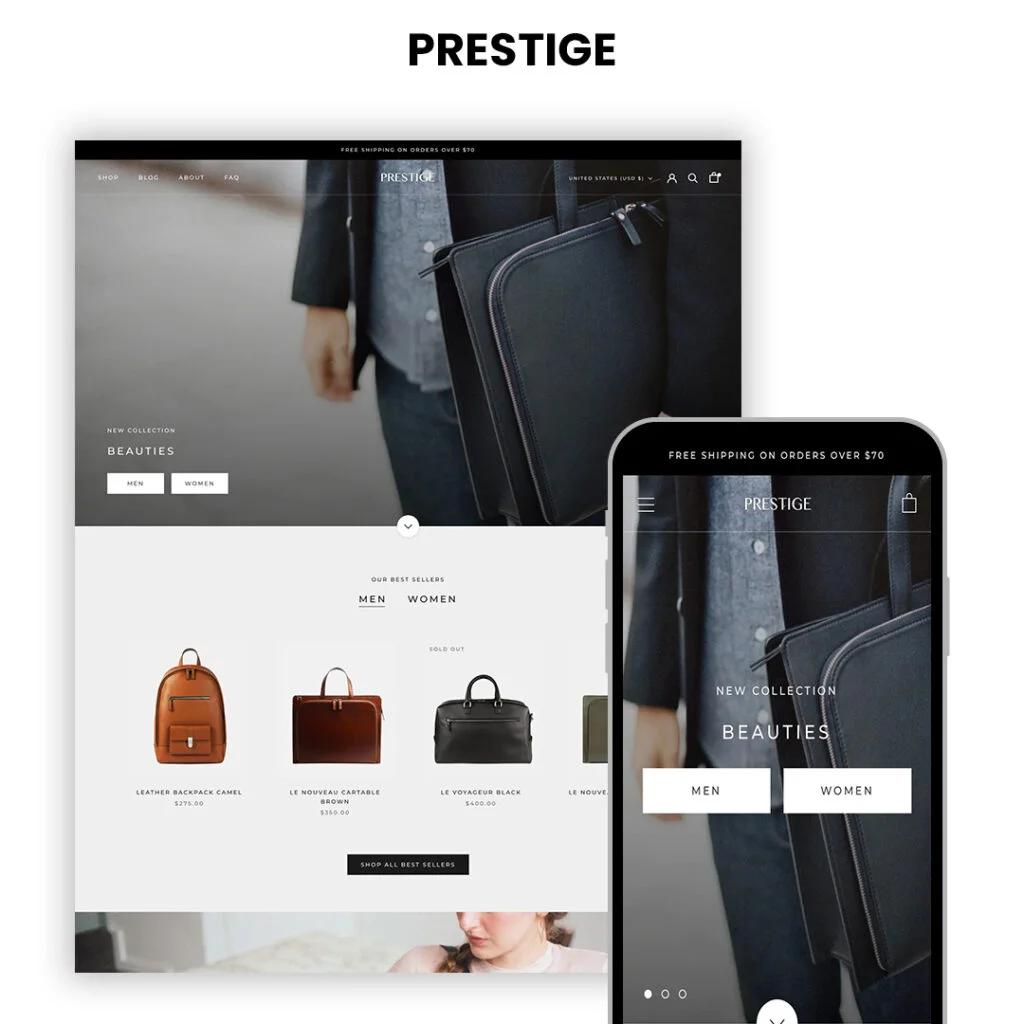 Prestige, with a media-focused product page, has made it to number ten of our top 21 Shopify Themes.
This classic Theme has advanced features like Image stacking, carousels, and videos to highlight your best products fully.
👉 The Theme will cost you 💰320!
Do you have a large inventory? If yes, then Warehouse is the most-perfect Shopify Theme for your online store. The Warehouse Theme is tailored for a large-spectrum catalog.
You will get a robust collection page section to feature and optimize your product list. Also, you will get a time-based promotion feature to enhance your flash sales.
👉 The Theme will cost you 💰320!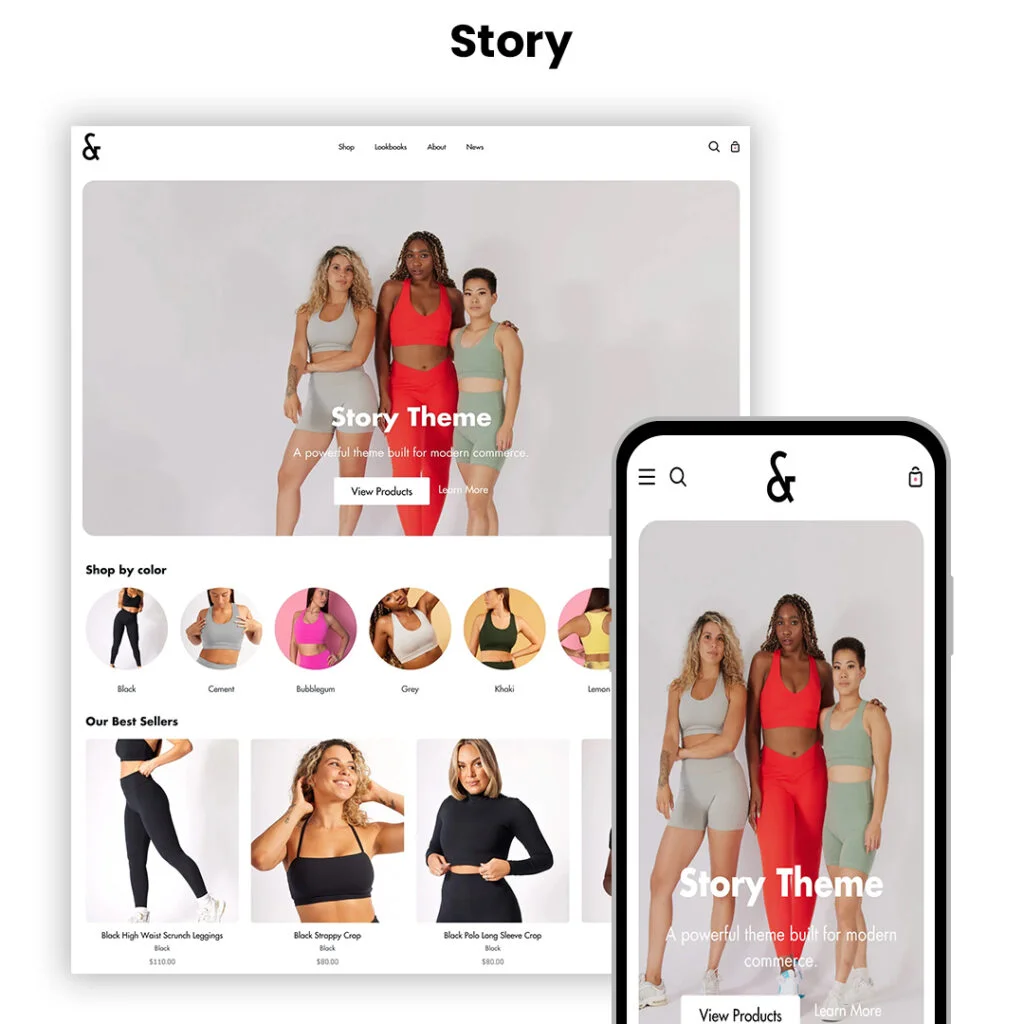 The story is a mobile-first Theme. It comes with drag and drop section on every page, making it easy to organize products.
In the latest Version (3.2.0), The team has expanded Story's support for clothing merchants.
👉 The Theme will cost you 💰300!
Lately, Be Yours has become popular amongst merchants due to its unique design and intuitive user experience.
The Theme has 30+ sections, including multiple landing, product, and collection templates. It was explicitly designed for drop-shippers and stores that do in-person selling.
👉 The Theme will cost you 💰250!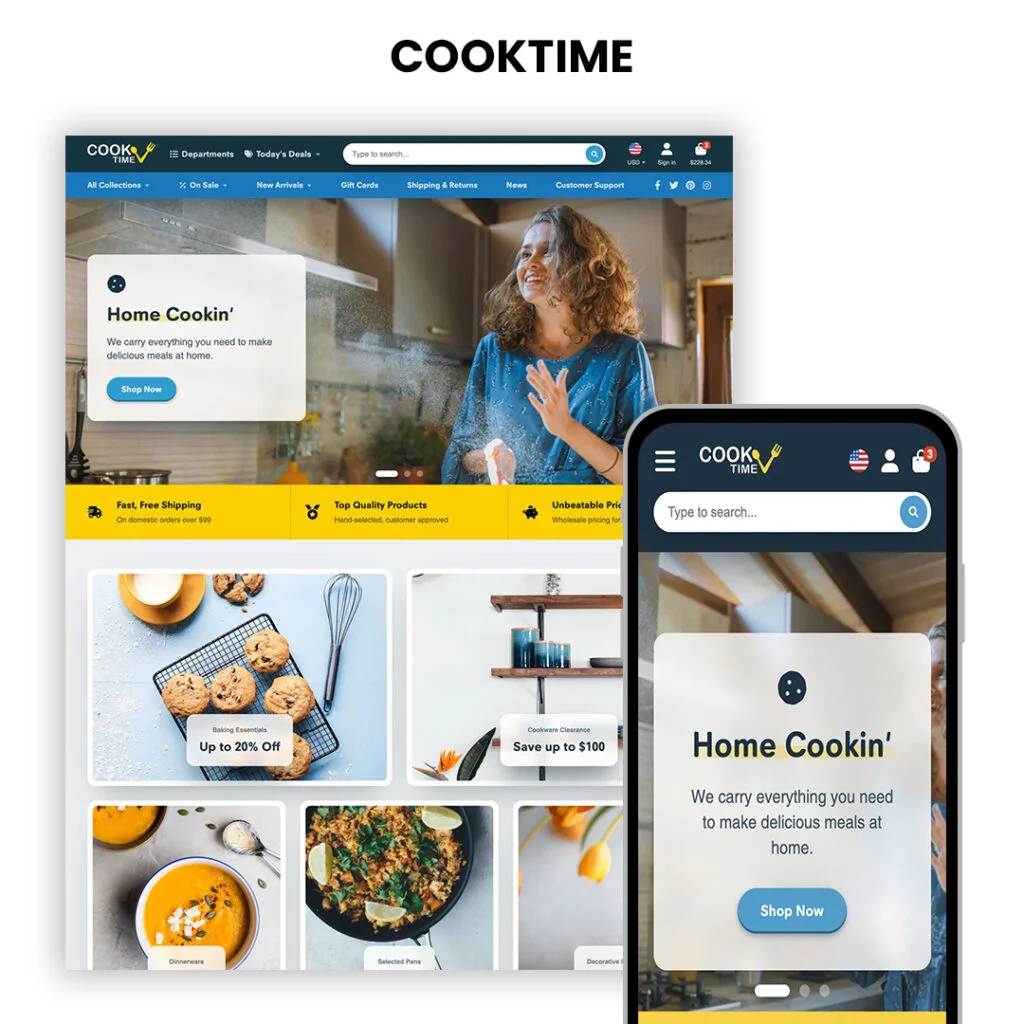 Showtime is an ideal Shopify Theme Template for large stores and drop-shippers. It comprises a limitless navigation option than any other Theme.
The Mega Menu has multiple high-quality images, products, collections, and off-canvas navigation options.
Moreover, you will get product/cart upsells, Instagram-style popup grids, and filtering options for a better user shopping experience.
👉 The Theme will cost you 💰250!
A bullet is a supremely fast and responsive Shopify Theme. It has all the essential tools and settings to create stunning online stores and give customers the ultimate shopping experience. 
The Theme allows you to showcase every detail of your products with greater clarity.
👉 The Theme will cost you 💰300!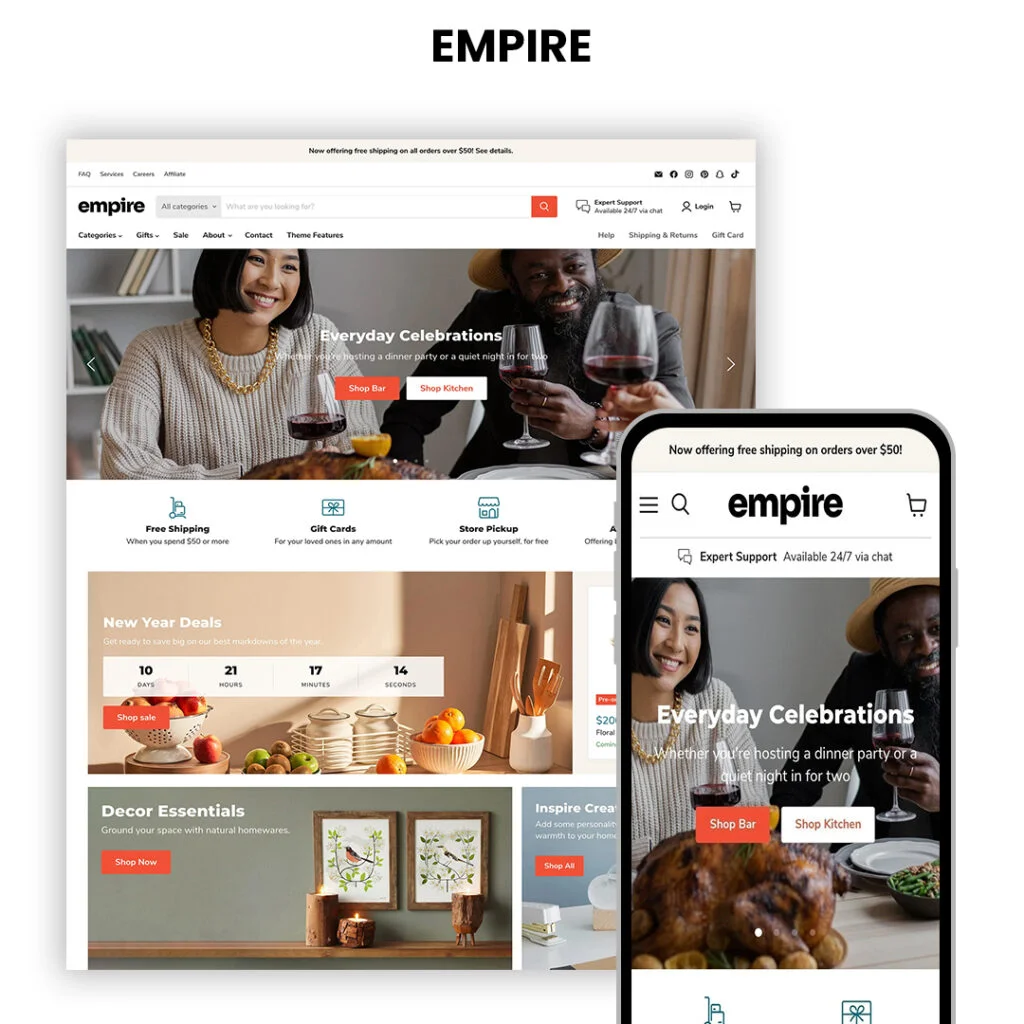 Similar to Warehouse, Empire is a marketplace Theme with an extensive catalog. Empire offers Mega Menu, Tag Filters, and a unique navigation system that helps drive conversion.
Moreover, it has a product comparison feature which proved to be a real asset for brand owners.
👉 The Theme will cost you 💰340!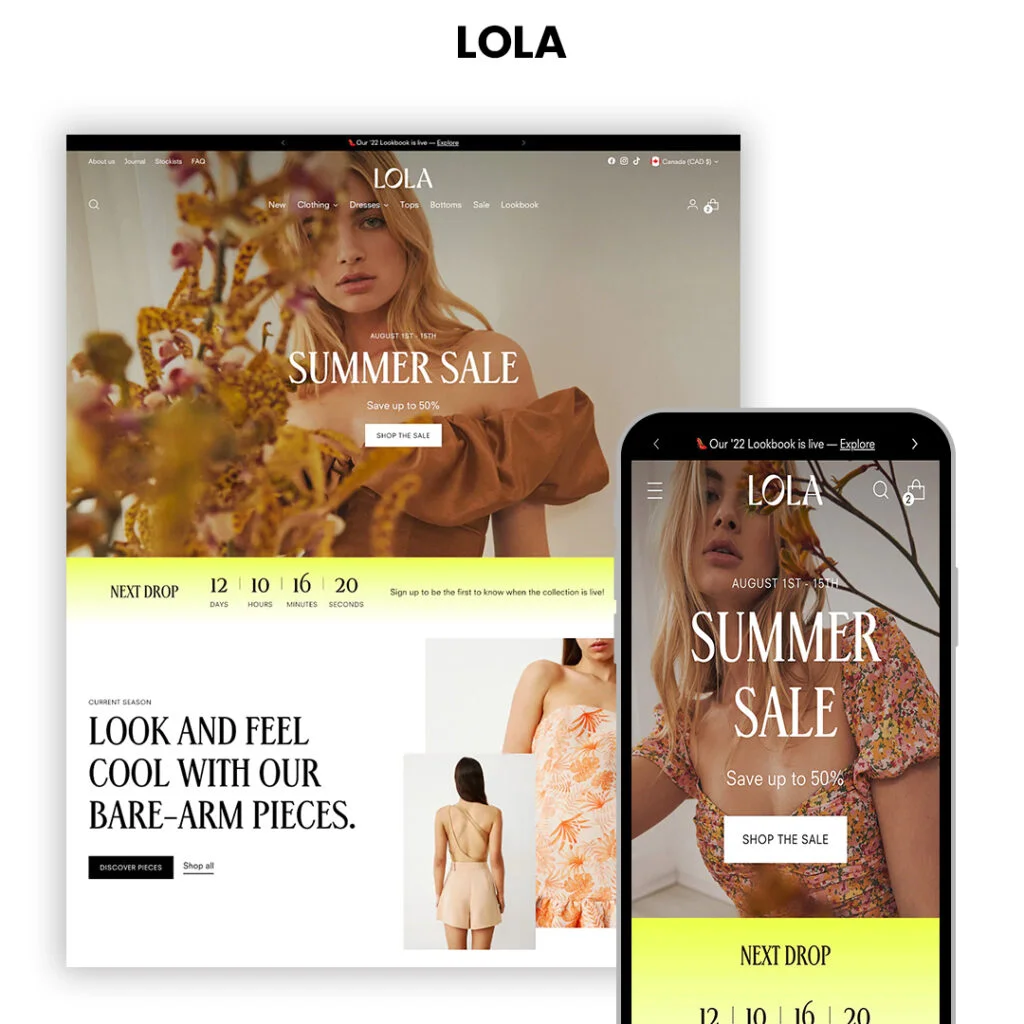 Stiletto is filled with conversion-boosting features that could boost your sales funnel. It has dynamic product pages comprising a clean, functional design paired with highly-customizable features.
Enabling this Theme in your online store could give your users a compelling product discovery and shopping experience.
👉 The Theme will cost you 💰300!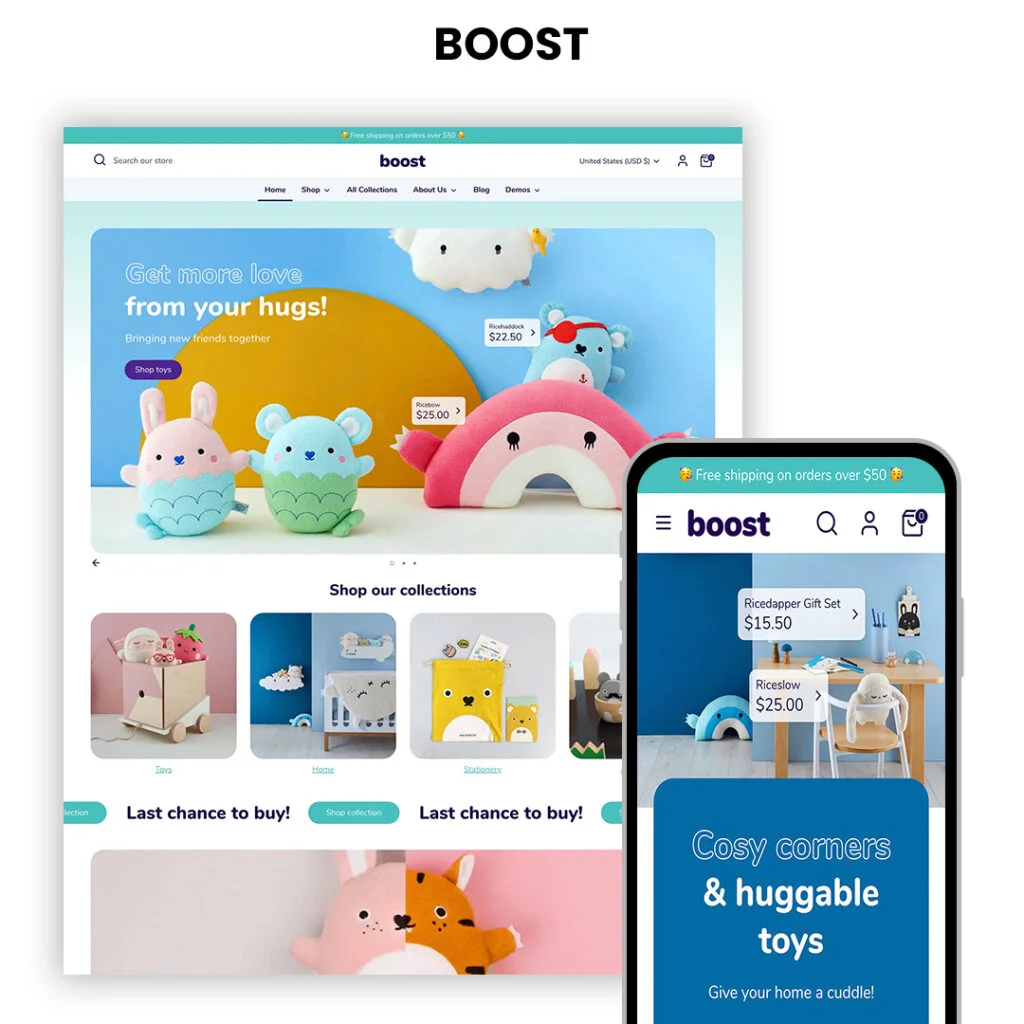 Boost by Clean Canvas is made for big retailers with huge inventories. The Shopify Theme Template has all the advanced and required features and tools, including SEO, performance, flexible sections, promotions, advanced product filters more.
Moreover, you can showcase your product reviews and accomplishments using the slideshows. Also, create a fixed navigation experience for easy browsing.
👉 The Theme will cost you 💰300!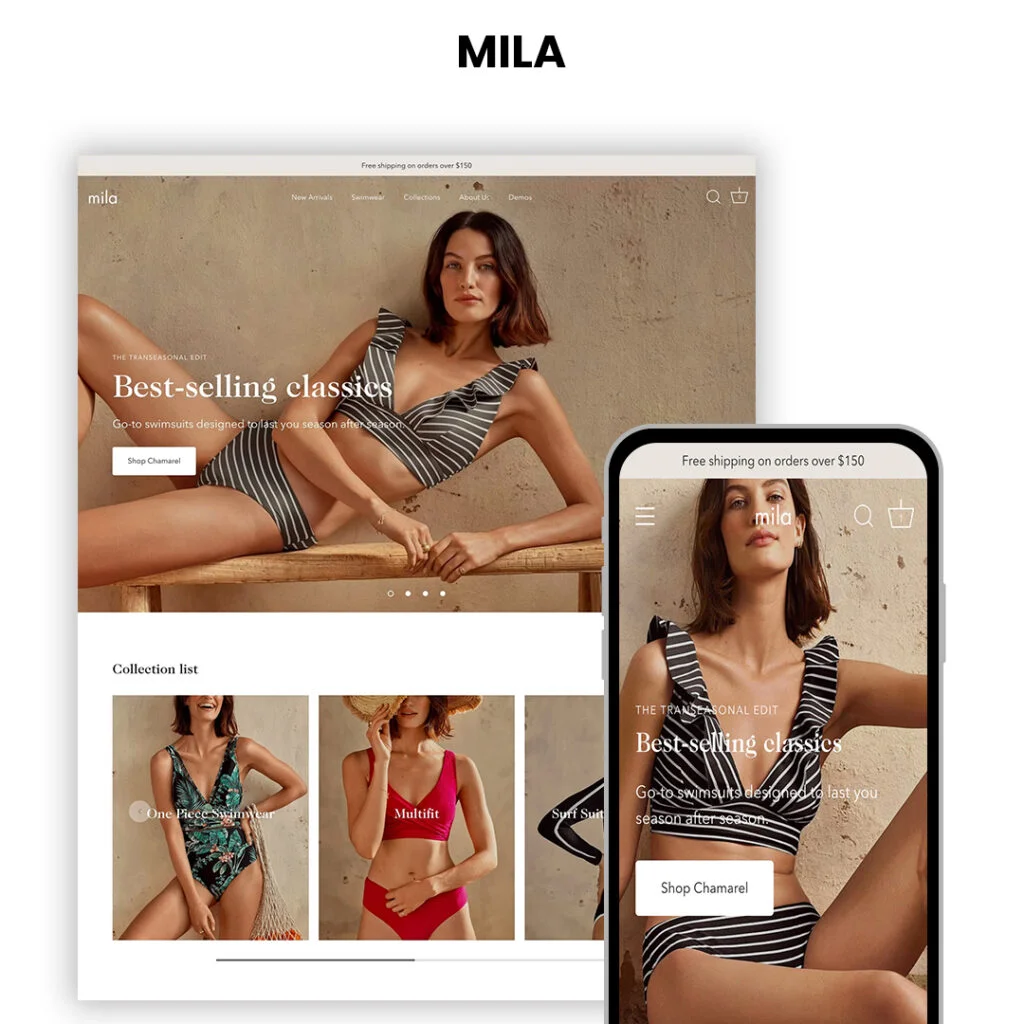 Another Clean Canvas Theme Showcase has flexible animations and seamless video integration, allowing you to create a premium and refined shopping experience for users.
It has Advanced product filtering, flexible sections, and conversion-focused promotional tools. High-volume store owners would love to use this store to look at its offerings.
👉 The Theme will cost you 💰300!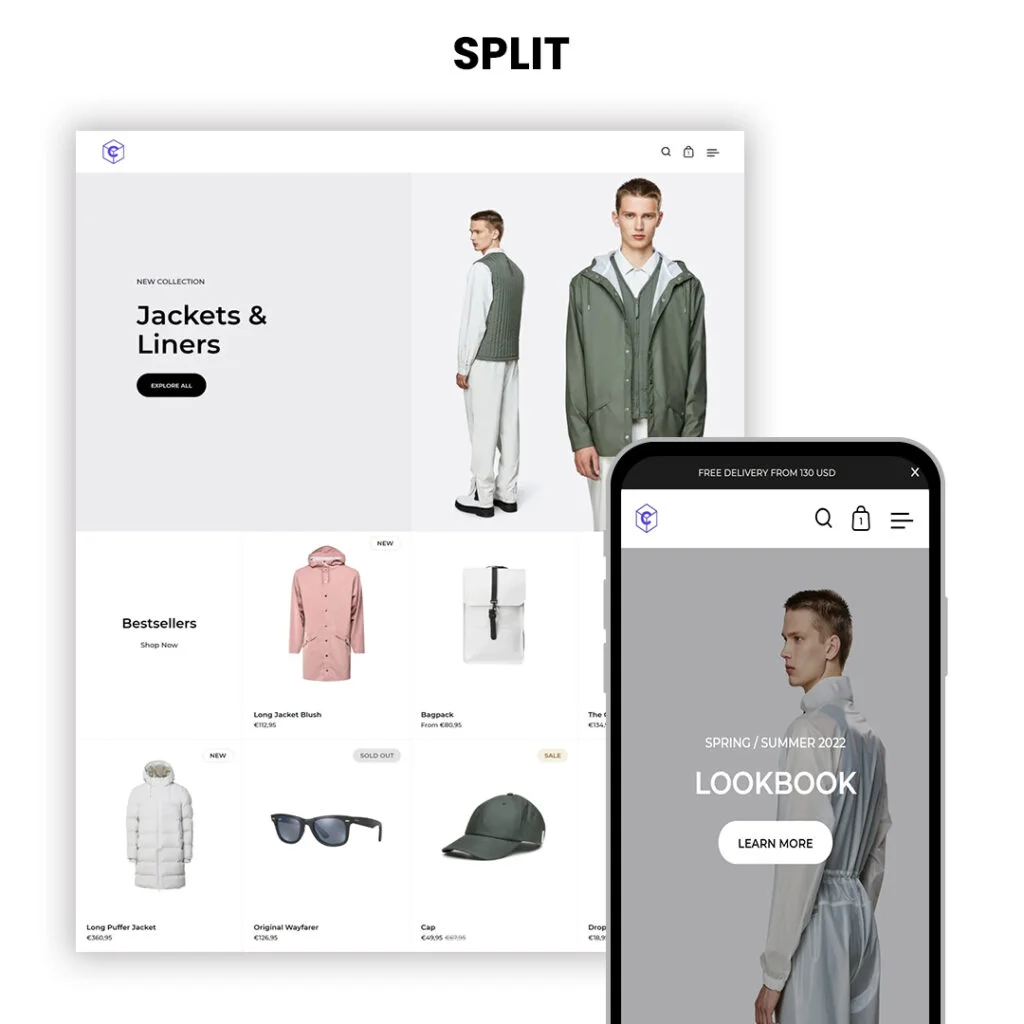 As the name suggests, Split has an eye-catching and balanced split-screen layout that enhances your website's view.
It has all the modern features, including unique promotion banners, dynamic cross-selling, countdown headers, and more.
The best part is that users will get multiple split screens to view their products from different angles and make the right purchase.
👉 The Theme will cost you 💰250!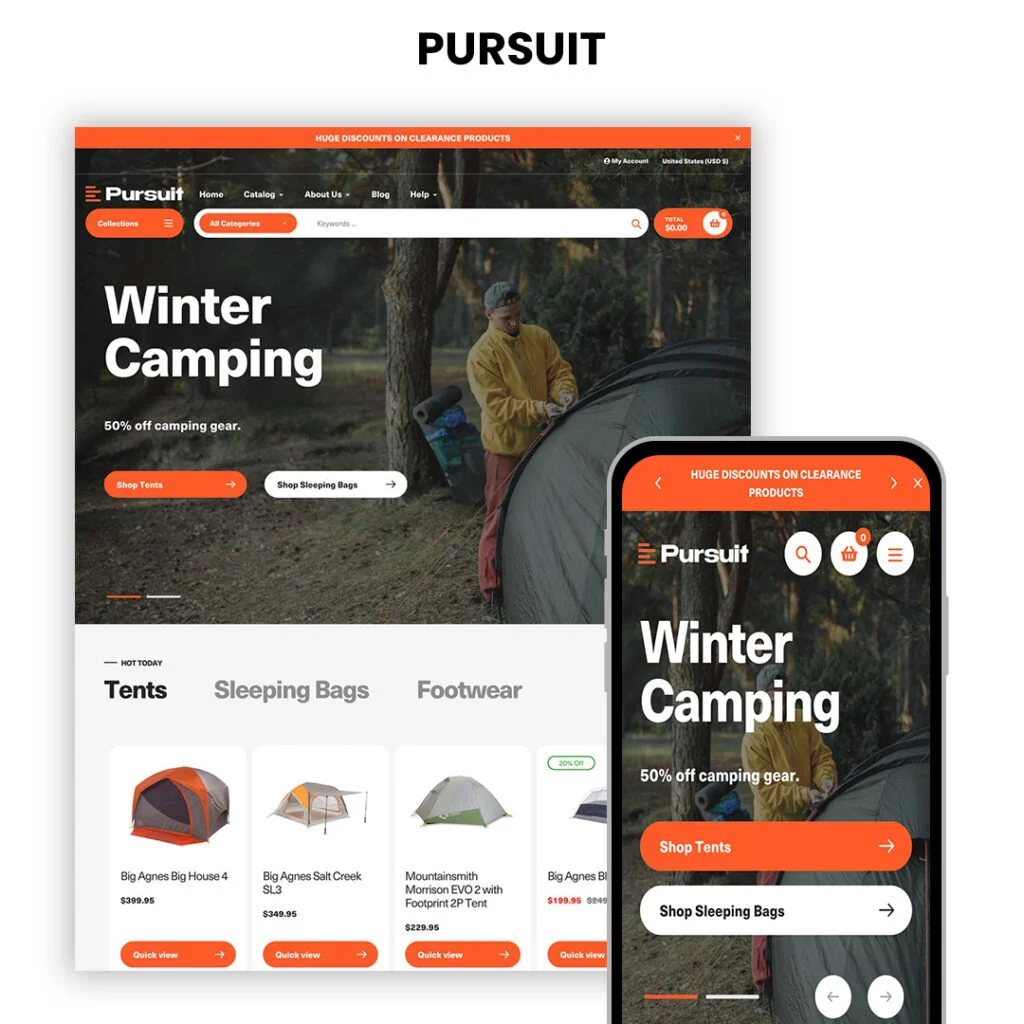 Pursuit is a complete package for medium and large-cap merchants. Mile High Themes designed it with a mega menu, flexible live search, and separate collection navigation.
It's a fully responsive Theme that fits into desktop and mobile screens without any issue.
👉 The Theme will cost you 💰300!
Bottom Line
Building a unified eCommerce website from scratch is a daunting task. However, half the website work becomes easy with the right, ready-to-go Shopify website theme.
Shopify comprises 100+ free and paid themes in various business categories. In this blog, we have already enlisted the top 20+ Premium Shopify Themes, which are highly customizable and responsive.
You have the freedom to choose and implement the most suitable Shopify store theme as per your business requirement.
If you need professional assistance, Hire Shopify Expert India from Metizsoft Solutions – The certified Shopify Development Agency in India.
About

Manthan Bhavsar

Manthan Bhavsar is one of the most brilliant go-to people when someone thinks to Hire Shopify Certified Experts! A techie by profession and a technologically driven person by passion, Manthan Bhavsar isn't shy to blog and share the knowledge he has with the world. If you want to follow Manthan, you can do so on Facebook, Twitter, and LinkedIn