As a Manager of Metizsoft Solutions, I have seen many cases in which customers end up choosing the wrong one for their businesses.
They have been mesmerized by the articles and reviews found on the internet about the specialty of various eCommerce platforms instead of choosing the right one for them.
Nowadays, you are having no dearth of eCommerce platforms to choose among many available platforms, it becomes more complicated to choose which one is best for your online eCommerce business.
Magento VS BigCommerce Development
Believe me, If you are new in this business and have less knowledge about the internet you must refer to a consultant or professional web design company before choosing the right product for you, after all, it is a matter of your business.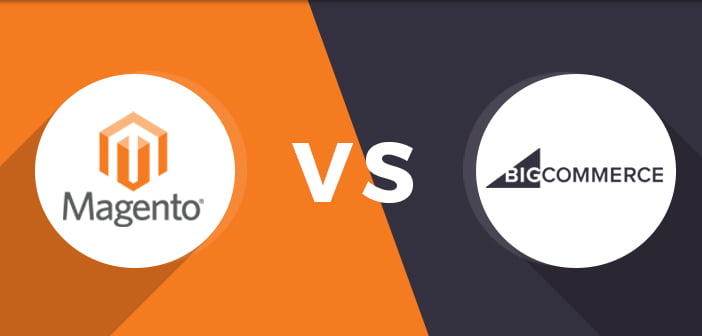 But through this article, I will discuss two of the popular eCommerce platform available Magento and BigCommerce.
Let us make it simpler to decide which platform is good for your business.
Why Magento?
Magento is an open-source eCommerce web application which is launched in March 2008.
It is built by using an open-source object-oriented web application framework implemented in PHP 5 called the Zend framework.
It is a product of Magento Inc. Magento's rich feature set and ability to be customized can inspire you to evolve your store into a unique, layered selling channel.
Its ability to be customized can also be a shortcoming – it takes more effort to deliver a completed Magento solution.
Why Bigcommerce?
BigCommerce is an eCommerce platform known for its time-effective assembly and is a very easy tool to convert your conception into a real online store.
It helps in grouping the most common eCommerce features into a single package.
These features are arranged in such a manner that they fit into the basic requirements of an eCommerce store.
It can be customized with the aid of a developer to have a complete professional look with essential functionality, which leads to a professionally branded successful online store.
Please review our Web Development Work: Portfolio
About

Manthan Bhavsar

Manthan Bhavsar is one of the most brilliant go-to people when someone thinks to Hire Shopify Certified Experts! A techie by profession and a technologically driven person by passion, Manthan Bhavsar isn't shy to blog and share the knowledge he has with the world. If you want to follow Manthan, you can do so on Facebook, Twitter, and LinkedIn
Related Posts
Volusion Site speedup is the process every merchant looking for because Google gives high priority to fast-loading sites,...