Shopify, is there anyone who doesn't have heard this name? Only those who don't have anything to do with online business and shopping. Well, for them, it's the largest ECommerce development platform, with 1.75 million merchants and 457 million buyers worldwide. It means I am talking about the ultimate ECommerce store boss here!
Recently, Shopify has got integration. No, I am not referring to Shopify Plus, but the most highly anticipated one is Headless Commerce. Experts say Headless commerce has better functionality, flexibility, and enormous user offerings. In all ways, it has enhanced ECommerce sites functionality while ensuring a better customer experience.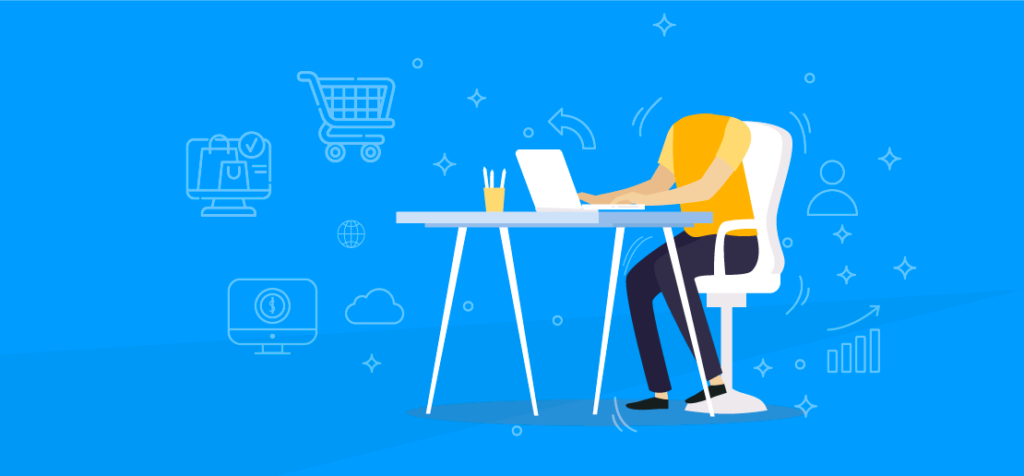 With Headless, merchants can quickly plug in and facilitate various facilities from different vendors. Plus, they can enrich customers via multiple platforms like smartwatches and IoT devices apart from mobile apps and websites.
But is it enough to beat Shopify and its in-built components and plugin facilities? How convenient will it become with time? Let's find its worth with the following abbreviation.
Why should you go for headless with your Shopify store?
Headless commerce is another ECommerce architecture that detaches the front end from the backend infrastructure of a Shopify store or site. It brings high-end flexibility and customization, allowing admins to update their storefronts without disturbing the backend functionality.
The Shopify headless ECommerce store uses Shopify Plus to ensure robustness in the Shopify store's backend functionality. It includes payment processing, inventory management, and PCI compliance.
However, it allows developers to use any front-end design and development application to make it more streamlined. Developers can use a content management system (CMS) or a custom-designed storefront best suited to the business model, budget, and requirement.
Headless Shopify Vs. Regular Shopify:
Choosing between Headless Shopify and Regular Shopify is simultaneously accessible and challenging, depending on merchants' requirements and budgets. In contrast, a traditional Shopify store has lower upfront costs and fewer complexes compared to the other options.
However, it lacks customization and other essential criteria. Meanwhile, Headless Shopify is a more advanced version of Shopify store development and is relatively costlier than the traditional ones. Also, it ensures more customization and Omni channel customer experience.
Core reasons to create your ECommerce store with headless Shopify:
With more than 73% of organizations adopted, Headless Commerce technology is enriching towards a high goal every single day. But what makes it unique, and why do so many turn headless?
Let's find out the key reasons:
In many Shopify stores, the front end is separated from the back end in a headless application. However, you can modify the content layer without disrupting the backend or causing your website to slow down. The possibilities are endless since you can build your own with an external CMS or use custom code.
With regular Shopify, store expansion to multiple countries becomes tedious and asks you to create multiple Shopify accounts and use separate subdomains for each. Meanwhile, Headless Shopify does the opposite, letting merchants keep all versions of their store at the same URL. As a result, it increases the customizability and helps them grow to multiple locations.
Top-notch Customer Experience
The most significant part of Headless technology is that it allows you to enable the best experience for your customers. You can choose the most relevant and advanced storefront UI that fits your business. It welcomes you to choose any third-party plugins to enhance the user interface the way you want.
Advanced Subscription Management
Unlike many ECommerce businesses, brands that use a subscription model rapidly migrate to a headless solution. Why? Because the headless Shopify solution allows for a flexible customer-facing storefront backed by a robust ECommerce subscription management platform.
Stability across Channels & Touchpoints
Omnichannel support in the traditional platform is limited. Here, it can't be added if the platform doesn't support a channel. However, in headless, you have a customization option and can add multiple channels accordingly. With this, you can ensure your customers' consistent experience at every touch point.
Technology and system keep changing with time. However, Headless architecture quickly adapts to those changes and ensures that you will keep up with these ever-evolving updates. You can add new features and configurations as they emerge and quickly update your website during the latest product launch, and it helps you prevent being outdated. Traditional Shopify doesn't have this compatibility.
Lesser Development Hindrances
With headless ECommerce, you can separately work on frontend and backend development. This way, you won't require backend development resources to modify your front end. It also means that you're less likely to break the whole site and can scale each part of the website independently.
How can you build a headless Shopify Store?
You have three options in front of you to build a Shopify Headless ECommerce store, such as:
If you decide to build your Shopify store using headless technology, then one thing is sure you have all the control right from the beginning and are free to experiment with your vision.
And if you have the required resources, such as people with expertise in React.js, Ember, and Next.js, to create a unified storefront, then it's a blessing in disguise. You will significantly be able to cut development costs and time.
Approaching an experienced Shopify development agency will sort out everything for you. First, you will receive valuable instruction and guidance about the market and your competitors.
Secondly, the Shopify experts there will ensure complete customization with your preferred components and feature to make your headless Shopify store more compatible than the traditional ones. You must consider this option before taking charge by yourself.
Headless Shopify ECommerce store examples:
Many small and mid-range companies have recently used headless architecture to create unique and dynamic storefront experiences.
Some examples are as follows:
JB Hi-Fi belongs to Australia and is one of the crowned home entertainment. This brand is a prime example of an effective headless Shopify implementation as it uses both contentful CMS and Shopify Plus.
The platform, with time, gets high engagement and traffic, leading to slow uploading during the holiday season. However, headless Shopify optimized these issues and reduced the slowness with its configuration. The website runs smoothly and handles the most significant volume of user engagement without hindrances.
Kinsley Armelle is a Canada-based ECommerce store with a subscription service, referral program, and a blog. It used Headless Shopify, allowing the company to offer exclusive shopping experiences without compromising the website's feature-rich design. The best part is that headless commerce architecture has helped Kinsley Armelle opt for PWA or Progressive Web Application tech to give its website app functionality and feel.
Final Words:
Headless commerce is enhancing eCommerce site development with its unified offerings. With its advanced features and components, Shopify experts are now ensuring better and more flexible user experience, powering high-performance websites and apps, and allowing merchants to drive high-end revenue.
The Shopify Headless ECommerce architecture benefits traditional eCommerce sites and subscription commerce businesses simultaneously. You can enrich Metizsoft Solutions, a certified and most trusted Shopify partner, and hire headless CMS experts to create a high-performing headless Shopify store. Above all, our experts will help you with subscriber experiences with Shopify.
About

Manthan Bhavsar

Manthan Bhavsar is one of the most brilliant go-to people when someone thinks to Hire Shopify Certified Experts! A techie by profession and a technologically driven person by passion, Manthan Bhavsar isn't shy to blog and share the knowledge he has with the world. If you want to follow Manthan, you can do so on Facebook, Twitter, and LinkedIn