When a self-financed company grows with time, without worrying about conflict or hindrances, it sets a benchmark for itself. It becomes a live example for many start-ups and entrepreneurs with a clear message –
"With the right approach and people, no obstacles can stop you from achieving your desired goal."
Amid all the ups and downs, shivering difficulties, and chaos (Covid-19), Metizsoft stood like a solid rock and never stopped delivering robust solutions to its clients.
As a result, we are now 10 years old. This a milestone that many beginners (Corporate firm CEOs & Directors) dreamt of while starting, but only a few surpass it. We are fortunate that we are now in the 10 years old corporate club.
In this moment of happy tears, and broad and proudest smiles, we would like to express our heartfelt gratitude to all our coworkers, their families, our ex-employees, clients, and partners for their continuous support and contribution.
Without you all, this achievement wouldn't have been so soothing. So a special congratulation to everyone. Yes, fellow mates, we did it! We are now 10 years old, and you all deserve a pat on the back for achieving this milestone.
Now, let me briefly describe how we Metizians celebrate this special occasion.
Venue – For our 10th Anniversary celebration, we had booked EKA Club Bougainvillea Banquet Hall – A grandeur establishment. We were surprised and overwhelmed with their support staff behavior and arrangements, as they did a fantastic job.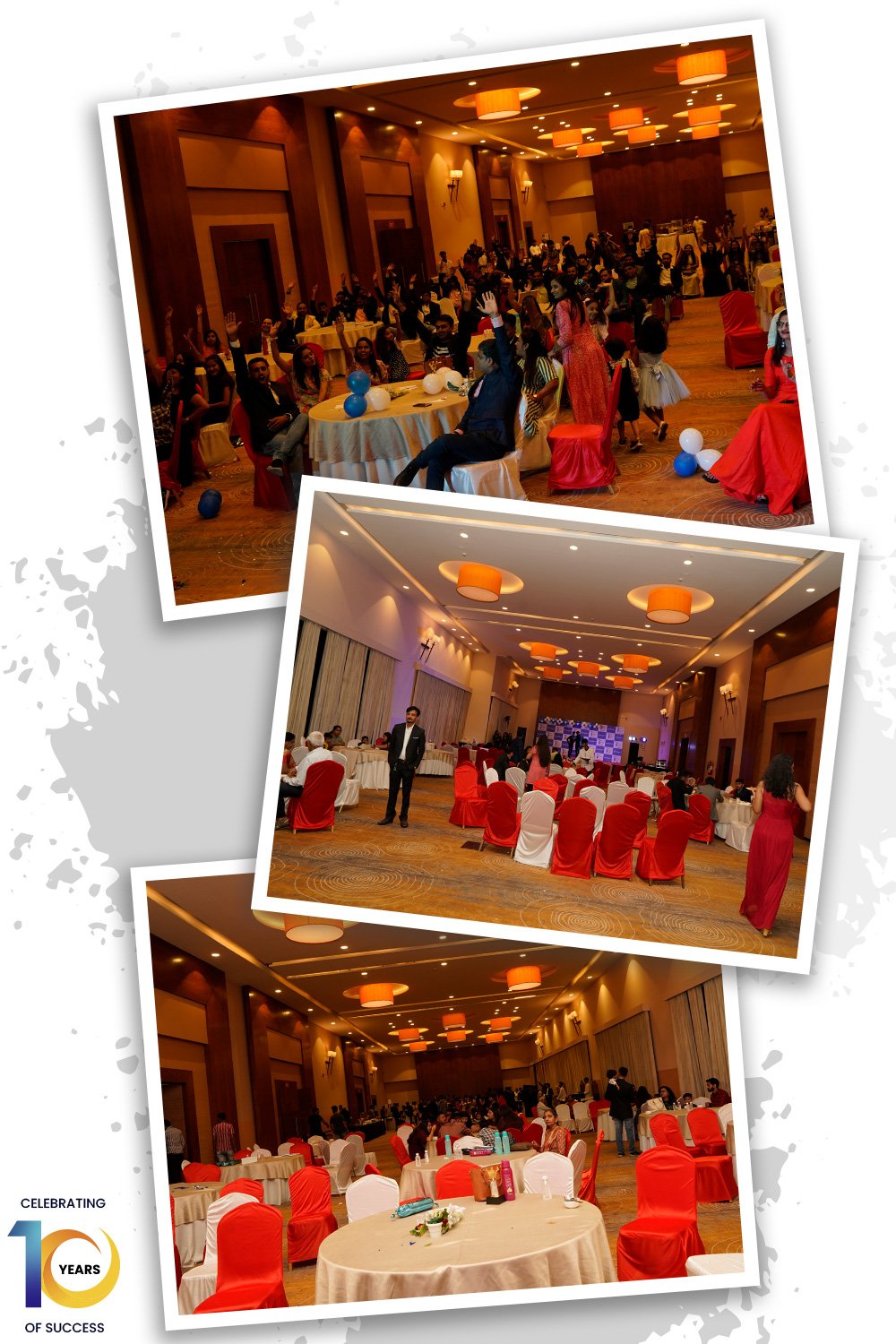 We have set up a 5 PM start of the event, and as convincingly, all Metizians along with their families and our beloved guests have arrived there in due time.
We have invited a professional anchor for the special occasion, Jyoti Bharani, who did an excellent job and maintained the smooth conduction of the event as per scheduled.
The programs started at 5:45 PM as everyone grabbed their seat. There were special sofas in the front rows for our respected guests and round table arrangements for our coworkers and their families.
With excellent light decorations, the stage looked like an award show stage. VIP seats and a table for the guest and a podium for the speakers. Everything was there as it should have been.
The feeling was surreal, and everyone was excited and desperately wanted the program to start.
Anchors' Words of Appreciation
Meanwhile, our anchor, Jyoti Bharani, entered the stage holding the prettiest smile. The program was about to start, and she started checking the mic within a minute.
The welcome speech was coming, and she indeed started well. Later, she narrates Metizsoft's story. From the early days to till now, how the company has done and still doing. She didn't miss a single point.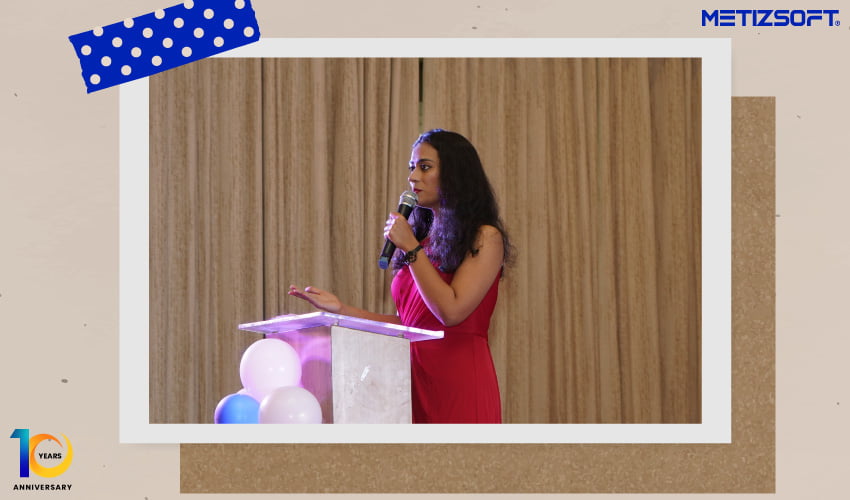 Well-researched and poised narration. She should have gotten some help from our coworkers to gather every information about the company. However, it was a nice gesture from her.
After finishing the introduction part, she invited  Pooja Panchal (HR Manager at Metizsoft), to the arena.
I can still hear the clapping and cheers made by our employees while Jyoti narrates those glorious previous chapters of Metizsoft.
Pooja's Entry
As soon as Pooja entered the stage, she thanked Jyoti for the welcome speech and introduction. Then, with a pretty smile, she started delivering her speech, speaking about her contribution, company support and guidance towards shaping their career, and many other things.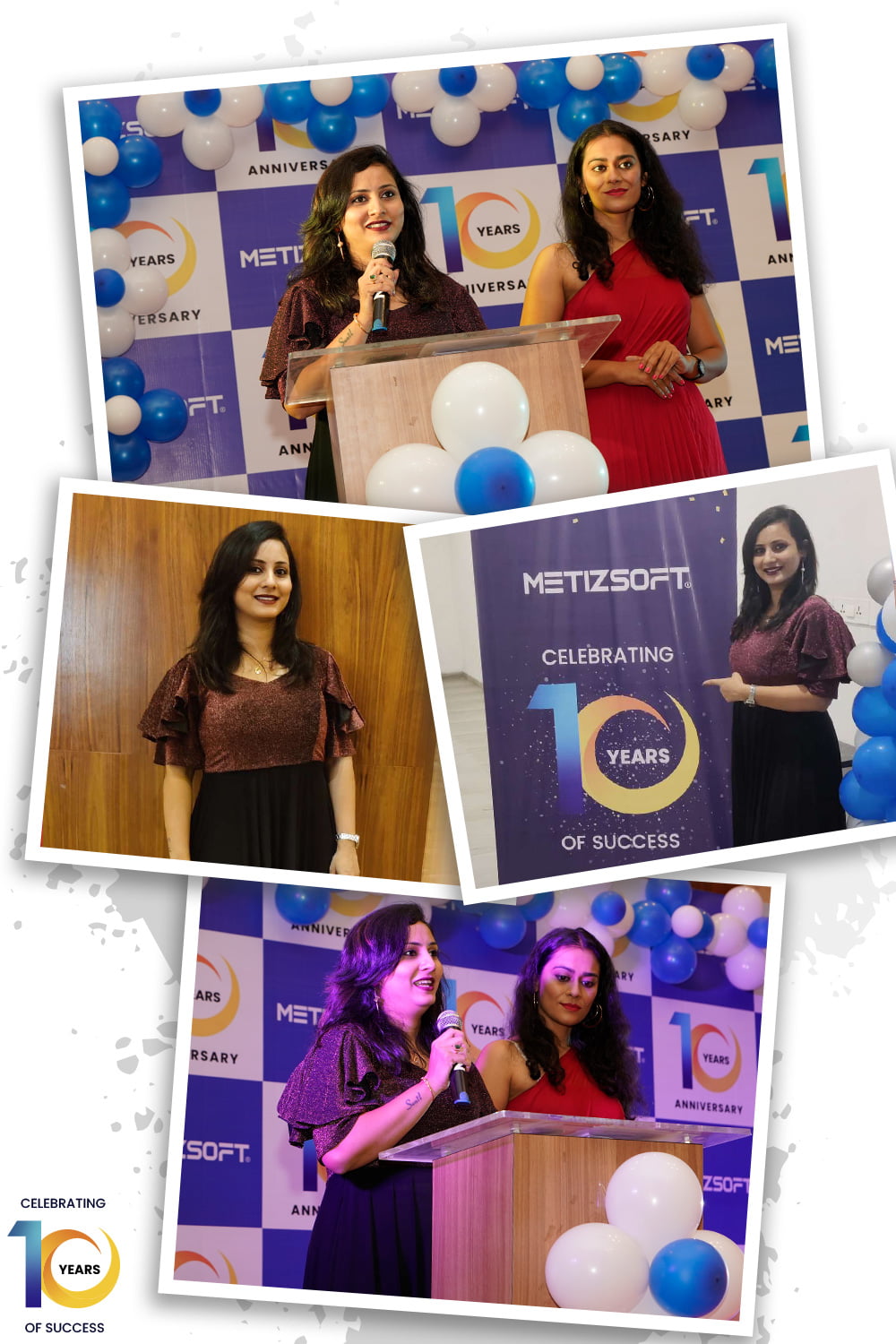 One can sense her confidence and prides through her voice as she has been with the company for almost 7-8 years, and she is the core eyewitness of the immense growth of Metizsoft Solutions Private Limited.
After finishing her speech, Pooja invited the two alpha males who are on their way to building a lifetime legacy. The men of the moment, the stone keeper of this fantastic company, the two brains behind the idea named Metizsoft – Mr. Manthan Bhavsar & Mr. Chetan Sheladiya.
Directors Entry
What a lovely gesture and grand welcome they receive! Everyone – all the employees, family members, and guests gave them a standing ovation. Our two HR executives, Dinky Patel and Reema Limbachiya welcomed them into the stage with a bouquet and welcome trophy.
What is the proudest and most precious moment for all of us? A small token of appreciation from all the Metizians – I still get goosebumps remembering that moment.
Both of them are on the stage now. Pooja welcomed them with kind words. After finishing her speech, she invited Chetan Sheladiya to deliver a speech.
Chetan Sheladiya – Founder and CEO Of Metizsoft Solutions
Chetan sir holds vital aspects of the company and is a fair decision-maker with Manthan sir. Chetan sir started by Thanking everyone and speaking about the initial days' stories.
He shared the struggling day stories where they had only two desks and two developers in a tiny room. They had to walk a few miles for tea, and everything back then was difficult to manage.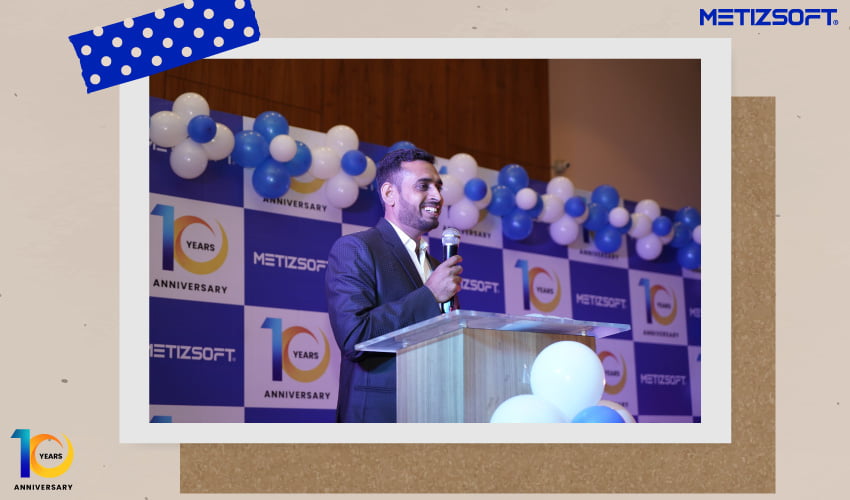 It was a real experience for someone who has lived those days and is now standing in front of hundreds of people delivering a 10-year completion speech—a gem of a person who carries a never-give-up attitude and is currently running a successful IT firm.
The journey was difficult, but he managed it so well. All the inspirations and aspirations can be heard in his voice and seen in his eyes. A well-made speech from a well-organized man!
As Chetan sir finished his speech, Pooja came to the podium and thanked him for the address. Meanwhile, it's now time for Mr. Manthan, and here she goes inviting him to the speech.
With the loudest cheers from the employees and guests, Mr. Manthan is enriching towards the podium for his speech.
Manthan Bhavsar – Founder and CMO Of  Metizsoft Solutions
Manthan Sir is the joint director of Metizsoft Solution. In contrast, addressing the coworkers and guests, he first thanked and congratulated everyone, including family members and ex-employees, for their support and continuous effort.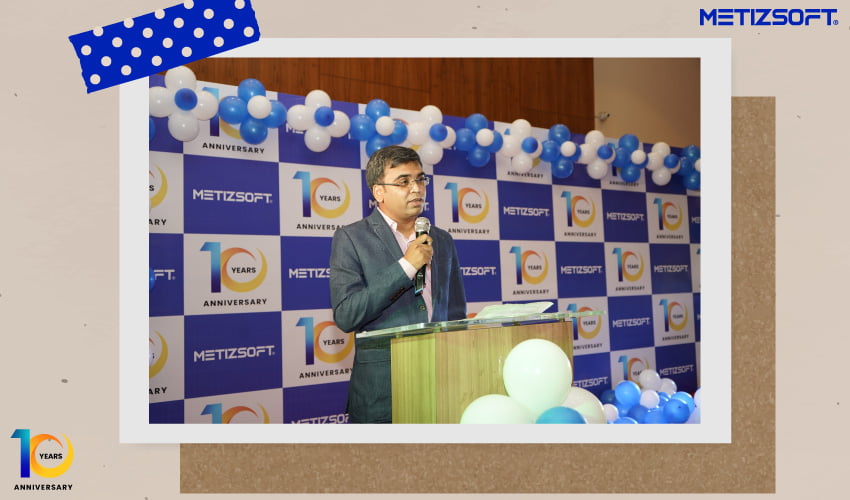 He, too, gets emotional remembering the old days. He shared fascinating stories about their first project, client interactions, and employee hiring. Later, he disclosed that the company initially started with two desks, and now it's 75 stronger.
He ended up the speech by cheering and congratulating everyone. It was best to hear him.
The entire hall gave him a round of applause as he walked back to his seat after finishing his speech.
Now, it's time for those respectable senior coworkers who have been part of Metizsoft for so long.
Mr. Bhavin Raval (Head of Business Development)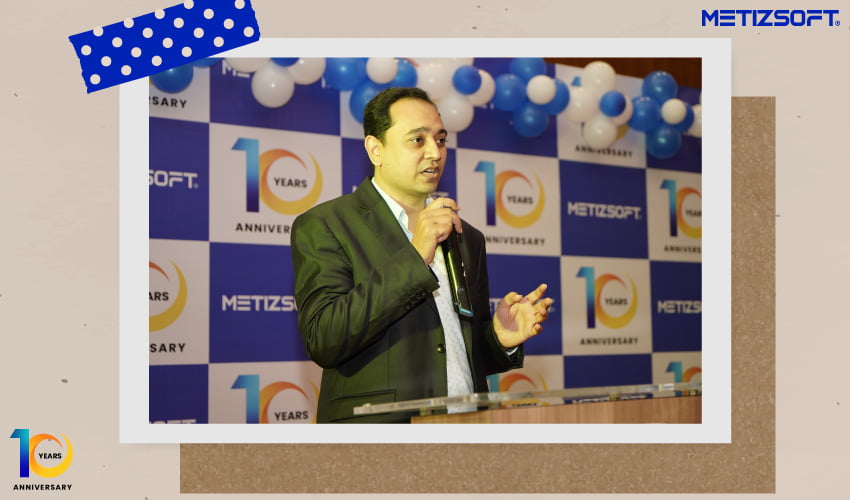 Sweety Christian (Sr. Business Development Executive)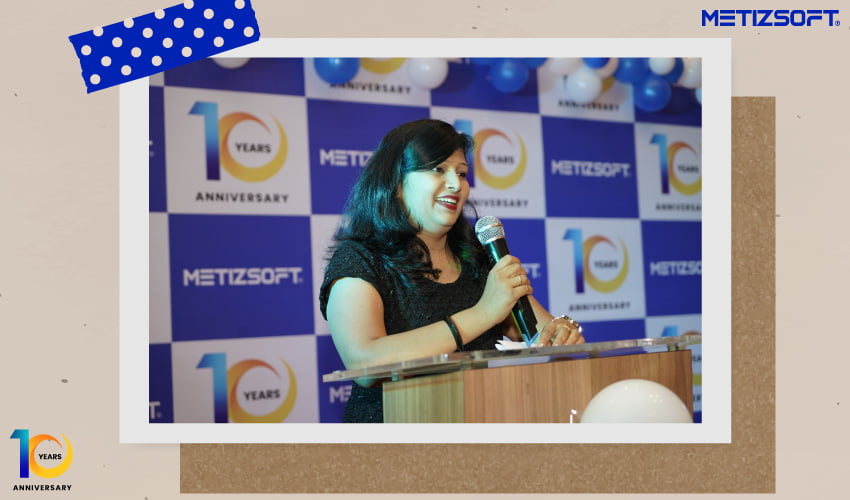 Krunal Prajapati (Digital Marketing Expert)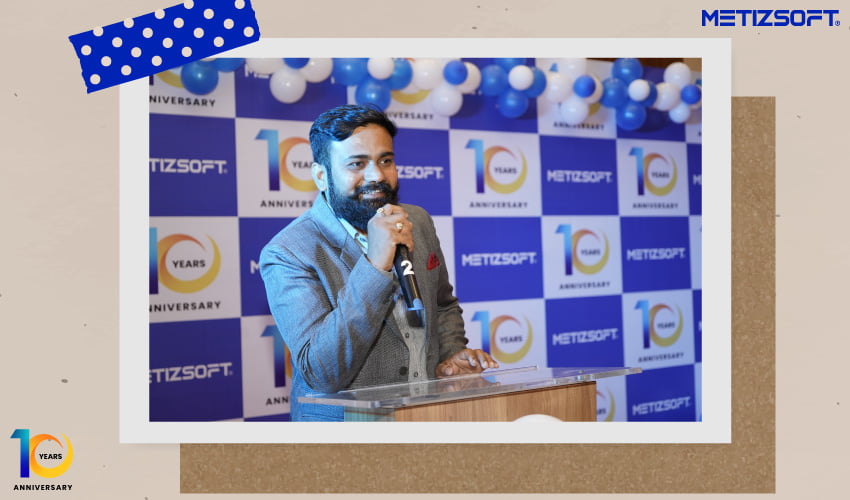 Nilesh Patel (Senior Software Developer)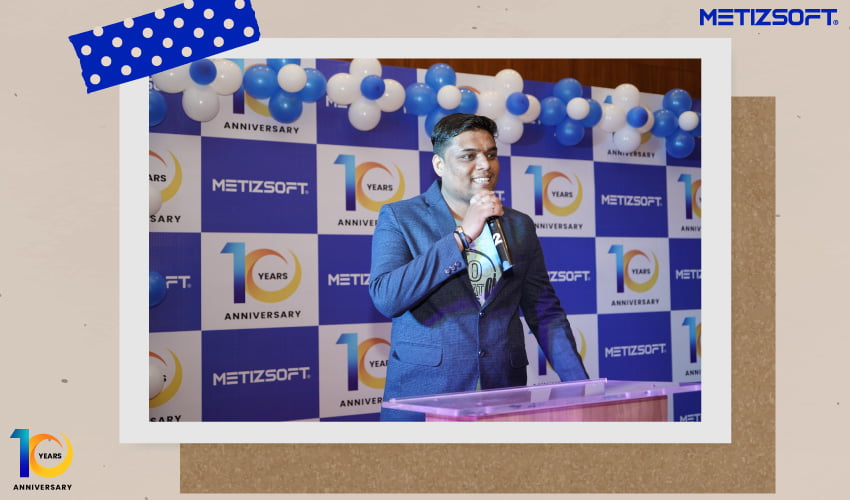 All these people were invited to the stage to address the team and share their side of stories and experiences they had so far with the company. They all came forward and did the same, and it was terrific from their side.
Now, it's time for some reward for those valuable employees who have shined throughout the years with their consistent excellence.
The Anchor, Jyoti, invited Pooja to felicitate those awards –
1st Awards For Five Years Of Completion In The Company 
Yogesh Sevak (Sr. Graphic Designer)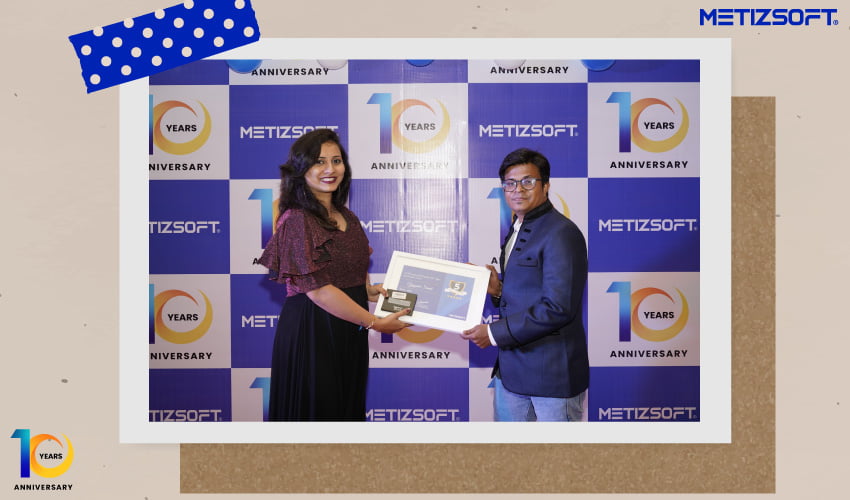 Piyush Limbani (Sr. Software Engineer)
These two legends have completed five successful years with Metizsoft Solution, maintaining sheer work ethics and professional enthusiasm.
Now, It's Time For Some Game
After felicitate awards, the anchor invited everyone to play some games. It was fun and exciting as all of us took part in the game proactively. The game was short, but we ended up enjoying each moment.
Let's Begin The Dance
After finishing the game, we all took a five-minute break. Meanwhile, the anchor was preparing his dancing chart as many of our colleagues had practiced for months for this occasion to showcase their dancing skills.
The First Dance Team Went Like This
Sweety Christian and Preeti Singh – Jhoom Barabar Jhoom – Recruiting all employees and then Jhoom Barabar with all employees so that nobody is left alone and love to work altogether)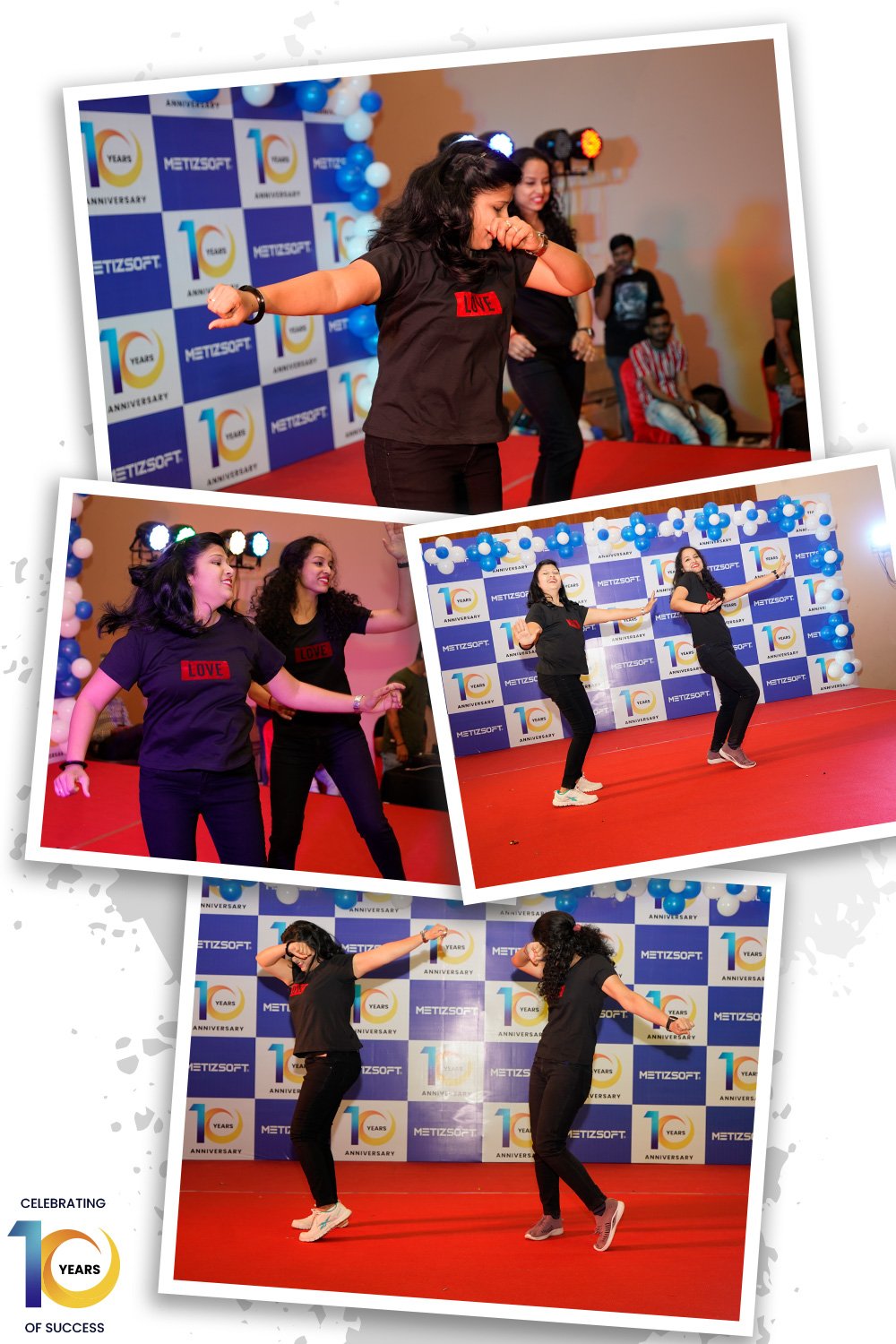 Sweety and Preety set the dance floor and brought enjoyable vibes in their moves. It was entertaining and lovely to watch them performing.
After Sweety & Preety, the next dance came in as:
Hetal Shah, Neelam Rajput, Siddharth Patel, and Divyesh Patel (Shopify) – Sauda Khara Khara – They are always hired by clients back to back and work for them. So they are working under the Sauda zone)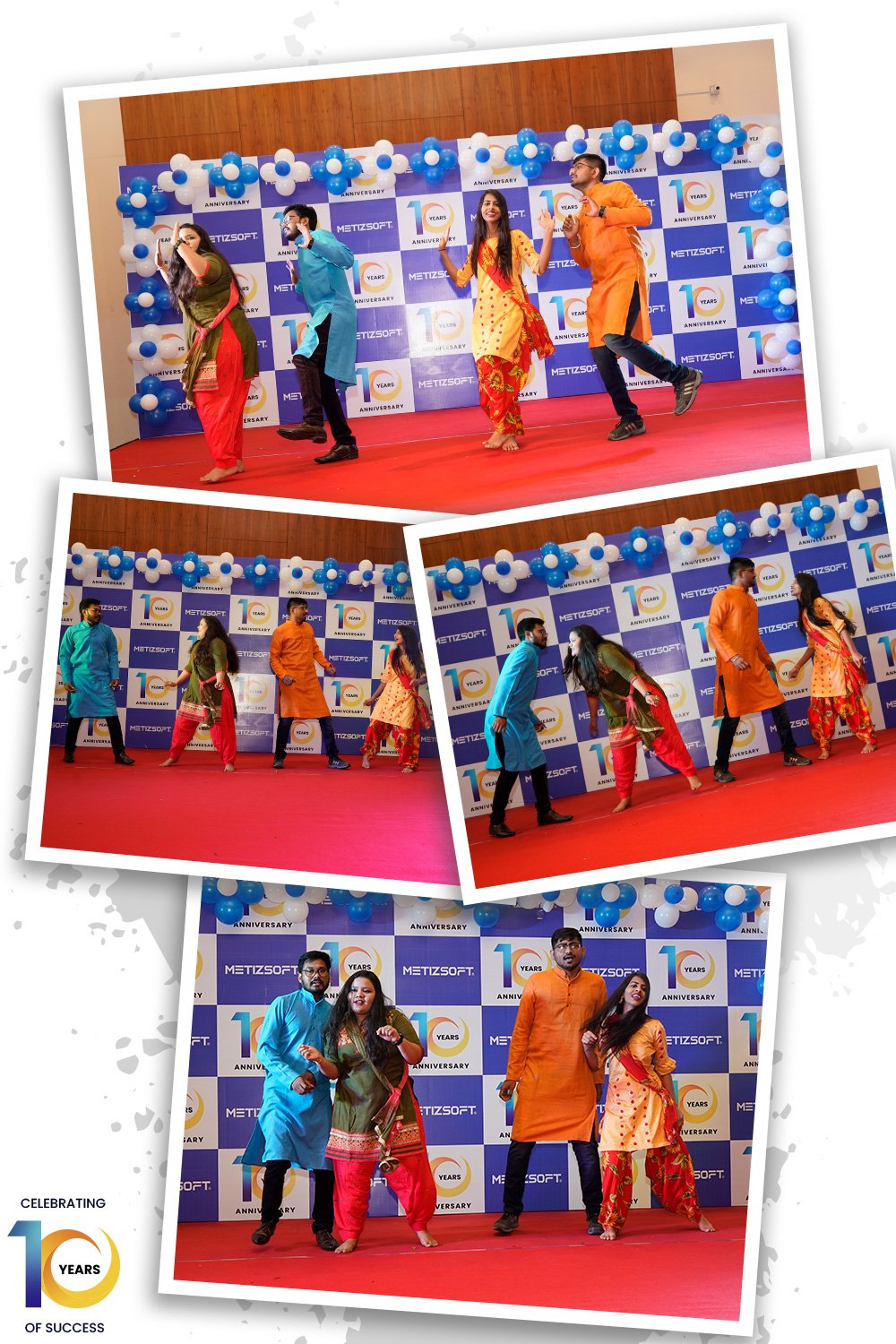 Even this group amazed everyone with their fantastic dancing skill and made everyone dance to the beat. What a rocking performance by the team. Truly beyond any words!
Then came Bansari Patel and Nandni Jadav (QA) – First class hai – They keep on handling pressure, but they remain "first-class" despite all the workload and hectic projects)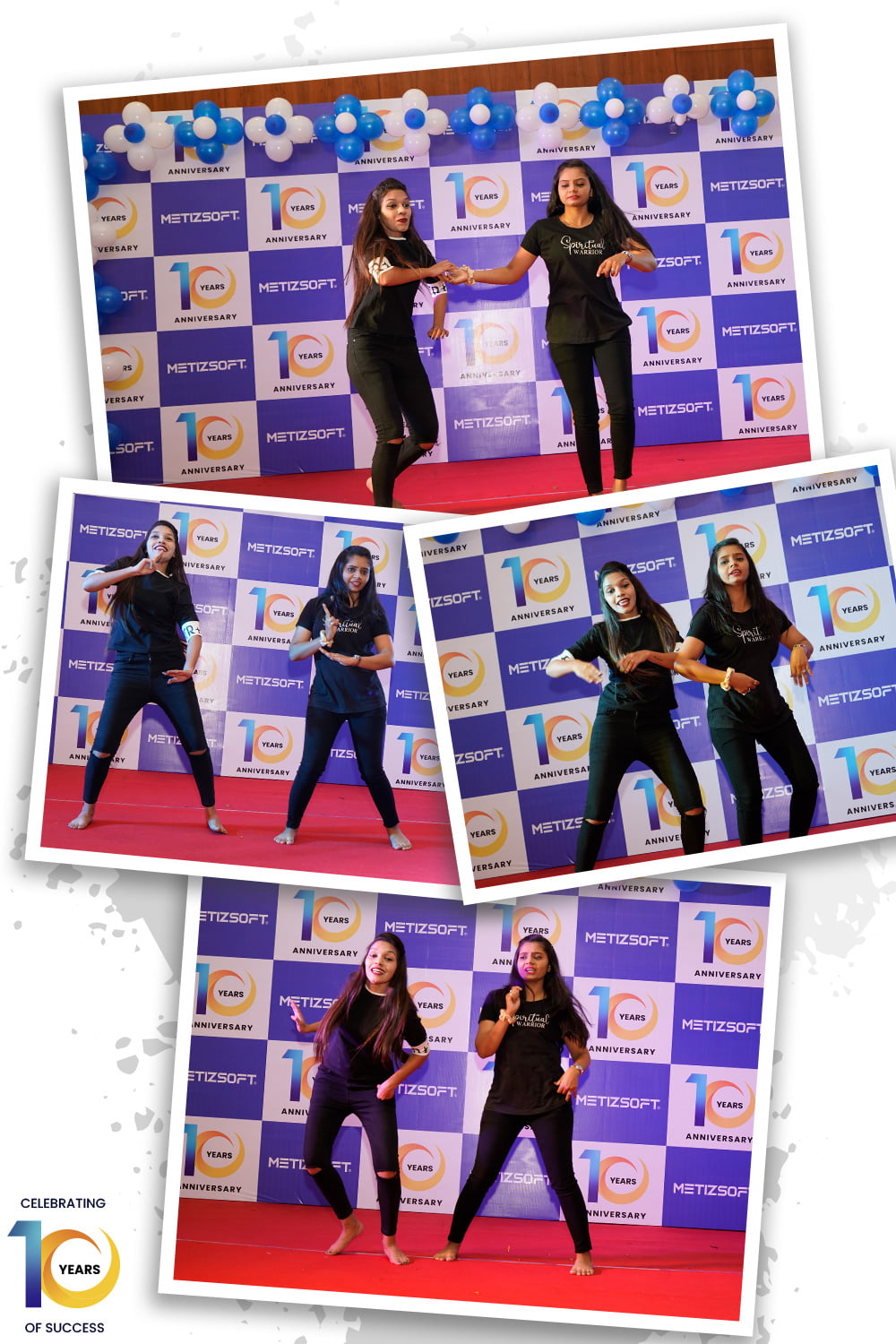 To our surprise, they did a tremendous job. Perfectly match moves and expressions, they set the Floor amazed, and it was a treat to watch these two guys performing like that.
The fourth in the line is Digvijay Sompura, Divyesh Patel, Jigar Joshi, and Siddharth Patel (Shopify, Mobile team, and QA) – They are cool like Punjabis, so let's have a Punjabi song)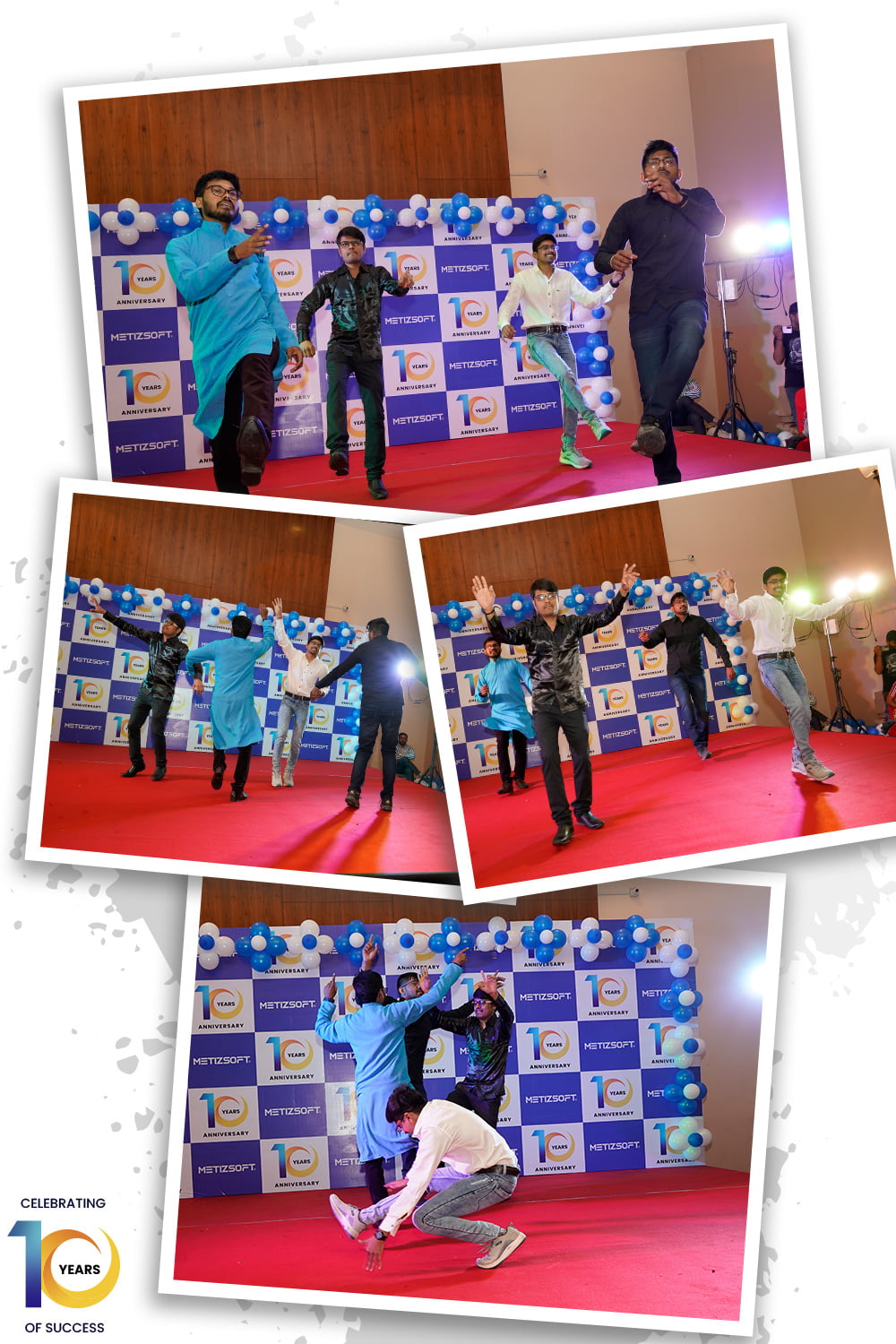 Fun and entertaining at its best. These four entertainers changed the mood of every individual with their funny moves and mind-blowing dance. Everyone shared a laugh and enjoyed a lot watching them dance.
We Had a Solo Performer As Well
Nandni Jadav (QA) – Muquabla – they are so competitive and win every situation)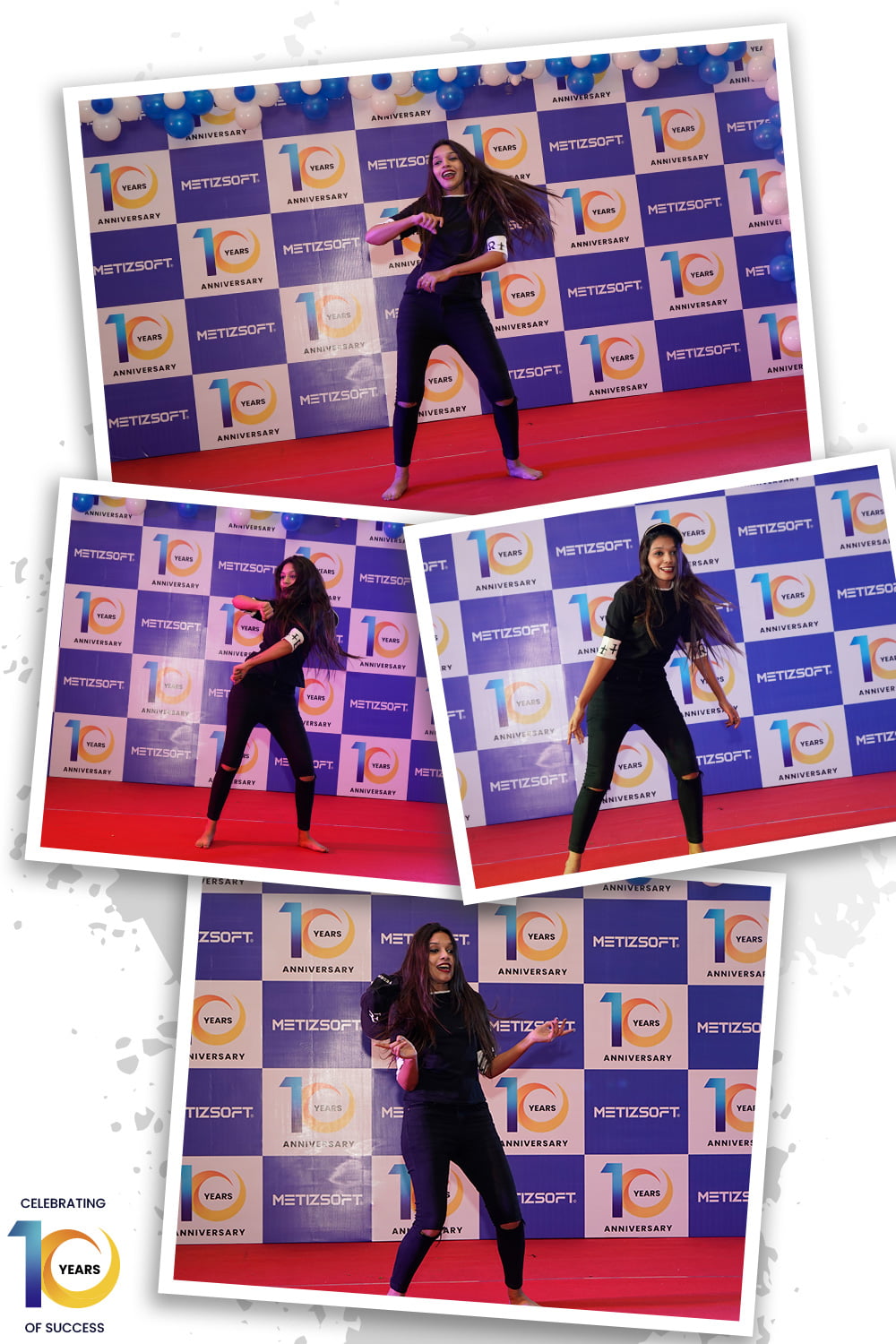 Nandini has practiced a lot over the month, and now we have seen the magic in her dance. She alone set ablaze the dancing Floor with her moves and expressions. What a rocking performance. She is a rockstar!
The Last Of The Dancing Lot
Hetal Shah, Neelam Rajput, and Sweety Christian (Marketing cabin – They are creative people and live every day like "Apna Her Din Aise Jiyo Jese Ki Aakhri Ho" and keep the spirit to achieve all the targets every day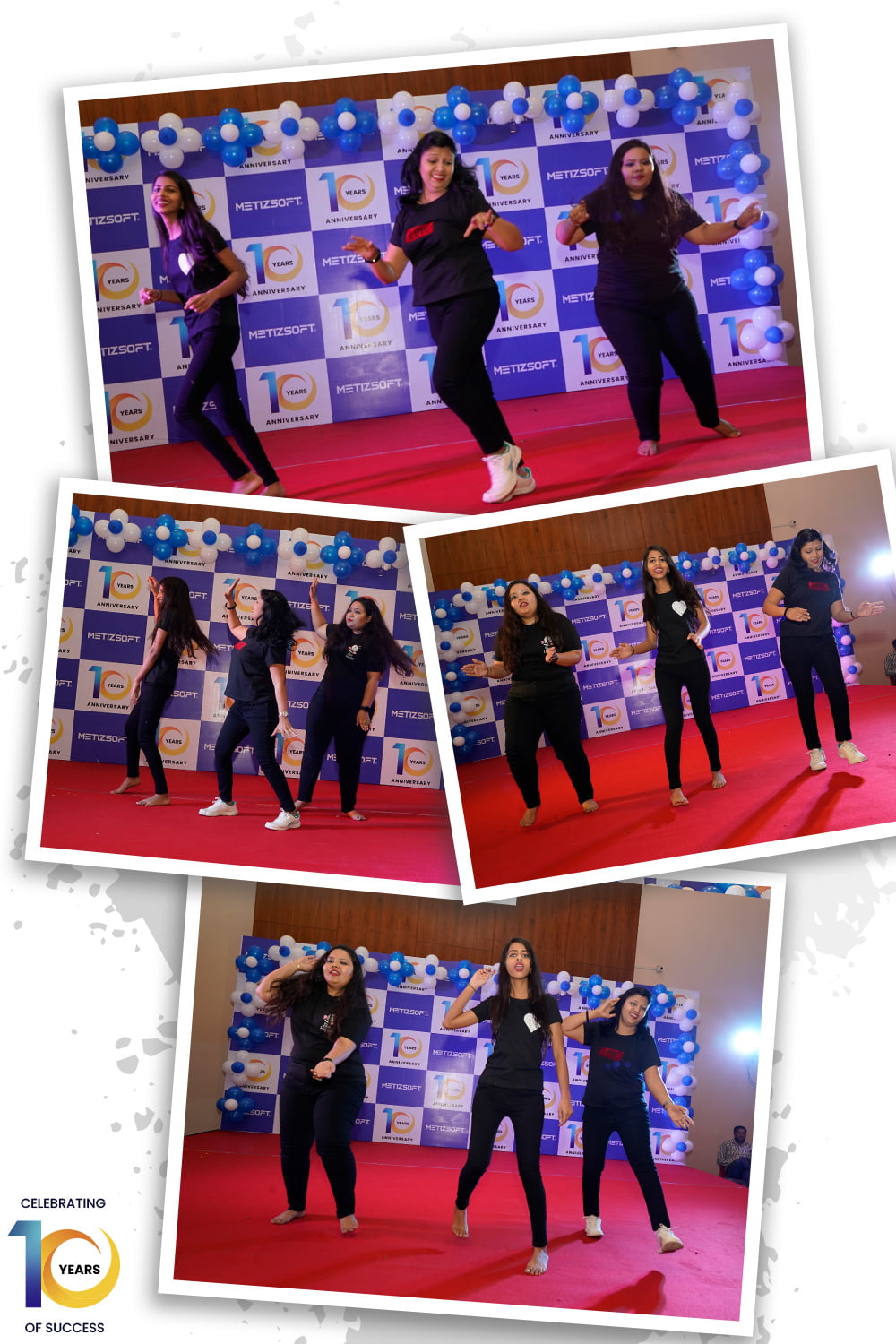 They performed magnificently and gave the dancing an ending touch with their scintillating dancing moves. It was a well-choreographed dance meant to be enjoyed and appreciated, and we all enjoyed it to the fullest!
Combination of UP & Maharashtrian Dance Form At Its Best
Nandini Jadhav and Preety Singh – These two steal the show with their rocking performance. Everything was perfect about their dancing. Their movements, expressions, and hand-eye coordination significantly matched the song they were dancing to.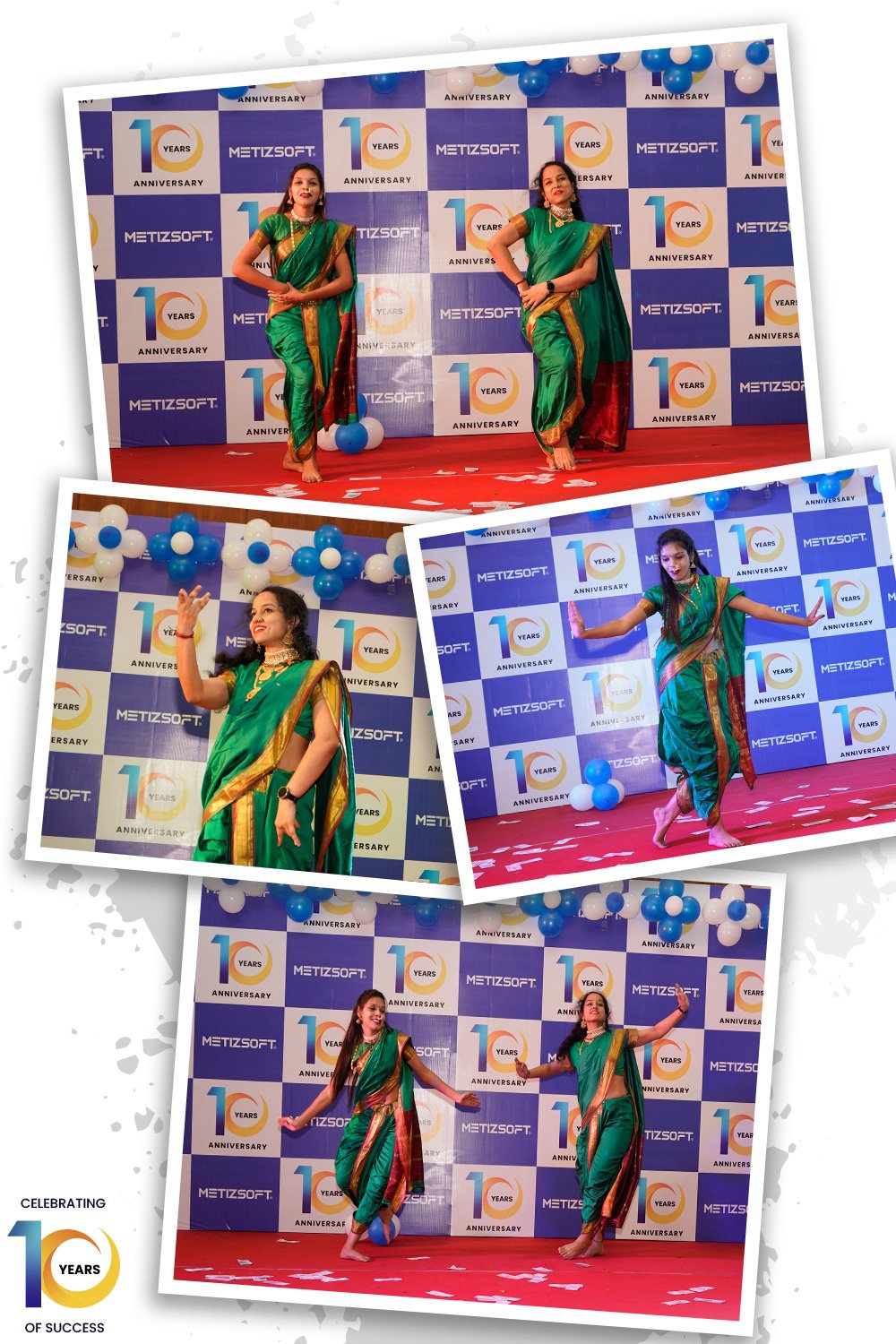 Everyone got amazed seeing them performing, and to be honest, it was a bit surprising for all of us as well. Kudos to their effort! They both were brilliant, and they did get a loud cheer and applause by the end of their performance.
After Nandini and Preety's dance, finally, it's time for everyone to join the dancing floor. What a scene that was. We all jumped onto the stage and danced to one song. Like annual college fests last DJ night. All Metizians' moments needed to be memorable, and we did it with our dance.
To Boost Our Energy and Bring The Crazy The Anniversary Vibe, Our Two Bosses….
To boost our energy and bring the crazy 10th Anniversary vibe, our two bosses, Mr. Manthan and Mr.Chetan, also joined us on the Dance Floor! Well, they certainly did.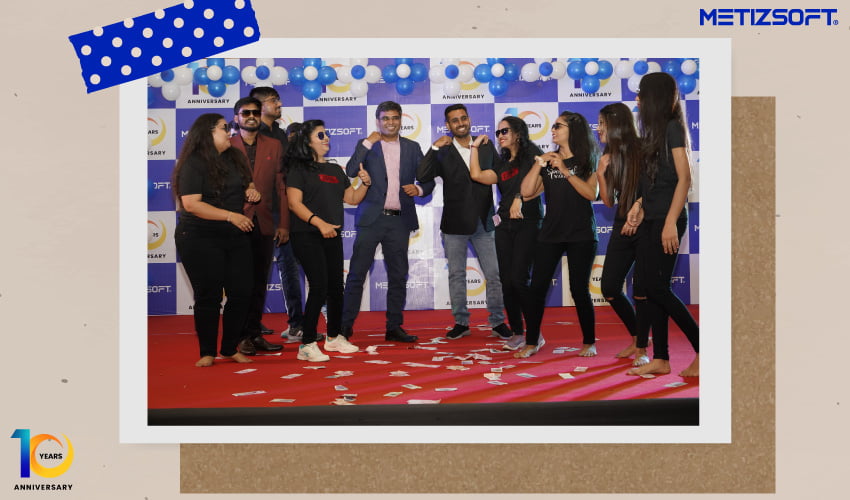 Nothing is more precious than getting into the same music beats and rhythm with your bosses. It was a frameable moment for us all and a privilege to share the same dancing floor with two stalwarts of Metizsofts.
After Dancing, It Was Time For Some Singing.
Anticipated by Nensi Sakhiya with her soulful voice, she sang beautifully to calm crazy minds. She has got a very soulful voice.
A pin dropped silence in the hall as she started singing. It was mesmerizing and soothing at the same time. We all loved how she sang, and we truly enjoyed her voice.
And The Employee Of The Year Award Goes To……
At the end of the stage show, it was time to felicitate the Employee of the year. For this, Jyoti invited Pooja on the stage to present the award to Sidharth Patel (Sr. Android Developer).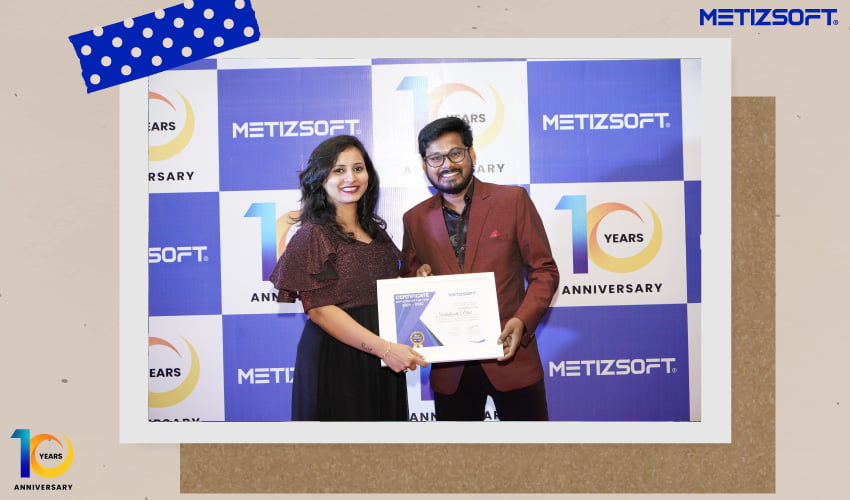 A highly enthusiastic and self-motivated Mobile App developer who has been doing some fantastic work in the past couple of years, maintaining a top-notch work ethic. He, in all ways, deserves the recognition.
Now, Time For Some Showbiz & Paperazzi
When you have your company's 10th annual day celebration event, you don't want to miss a single moment to fulfill your desire and enjoyment. The stage was perfectly set for some paparazzi, and all our pretty girls and classic boys were buckled up for some ramp walk.
Anchor Jyoti instructed the DJ boys to set up the ramp music, and here we go with all the ladies for their ramp walk turn.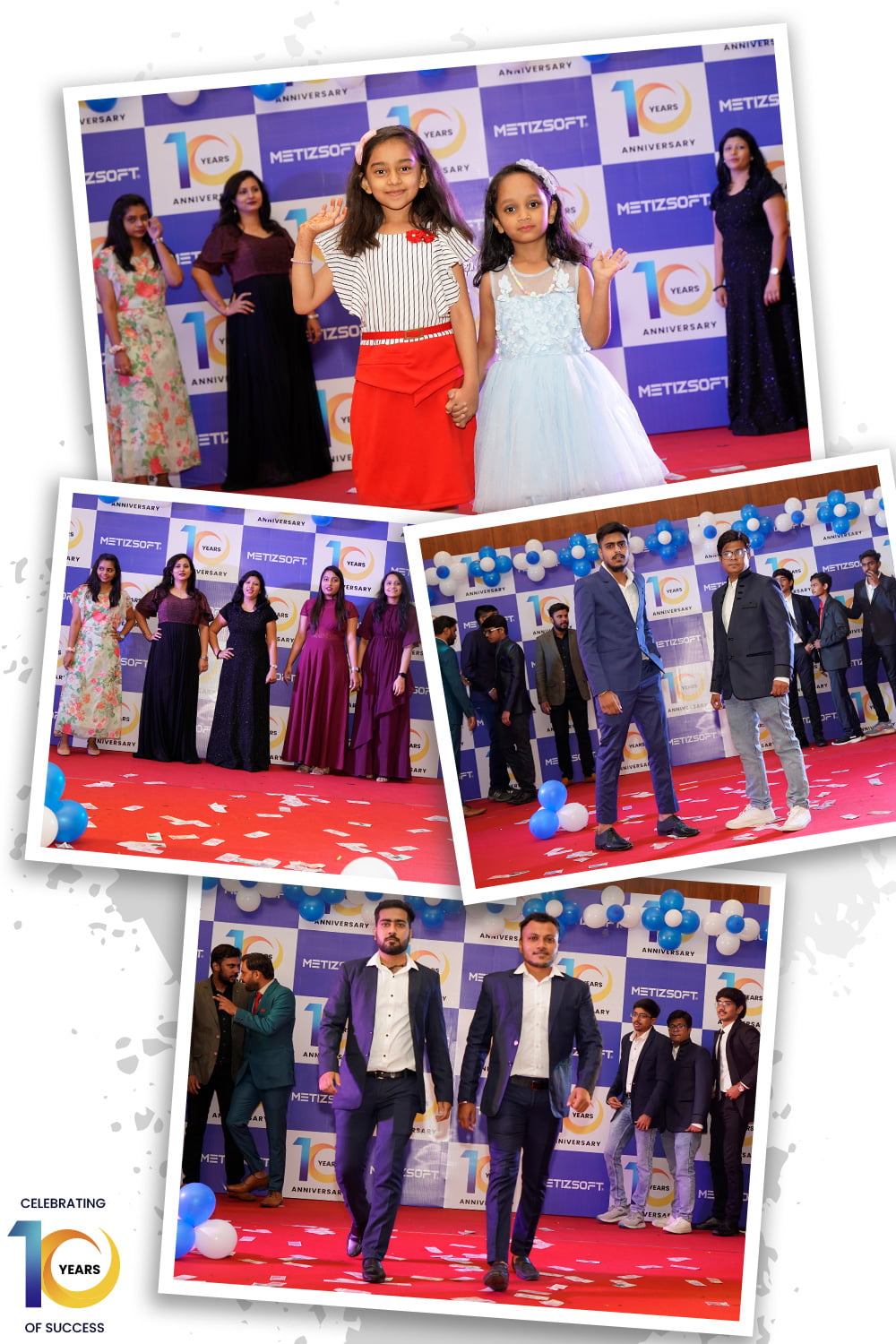 One by one, the ladies started walking on the stage with the ramp walk music in the background. First, a single appearance and then all together. Following them, the boys also entered the ramp walk arena.
They also follow in the same footsteps as girls. First single and then with groups and team partners. The ramp walk went well and gave everyone the celebrity kind of feeling for a moment. Jokes apart, it was fun doing the ramp walk for all.
Cake Cutting, Photo & DJ: "Taste of success"
After the stage program, we all head toward the dining hall. There we see a large cake waiting for our arrival, and we anticipate the invitation to cut it together. Happiness can be well seen in all of our eyes as it is filled with those marvelous moments which we just captured and stored in our memory lane.
After the cake cutting, we had a great photo session. With groups, family members, and guests, which are now well-locked in our phone gallery.
Later, we entered the DJ stage, where we danced without any worries, and without any deadline. Though there was a deadline, still it was a crazy feeling with those weird steps.
Finally, we went for dinner. Delicious delicacies are waiting for our taste buds to get a compliment. It was an authentic and well-organized dinner buffet for all. We had our fair share of dinner, and finally, at 10:30 PM, we all left for our home from the venue.
Final Words
Completing 10 years for any organization is a remark of excellence and honor itself. And, to make it a lifetime cherishable moment, you need a grand celebration like this. It was a well-spent evening with you all, along with family members and respectable guests.
The moment was exceptional, and every Metizians contributed to making it more lavishing and memorable. On behalf of the entire Metizsoft Solution management, we thank them and hope for good fortune.
Once again, congratulation on completing 10 successful years in the corporate world. We hope the saga continues!